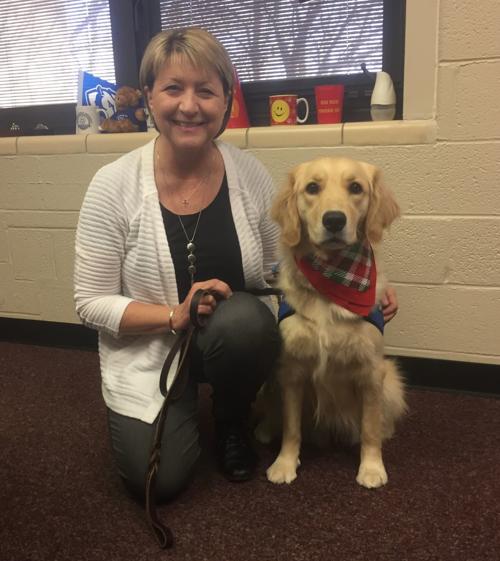 Guidance counselor Joelyn Akers is retiring upon the end of the first semester. However, retiring may be a little misleading.
Mrs. Akers will become the "Top Dog" of Emmanuel Lutheran's Comfort Dog Program. Emmanuel Lutheran just received a comfort dog about a month ago. The dog, eighteen-month-old Rachel, is from Lutheran Church Charities' K-9 Comfort Dog Ministry. The organization trains golden retrievers from the time they are eight weeks old. When they are handed over to their new owners, the dogs have received over two thousand hours of training. The purpose is to provide comfort to people in need.
Rachel visits nursing homes, schools, and is a greeter at Emmanuel Lutheran every Sunday. This past Monday and Tuesday, Rachel visited CHS to de-stress students before finals.
Clara Czarnecki, a student who visited Rachel stated, "She was great, fluffy, and an all-around good girl" and that "she made me feel less stressed."
Mrs. Akers's responsibilities will mostly include being Rachel's primary caregiver, scheduling her for different events, and continuing her training.
Regarding the usual retirement activities, Mrs. Akers says she plans to read and travel some. She is also busy helping her son to prepare for his upcoming wedding.