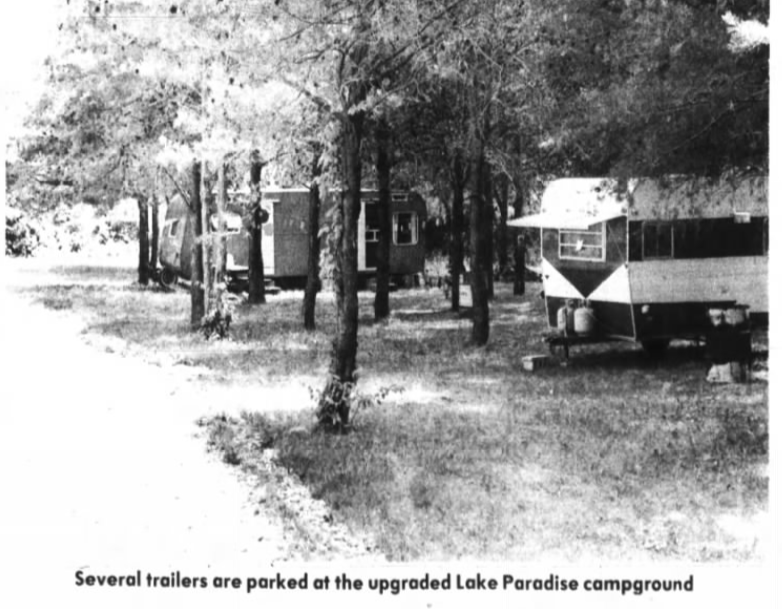 Ever feel like getting away? Like…from the Earth? As I've clutched my tablet six inches from my face each night before bed, I've noticed that for whatever reason, my YouTube feed started giving me walkthroughs of brand new campers and RV's, from some dealership in Canada of all places.
Seriously, by this point I've watched so many tours of new and lightly-used R.V. and campers, all hosted by a guy who really, and I mean really, is impressed by "pass through storage compartments" and who has no fear of walking across the top of these behemoths with a camera in one hand just to show us the air conditioning and solar panels, that by this point I'm practically an expert in exactly what I thought I'd never been an expert in, namely how to safely empty out my "grey and black water" tanks.
And I, of all people, should know…man of the wilderness that I am. Which is why I bring to you, from the June 23, 1977, Journal Gazette, this photo of campers all lined up in a pretty little row at the Lake Paradise campground, from an article titled, "Lake Paradise camp facilities drawing people." By which I assume they mean Lake Paradise is attracting visitors, not sketching them like in an art class.
Any folks out there at home recognize their camper in that photo? You should, even if none of them are yours. Those are what campers are supposed to look like, right? And you just know that something either inside or outside each one of those campers is rust-colored because ruddy brown was the universal color of camping back then.
And by "back then" I'm referring to the era when my parents would drop me off with the grandparents, who you know took their camping seriously, what with a pretty huge brown, beige and white camper that for the life of me, was of a make and model I can't recall. And trust me: I looked up a whole list of vintage camper brands to see if any of them jumped out at me: Sunline, Rustler, Jamboree, Vanguard, Skyline, Fleetwood, Komfort, Shasta and Travelcraft. Any of those ring a bell?
It was while searching through the archives for this week's column that I also stumbled on an entire page devoted to local camping from the June 27, 1985, Journal, which featured a helpful list of all the local campgrounds opening for the season. Many I recognized from just having worked here at the paper, while others, like the "Casey KOA," "Sherwood Forest," and "Dale's Overnight Camping," I have no idea if they still exist anymore. If you happen to be at any of them at this very second, reading this off your phone while in a lawn chair planted on a piece of green AstroTurf and waiting for the percolator on the fire to start bubbling, please advise.
I mention this because it did help me solve one particular mystery that I've previously been unable to solve, namely the location of the campground I remember from my youth, the Circle C, which according to that list is located (ahem) "from Ill. Jct. 130 and the Hidalgo Road, 3/4 mile west on Hidalgo Road, then one mile north." One mile north of what? Folks, I spent 20 minutes on Google Maps squinting at every patch of woods to the northwest of Hidalgo trying to find anything resembling a campsite and only came up with eyestrain.
Still, that had to be it, right? Here's what I remember about the Circle C: it had a pavilion with some kitchen implements tucked away in the corner, my grandparents' camper had the prime lot right next to it, there was a soda machine that I thought sold some mysterious concoction called "Up," until I realized the "7" on the button had faded, there was the cracked ruins of what I was told was once a shuffleboard court, and I made an older kid who was being a real pest dump out on his bike by throwing a handful of acorns into his gears. And I think I rolled clear out of an overhead bunk in the middle of the night once.
Eventually, the grandparents packed it up and moved on over to Lake Mattoon, a snazzy spot on the lake's west side, right by the water, although with a much longer walk to the pavilion for those fish fry nights. That's where I remember my parents and I once thought we found a good spot to sit with our Chinet plates full of fried fish and slaw until we looked around to realize we had been surrounded on all sides by an iron sea of parked golf carts that snuck up on us. You'd really think they'd put up a sign, right?
These fancy new campers are tricked out with the kinds of amenities that I could only imagine when I was a kid on those overnight trips with my grandparents, back when "amenity" was a word that meant "those little mini-boxes of fruit loops". But flat screens, Wi-Fi, and movie theater seats? All that grey wood panel making everything look like you're in a dentist's office? That ain't campin'.
And sure, maybe it's wrong to want to run away from the world to live in the woods before even considering my car's measly tow rating. But hey, if you see a newly bought Falcon Travel Lite barreling down a county road near Hidalgo with my tiny little hatchback rolling behind it, you'll know I'm on my way to find what's left of that shuffleboard court. Thanks for nothing, Canada.
"The Throwback Machine" is a weekly feature taking a look back at items of interest found in the JG-TC online archives. For questions, suggestions, or his "Song of the Day" recommendation, contact him at cwalker@jg-tc.com.
Be the first to know
Get local news delivered to your inbox!