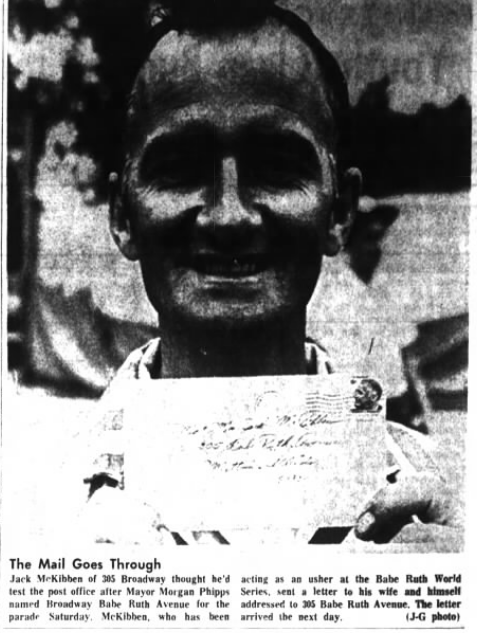 I really needed something to write about this week so I turned to my email folder, which is why I bring to you this beyond-delayed photo from the 1969 Journal Gazette of Jack McKibben holding a letter he wrote to himself at the newly-christened "Babe Ruth Avenue," so named for that year's Babe Ruth World Series held here in wonderful Mattoon, a town that for whatever reason I feel I once heard described as the "Baseball Capital of the World" or some such nonsense, which is no doubt one of those rural legends that gets passed from one coffee clutch to another.
And if you're wondering why, of all the possible photos of a baseball tournament, I'd pick one of a guy holding up a letter he wrote to himself just to see if the post office would deliver it with its honorary address, it should make sense by the end.
This week's topic was brought to my attention by faithful Throwback Machine reader Janice Russell who wrote me all the way back in… (deep breath)… March. All right, it took me a while but hey, I'm sure I had more pressing matters to drone on about at the time including (looking it up) well… an abandoned snack machine and a guy who built his own gyrocopter.
And Janice, do I ever find myself in the exact predicament I thought I'd find myself in when you emailed me, and it's the same predicament I always find myself in when I get a reader suggestion to look something up from the oldies-radio era, and that's that I have minimal direct experience with the subject matter. Unless of course you count the forensic work I recently did with a butter knife on two candy bars trying to figure out if there was any intrinsic difference at all between a Snickers and a Baby Ruth.
You have free articles remaining.
Sure looks like the Babe Ruth World Series was a big deal back then. Folks, the only such baseball tournament I can remember was the year (or years) the Cal Ripkin whatever-it-was was held here, because those were the days I couldn't get across town on Marshall Avenue because the ball field at Lawson was so busy, thus instituting a "don't ever drive down Marshall Avenue" rule I tend to follow to this very day.
Mattoon sure does have a lot of ball fields. I am using the correct term for that, right? I keep typing "ball diamonds" but that feels weird for some reason. Whatever you call them, Mattoon sure does have a lot for some reason, enough to generate that "baseball capital" myth, I guess.
In writing this column I did an Earth View on Google maps to get the lay of the land and sure enough I counted somewhere around 21 patches of ground in Mattoon that sure look like places meant for baseball. Folks, that's including those real small ones perhaps meant for practice clustered next to larger ones, some real rough ones that look like they haven't been used in a while —like what appears to be a diamond behind the First Baptist Church — and a mystery field in that weird grassy bit next to the tracks just south of Marshall that, growing up, I always thought was Kenzel Field even though Google Maps is trying to tell me that's actually the name of the baseball diamond at Mattoon High School. Also… Mattoon High School has a baseball diamond? I went there for all four years and that's news to me. As far as I'm concerned, the campus stopped at the auto shop.
Why in the world do we have so many places to play baseball? Exactly where is Kenzel Field? Who is Kenzel? Why is Kenzel? These are all questions that I'm sure you readers have the answers to. For wherever there is a Saturday in Mattoon, there's dudes shooting the you-know-what who know stuff like that.
Actually, what's with all this "dudes" malarkey? It's very well possible that Janice Russell knows the answer to these questions as well, which perhaps is why she wrote to me in the first place with the hot tip.
But there's a deeper reason that I decided to pick the Babe Ruth Tournament of '69 as a topic, despite my lack of knowledge on the subject. That letter Janice Russell wrote, cluing me in because she was one of a handful selected to be hostesses for the event, was the first time she had ever written to a newspaper. How's about that? Here's Janice, no doubt a life-long newspaper reader realizing she's got some information to chip in, and said hey… why not say something?
Well, Janice, I wasn't able to find a photo in our archives of you as a hostess, but hey, maybe you were one of the folks I saw in the archives running from the rain on the day of the parade. Either way, you did something most people don't think to do: you wrote to your newspaper. Something I implore more of you to do more often.
Don't think you have a reason? Well how about this: the letter to the editor I still remember the most was the time someone wrote in about a pothole. So hey, surely you can top that, right? So get to it, folks; unless it's a complaint about my column, of course, in which case I'll get to it eventually, maybe next year.
"The Throwback Machine" is a weekly feature taking a look back at items of interest found in the JG-TC online archives. For questions, suggestions, or his "Song of the Day" recommendation, contact him at cwalker@jg-tc.com.