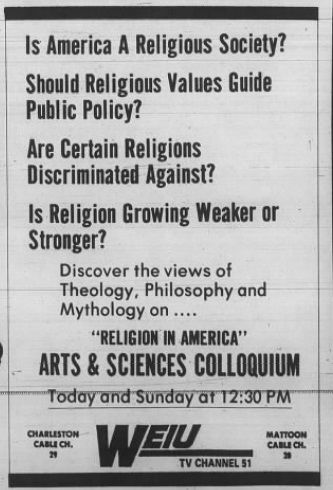 Last week I was invited to participate in a "Handshaking Night" held by the EIU English department, an event where I got to shake hands with a lot of students curious about the newspaper game, all doing their best to hide the panic setting in that eventually they're going to graduate and there's nothing they can do to stop it.
And because I couldn't find a quality old picture of Coleman Hall in the archives, I bring to you, from the Nov. 5, 1988, Journal Gazette, this entertainment page ad for that week's episode of (ahem) "The Dean's Colloquium" airing on WEIU-TV; a show that was, perhaps, my first recollection of EIU ever being a "thing."
I'd find out for myself, eventually. The process of getting into grad school at Eastern felt like it happened in one long dream. First one online form, then another, almost always filled out surreptitiously while at work. Next thing I knew I was walking across the campus of the University of Illinois on a slushy, early-December Saturday morning, holding a printed out Google Map and on my way to a basement testing station to take something called the G.R.E.; a timed test so all-fired important that they filed all of the test-takers into a locker room first to stow our stuff and face-verify us like we were all about the enter "The Hunger Games" or something.
You have free articles remaining.
It's a test that's broken into three parts: a math section I'm pretty sure I just got through by writing "Duh?" after a bunch of scribbles; a grammar and vocabulary section I aced because I be good with words; and an essay where I had to make a thoughtful argument for or against the death penalty. Because serious thinking about anything at that particular time in my life was out of the question, I tossed up a big bowl of word salad and quickly high tailed it out of there, certain I had failed but content in the knowledge that a friend of mine was going to reward my "accomplishment" by taking me out for honey-glazed chicken crispers from Applebee's.
Wouldn't you know it, even though the G.R.E. results said my essay was "muddled," Eastern didn't seem to care, and suddenly there I was on campus just like a real student again, getting my new PantherCard (telling myself I didn't look all that different from my undergrad student I.D.) and cramming myself into that cramped old book rental place EIU used to have before they moved it to its own facility. Then, one evening after work, I dusted off my trusty undergrad backpack and I trucked my happy-self from Shelbyville to Charleston, where before I knew it was walking up the stairs on the southeast corner of Coleman Hall on my way to my first college class in seven years.
"What in the world am I doing here?" I thought as I sat in that incredibly hot seminar room with no windows, looking at a syllabus which seemed to imply that I needed to read all of Dickens's "Bleak House" in two weeks. "Bleak House," in case you don't know, is a giant doorstop that apparently has words in it.
It wasn't until my third year, when I became a graduate assistant, that I finally felt that I was getting a chance to "do college" all over again. And in my case, this meant actually, you know, "trying."
All right, you got me. Sure maybe "trying" involved things like the time an invitation to a chili party ended up with me at some unknown off-campus get-together watching someone guzzle homemade moonshine that sure looked like gasoline out of an industrial-sized plastic tank. Put that in a colloquium, Dean.
You want more "trying"? How's about me and my fellow Writing Center compatriots trying to stave off worries of our own impending graduations by devising and playing the heck out of "Basket Cup," an indoor version of Cornhole with a rather ingenious risk/reward scoring system. Personally I thought the rules for it should have been our class's legacy gift to the English Department.
Where was I? Oh yeah, the stacks. I eventually did find my hardcover-bound thesis, a collection of short stories I, for the most part, still stand by. Imagine my delight when I opened it to discover that someone had actually checked the blasted thing out, once in 2012. Thanks, whoever you are.
I was starting to feel kind of silly by this point. Not silly enough that I didn't take one last stroll through Coleman though, which of course was boiling hot as always. On my way to my favorite bathroom (southwest corner, second floor) I noticed the light was still on in the writing center. I thought about maybe sticking my head in there to say, "Hey gang, I used to go here! You guys still play Basket Cup?" but then I realized I'd be "that guy." Even though we all know I still am "that guy," just give or take a few potted plants.
"The Throwback Machine" is a weekly feature taking a look back at items of interest found in the JG-TC online archives. For questions, suggestions, or his "Song of the Day" recommendation, contact him at cwalker@jg-tc.com.