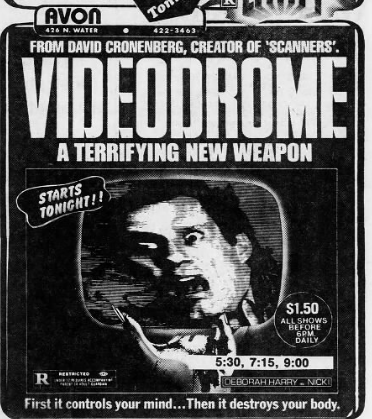 I always say that I go into a horror movie not looking to be scared, because I almost never am. I go in looking to see something interesting or creative, and if by chance I do get scared, that's just an unexpected bonus.
So just what does scare me? For that I give you, from the Feb. 4, 1983, Herald and Review, this Avon Theater ad for the premiere night screening of "Videodrome." While this movie did play Mattoon, it was wedged into the bottom half of a very odd double bill with "Fast Times at Ridgemont High" where it only got an afterthought of a mention instead of the marquee treatment you see here.
It's a similar image that first put "Videodrome" on my radar as a kid, seeing the VHS box at the Wilb Walker's Grocery movie rental section just off to the side of the cart corral, check cashing and bottle return counter. I know they had to still have had bottle returns…I got my finger stuck in one.
"Videodrome" had one of the more visually striking VHS box images, one that really stood out amidst the usual '80s horror iconography of bloody fonts and slashing knives. Instead I saw a man looking like he was being smashed against, or perhaps eaten by, a shimmering cobalt blue background featuring the close up image of Blondie lead singer Debbie Harry. And trust me, if there is any face in the history of beautiful faces that merits being seen that closely it's hers, an image that upon close inspection only "shimmered' because it was actually a close up picture of a TV screen.
For let's get it out of the way, "Videodrome" is nominally one of those "what if TV was evil?" movies you got a lot of in the '80s; a time when we were looking around at a lot of our household technologies and wondering if they could suddenly try to eat us.
"Videodrome" tells the story of Max Wren, as played by James Woods (in an awesome jacket), the shifty director of a small potatoes UHF TV station in Canada, and for you young folks out there, "UHF" meant "the channels after 13 on the TV's second knob" and by "knob" I mean the actual plastic wheel you'd have to click through one channel at a time.
Looking for the next big thing to draw ratings, one of his engineers shows him a clip of "Videodrome," a pirate signal featuring things I won't explain here originating from somewhere in Malaysia. And from there he becomes obsessed with watching more, starts hallucinating that his TV is trying to make a move on him, gets drawn into a shadowy conspiracy involving eyeglasses and mind control, and eventually becomes an organic VCR. In Betamax, no less.
I want to say I first encountered this movie on WRSP late one Saturday night after "Freddy's Nightmares," but even heavily edited I don't think it ever made onto real life UHF airwaves. I do remember that A&E, back in the old days when A&E was the most tea and crumpet-iest cable network, used to show it very late at night, with an odd replacement ending featuring dialog over a bizarre painting of the main characters, an ending I had to get (grainy) proof of on YouTube to prove to myself it existed. Because years later when I (gulp) bought the Criterion Collection DVD, I finally saw the real ending and was somewhat disappointed, given that Max just looks at a TV screen, it shows him doing something, and then he does exactly that. Although I now realize that's probably the message.
Scary? Yeah. I've always thought it was. Let me tell you a secret. When I was a kid, I was petrified, to the marrow, of letting a movie we rented play beyond the end credits. No joke. The very moment the screen would go black and you'd see the words "Directed by Alan Smithee," I'd whip around on the couch and look at my mom, trying my best to hide my panic, and ask, "Can I turn it off now?" like there was some horrible, indescribable secret transmission lurking at the end of the tape that would burrow into my brain if I saw it. It sounds so silly admit now, especially since I have no idea where in the world I would have gotten such a fear from at that age.
And that's probably why "Videodrome" made such an impact with me. It was one of the first horror movies I ever saw that spoke directly to a fear of mine that I didn't even know how to describe; that there were unknown "things" lurking in technology, being broadcasted late at night by people in suits in grey buildings in grey cities, and that evil could be found in even the most benign patterns. I swear there was an optometry place in Mattoon that for the longest time had a logo that looked so closely to "Videodrome's" creepy "Spectacular Optical" logo that I'd get the chills. It's gone now though, so all's good…unless they noticed me noticing it.
I cut the cable TV cord a few years ago and went out and bought a MOHU Leaf digital antenna, because hey, TV is technically supposed to be free, right? Sometimes, when the hour is late, just for my own sake, I'll set the "input" button to "antenna" and poke around just to make sure there's nothing…off. The only thing I ever find are moldy re-runs of "Barnaby Jones" and "Mannix" so I guess it's still all in my head.
Although, when I stumble out of bed every morning and pad my way to my workstation, there I see, in the coal black screen of my TV, a blurry reflection of myself standing there holding a remote and preparing to press "Power." Which I do.
---
My Town: Clint Walker's memories of Coles County as pulled from the archives
"The Throwback Machine" is a weekly feature taking a look back at items of interest found in the JG-TC online archives. For questions, suggestions, or his "Song of the Day" recommendation, contact him at cwalker@jg-tc.com.
Be the first to know
Get local news delivered to your inbox!