MATTOON — Three development projects are in the works along Route 16 east of Interstate 57 in Mattoon.
A Hilton Garden Inn and adjacent convention center, a Blue Cross and Blue Shield of Illinois service center, and an HSHS medical clinic are all set to be constructed in the Coles Centre subdivision, at the southwest corner of Route 16 and Lerna Road.
The lot layout plats and concept plans for the projects, all on land owned by economic development service provider Agracel Inc. of Effingham, have been going through the review process with city staff and the Mattoon City Council.
"There is excellent momentum on these projects. I am looking forward to seeing them start taking shape. It's going to be great for the city," council member Dave Cox said during an August meeting. Mayor Tim Gover added there could be more development at the corner in the future.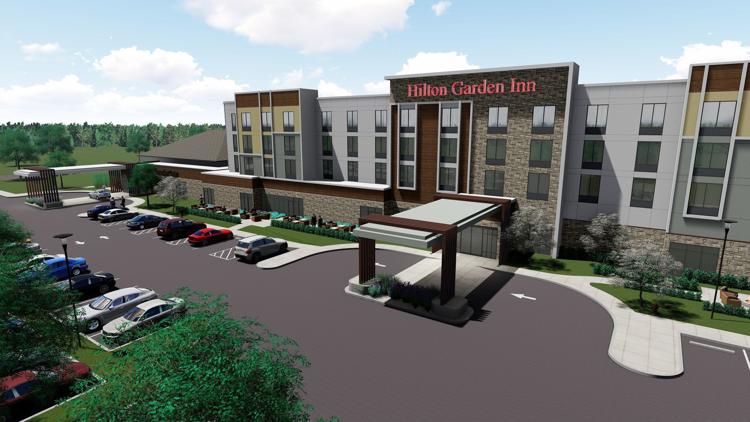 Hilton Garden Inn and convention center
A group of developers that includes Jeremy Yost of Yost Enterprises LLC in Charleston plans to construct a 102-room, four-story Hilton Garden Inn that will offer a Great American Grill restaurant serving three meals a day.
"We will also have amenities that will include a full-service bar, indoor pool, and fitness center. This development is a $16 million project," Yost said. The developers held a groundbreaking ceremony Sept. 18.
The developers said the Hilton Garden Inn will have an interior connection to an adjoining 8,200-square-foot conference center with theater seating for up to 550 visitors. The venue will be known as the Coles-Moultrie Convention Center, in honor of the Mattoon-based Coles-Moultrie Electric Cooperative.
"Coles-Moultrie sponsored our application to (the U.S. Department of Agriculture) for the Rural Economic Development Loan Program. Their help on this really was a turning point in helping make the Hilton Garden Inn and convention center a reality," Yost said.
Blue Cross and Blue Shield of Illinois service center
In May, Blue Cross and Blue Shield of Illinois announced plans to move its Mattoon service center to a larger location: a two-story, 50,000-square-foot building that will be constructed in Coles Centre.
Agracel said the center will be large enough to accommodate more than 250 employees. The current center has been located for more than 30 years in a former supermarket building at 1100 Broadway Ave.
"We are now partnering with a local developer to modernize our presence in the community," Blue Cross and Blue Shield of Illinois spokeswoman Colleen Miller said in May. "We expect to open an updated service center in mid-2020. The decision to further invest in Mattoon demonstrates our commitment to supporting and empowering our local communities."
The City Council has voted to apply for a $1.2 million state Community Development Block Grant to help fund water/sewer line and street work for the development of the service center. The Coles County Regional Planning & Development Commission is helping the city apply for the grant and has said the project will create at least 48 new jobs.
City Administrator Kyle Gill said HSHS plans to construct a single-story, approximately 12,000-square-foot clinic on 2.6 acres in Coles Centre. Gill said HSHS has not officially announced what medical services it will provide at this facility. An HSHS spokesman could not be reached for comment.
Hospital Sisters Health System is based in Springfield. Its hospitals includes Good Shepherd in Shelbyville, St. Anthony's Memorial in Effingham, St. Mary's in Decatur, and St. John's in Springfield.
Coles Centre is already home to the Lincolnland Home Medical Equipment location for Sarah Bush Lincoln Health, whose main campus is about two miles to the east. Urbana-based Carle has a satellite campus to the east of Coles Centre, on the other side of Lerna Road.
Developers have talked about a hotel and convention center at Coles Centre Parkway since its construction about a decade ago. Now, construction of these facilities is moving forward.
Yost is excited about the other developments in Coles Centre. He said BCBS and HSHS will be great neighbors for the hotel and convention center, which can provide meeting space for them and other businesses.
The developer added that he has long believed that the planned hotel and convention center will serve as "the anchor in helping encourage other businesses to come in" to Coles Centre.
"I am hopeful in the near future other business will be announced they will be developing in that area," Yost said.
Contact Rob Stroud at (217) 238-6861. Follow him on Twitter: @TheRobStroud
The business news you need
With a weekly newsletter looking back at local history.