CHARLESTON -- Gici Zendeli knows when the school buses and vans start flooding into the city that he and his staff will be "all hands on deck" at the Lincoln Garden Family Restaurant. 
It is Illinois High School Association State Finals for Girls Track and Field at Eastern Illinois University, and Zendeli knows those athletes, along with their coaches and parents, will be hungry. 
Zendeli, Lincoln Garden manager, said the difference in foot traffic might be small, but it is the size of the parties that requires more forethought leading into the weekend. 
"We do stock more than usual," he said. 
IHSA crowds can come in a big groups and the staff is "all-hands-on-deck" to get them fed-- often on pasta -- and fed quickly to fit the tight schedule these athletes are on, Zendeli said.
For business owners in Coles County, this is the case for business owners almost every weekend in May.
Eastern Illinois University Graduation. IHSA Badminton State Finals. Track and Field State Finals. The influx of travelers to EIU floods the county with revenue through food, gas and hotels stays in the month of May, and businesses have shown they're prepared to accommodate. 
"It does bring in quite a bit of money in Charleston," Zendeli said.
It feeds into Mattoon as well.
"It's huge for all the local restaurants. Our sales probably double when the track meets are going," said Angelo's Pizza co-owner Mike Johnson. "We order extra supplies and we have extra help to come in because we'll need it."
Johnson said track coaches elsewhere in Illinois, including several from the Chicago area, have been bringing their teams to Angelo's since well before he and his wife, Kathie, and her sister Darlene Boyle and husband, Bill, purchased this restaurant 15 years ago.
Restaurants like Lincoln Garden and Angelo's sees many of the same teams year after year. Zendeli said one school from Minooka brings their team's T-shirts that restaurant staff sport that day.
It becomes almost a ritual for returning teams. Johnson noted that retiring coaches will sometimes accompany new coaches and introduce them to the staff at the restaurant.
"It's a tradition. Tradition is a big deal," Johnson said.
When they are not eating or competing, they can probably be found at the Lincoln Avenue and Fourth Street intersections buying T-shirts for the meet. 
You have free articles remaining.
Keep reading for FREE!
Enjoy more articles by signing up or logging in. No credit card required.
"It is much more busy," said Melissa Walker, manager at Positively Fourth Street.
She said the steady flow of regulars, coupled with the IHSA crowd, definitely fills the staff's time. A few more than normal were on staff to handle the crowd.
"We prepared just in case," Walker said.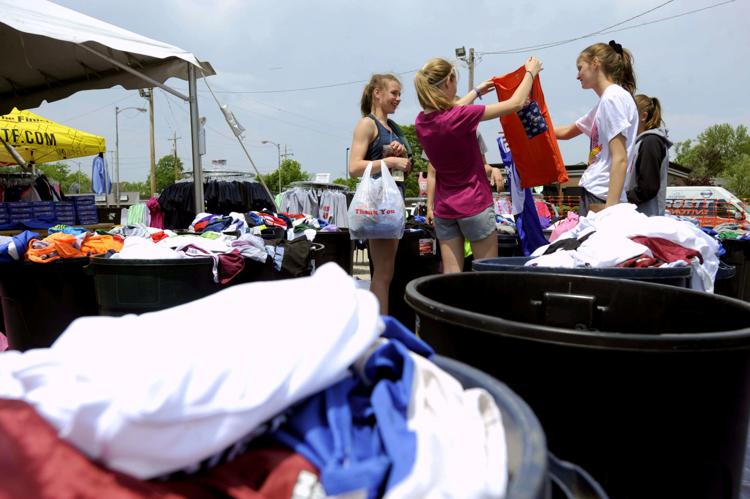 Mattoon Tourism & Arts Director Angelia Burgett said the llinois Office of Tourism reported that there was $54.37 million in travel expenditures in Coles County in 2017, which yielded $1.24 million in local tax revenue. She said much of these expenditures occurred in May during the IHSA state track and badminton meets at Eastern, and the university's graduation.
Diane Ratliff, Charleston Tourism Director, said families are estimated to spend more than $200 each in the two days they are here.
Burgett said IHSA has estimated that a total of 25,060 athletes, coaches, volunteers and spectators will attend the current girls state track meet and the boys meet next week.
The city of Mattoon helps support the IHSA meets with hotel/motel tax fund grants each year because these events bring customers from out of town to hotels and other local businesses, Burgett said. Charleston tourism grants go to the EIU Athletic Department to help cover expenses relating to the IHSA meets. 
Mattoon's approximately 550 hotel rooms are usually booked during these busy weekends in May, and the same can be said for Charleston's 110 hotel rooms.
This doesn't account for the 2,500 athletes, coaches and officials that fill the residence halls at EIU, Mark Hudson, Housing and Dining Director, said. 
"May is our biggest month in terms of hotel stays," Burgett said. "People do book those rooms out pretty far in advance."
Suite Dreams Hotel co-owner Jeff Sisco said May is the busiest month for his Mattoon hotel every year because of the IHSA meets and other events going on then. Sisco said they see some of the same teams year after year, plus a few new ones if space permits.
Sisco said they bring in extra staff to ensure that rooms are ready on time as arriving teams check in to Suite Dreams. He said they also keep extra supplies on hand, particularly for the hungry athletes at breakfast.
"We go through hundreds of waffles on those days," Sisco said.