MATTOON — Mattoon Lee's Famous Recipe owner Drew Banks and his family watched while the restaurant building they called a second home for decades was demolished on Thursday.
However, Banks said the sadness he felt at seeing this fire damaged building go was also accompanied by a feeling of hope as he made plans to rebuild and reopen his restaurant at this same location, 800 Charleston Ave.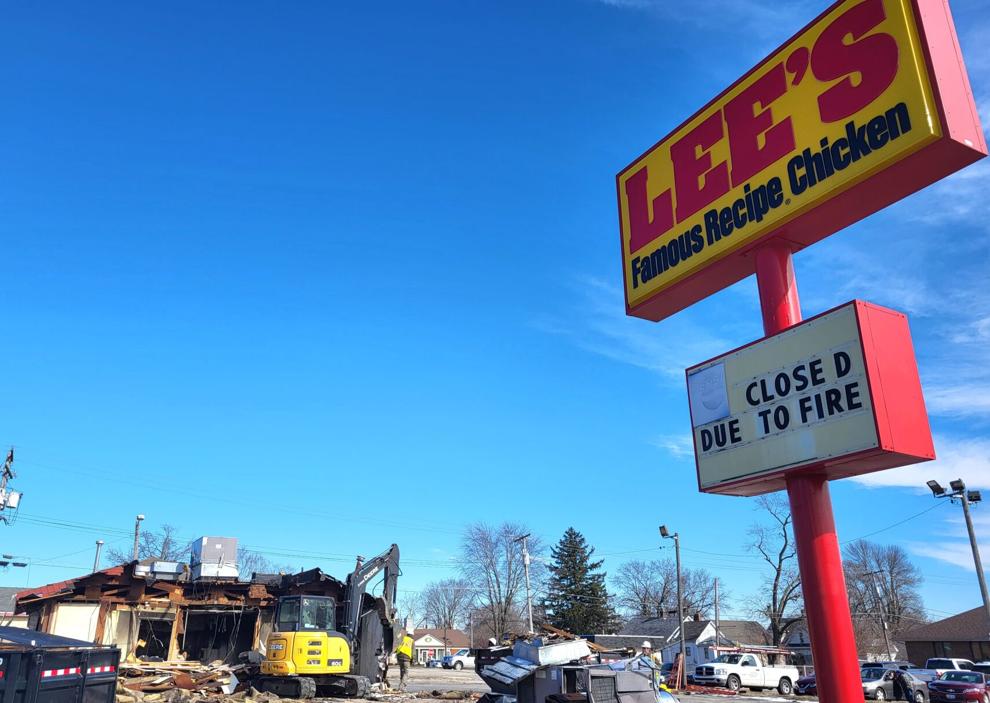 "If I could have it open here tomorrow, I would,' Banks said, adding he hopes to be able to reopen by at least early fall, if possible.
Mattoon Lee's Famous Recipe restaurant and catering service, known for its fried chicken and ice tea, has been closed since Sept. 23 when a fire swept through the kitchen at this location.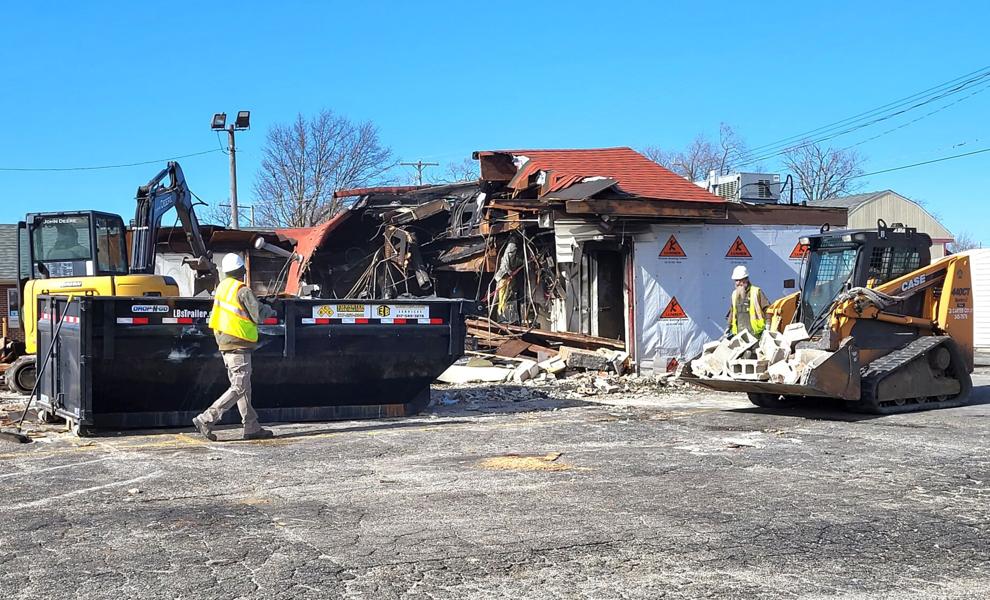 The restaurant was co-founded in 1973 by Barb Lawson as part of the Lee's Famous Recipe chain. She and her husband, Larry, owned and operated the restaurant for more than 45 years before selling it to their grandson, Banks, in 2018.
Barb Lawson said all three of their children worked at the restaurant over the years, so it became like a second home and a focal point of their lives. Her husband added that he sometimes worked six to seven days a week, and the days were especially long back when they still served breakfast.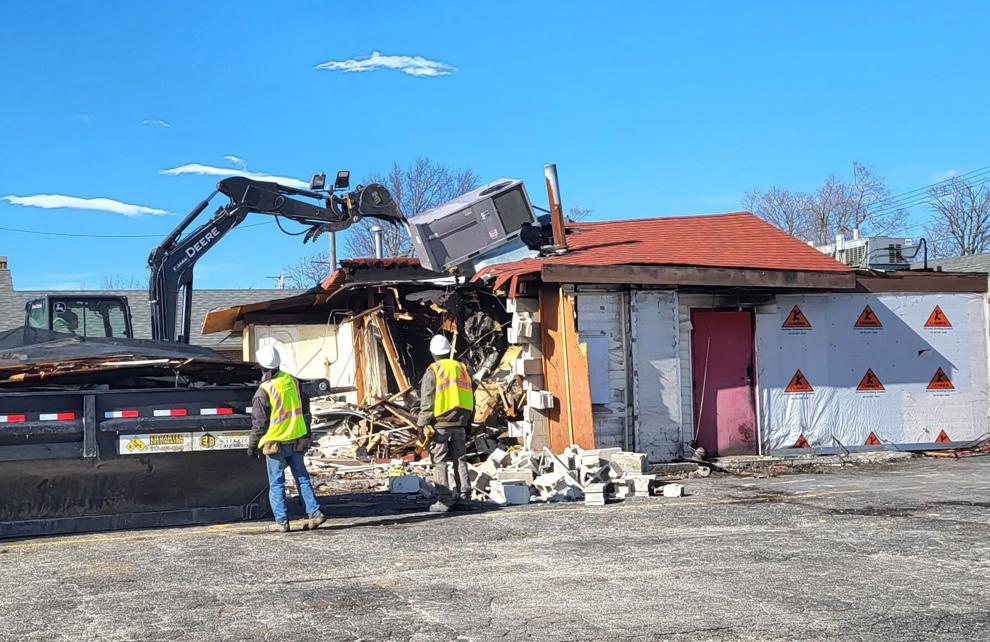 "You planned your birthday parties and other events like that around when you were off," Barb Lawson said.
Before becoming a Lee's employee, Banks helped his grandparents make biscuits and ice tea there when he was a child. Banks said he recently introduced his 6-year-old stepson, Finn, to biscuit making. He added that his wife, Rhandi, spent time behind the counter and their 1-year-old son, Ronan, is a chicken strip fan.
Banks and his grandparents also have developed an extended family over the years among the restaurant's employees and its longtime customers, many of whom often picked up large orders of chicken to go for church functions and other events in their lives.
"We have customers who have become good friends. We have employees who have worked for us in the past who have become good friends," Larry Lawson said.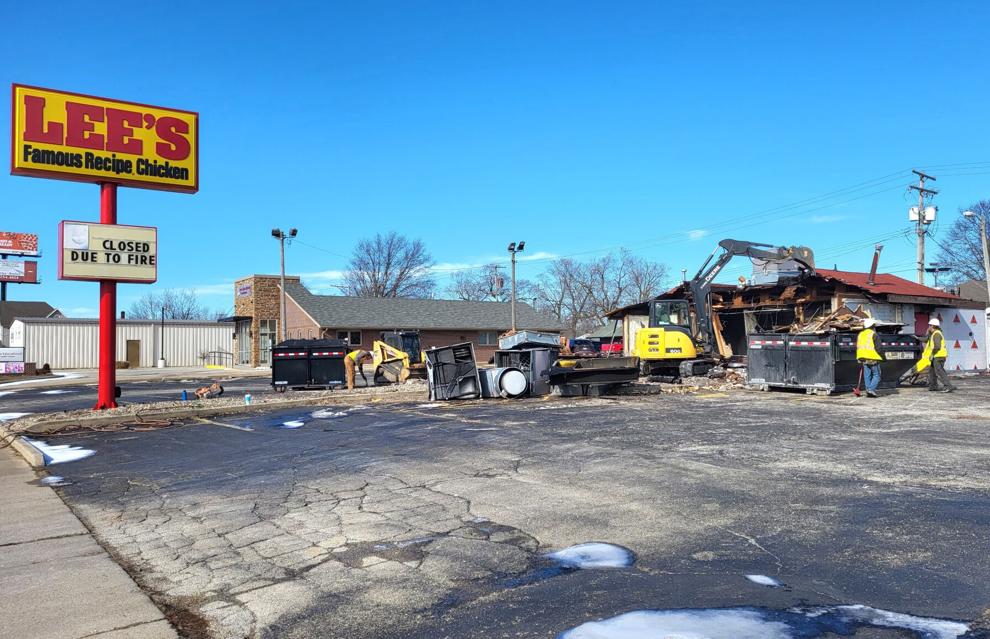 Some of those Lee's regulars pulled their vehicles up next to the restaurant property on Thursday so they could be with the family as the building was demolished.
Since the fire, Barb Lawson said many longtime customers have approached them at stores and elsewhere in the community to ask if the restaurant will reopen and when. Her husband added that seeing the building come down was bittersweet, but the aging structure needed to be replaced.
Banks said the new restaurant, which will be built by Ed Carter Construction of Mattoon, will have approximately the same footprint as the previous one. However, he said it will have a slightly different layout, modern wheelchair accessible restrooms, and an improved drive through for their customers.
"We are going to rebuild," Banks said, adding that he, his family and the customers are excited about the restaurant's return. "The consensus is we can't wait for it to happen."