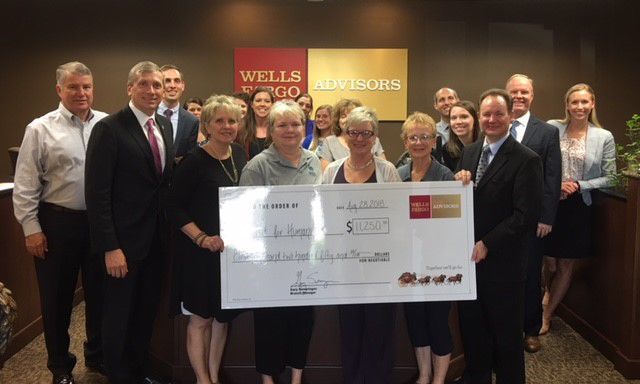 CHARLESTON -- Coles County Habitat for Humanity received an $11,250 grant from Wells Fargo Advisors. This donation will provide affordable housing in Coles County.
Coles County Habitat was building a home in Charleston and submitted a grant request for $5,000. After identifying a budget shortage, Wells Fargo Advisors pledged to grant $11,250 to complete the home project.
Gary Swearingen, Wells Fargo Advisors complex manager, notified Coles County Habitat Executive Director Melissa McDaniel with the good news.
"I can't believe it! This is such an incredible gift. One that is completely unexpected and Habitat is very grateful," McDaniel said in a press release. "To give perspective on the significance of this sizeable donation, Wells Fargo Advisors just became Habitat's single largest donor."
"Wells Fargo Advisors is not just a financial contributor to Habitat but an important partner in our work. They are involved in our builds, putting up siding, painting and installing floors. As if that is not enough, they also volunteer and support our annual fundraisers," said Tom Bucher, president of Coles County Habitat. "Because of partners like Wells Fargo Advisors, exciting things are happening at Habitat every day."
Coles County Habitat's board approved two new partner families in August. The organization will begin their 39th home in spring 2019.
Wells Fargo Advisors is a trade name used by Wells Fargo Clearing Services, LLC, Members SIPC, a registered broker-dealer and non-bank affiliate of Wells Fargo & Co..
Coles County Habitat is an ecumenical Christian housing ministry organized in 1989. It seeks to eliminate poverty housing by building decent, safe and affordable homes for low-income families. Homes are sold to low-income families at no profit with a zero-interest mortgage provided by Coles County Habitat.
Coles County Habitat has been active in the community for 29 years thanks to community support. To date, the affiliate has completed 38 homes locally. Individuals or businesses wanting to assist with construction, donate their services/expertise, or make a financial contribution can contact the Habitat office at 217-348-7063, from 8 a.m. to noon, Monday through Friday. More information is available at http://www.colescountyhabitat.net.