MATTOON – Mariah Ball arrived at the track one day late in the summer of 2015, an adventurous freshman with bountiful ability unsure of where exactly it might be used.
When Mattoon coach Troy Haacke told her to go watch the high jump and suggested it as a possible fit, she obeyed in confusion.
"I didn't even know what the high jump was," Ball recalled.
It's becoming synonymous with her name now.
"I watched, coach took me step by step and all the little pieces and putting them all together," Ball said. "Now I'm more relaxed around the best of the best."
Ball, a senior, is headed to the Class 2A state track meet at Eastern Illinois in the high jump for the fourth straight year, chasing a third consecutive finals appearance. High jump is one of seven events in which Mattoon qualified last week at sectionals. She's also the anchor of Mattoon's 4x800 and 4x400 relay teams.
"I have a mile-and-a-half left to race if we make it to finals in both my events," Ball said. "It's insane, because I've raced so many 4x8 and 4x4's and coming down to the last few is wild."
The high jump has turned into her favorite event, she said. She proved to be a quick study and a natural, proving Haacke's intuition and initial assignment correct.
"Sometimes you look at the girls and athletes and figure out where you have a need to be filled and what is the best event we can put them in to be successful," Haacke said. "She's tall, she's long, she has good springs. We've worked on her technique over the years. She's pretty flexible."
Ball enters Friday's preliminary rounds as one of 14 jumpers who cleared 5 feet, 1 inch at sectionals, tied for the No. 10 seed at state. Her personal best, though, is enough to compete with anyone there. She cleared 5-3 at the Mattoon Invite in April, a mark that set a school record and surpassed her previous high of 5-3. She placed 10th at state as a junior, edging out Charleston's Sarah Flight. The two each jumped 5-3 at the Apollo Conference meet and will go head-to-head one last time this weekend.
To reach her personal bests, Ball said she simply needs to relax and clear her mind.
"It's just not getting nervous about the height," she said. "If I see 5-5 in front of me and I'm focused on it being 5-5, then I won't be thinking about my jump as much. If I just breathe, think that I've been here a million times and know what I'm doing, I just have to trust in what I know and it'll get me over the bar."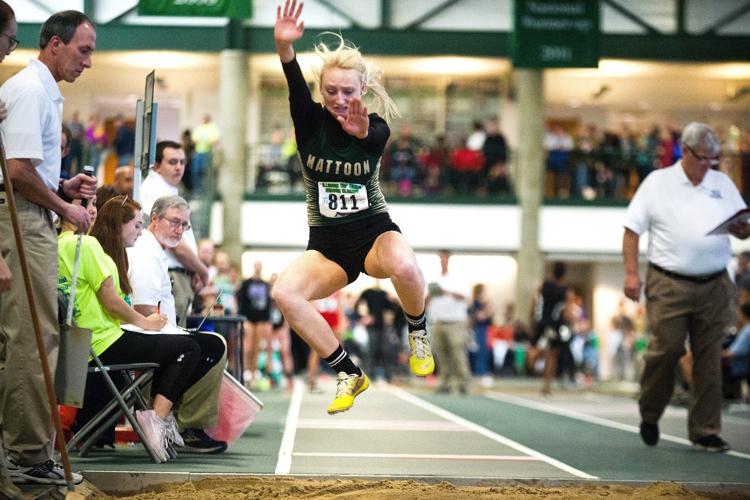 Summerlyn Smith's last go-round
Smith, a Mattoon senior, made up her mind long ago that she would pursue volleyball, not track, as a college athlete. In June, she will move in at Parkland College to begin her collegiate career.
Keep reading for FREE!
Enjoy more articles by signing up or logging in. No credit card required.
First, though, is her fourth and final state meet that will conclude an illustrious track career.
"It won't hit until I'm at the place ready to run," Smith said. "I don't think I'm ready for it to be over."
Smith will compete in the triple jump, long jump and 400-meter dash. All told, she will have competed in 13 events at state. Through three years, she has finished in the top eight five times. In 2018, she placed third in the 400, setting a school record by running it in 57.75 seconds.
"Summer is as much of a gamer as anyone I've seen," Haacke said. "She's one of those unique individuals who can raise her level at the right time."
Sure enough, Smith set personal bests in the long jump (17-7.25) and triple jump (35-8) at the Apollo Conference meet in early May. At sectionals, she took second in both of the jumping events and third in the 400. She's peaking at the right time. Now, the goal is to place as high in the jumps as she did in the 400 last year. She's the No. 8 seed in the long jump and No. 11 in the triple jump entering Friday's prelims.
"I've grown in my jumping events," Smith said. "I've had the jumping technique down. Now it just comes to that mentality. I want to win. I want to push myself."
Smith began jumping in sixth grade and reached the middle school state meet that year in the long jump. Ever since, she has qualified for state in either middle school or high school. She's jumped and ran in each of the last three state meets after qualifying only in the 4x800 relay as a freshman.
It amounts to seven years of busy springs and springing off the ground with all her might. She'll figure out how to fill the time vacated by track later.
"I guess I'll just have time off," Smith said, laughing, "But really, I'll probably play more volleyball."
Relay teams coming in hot
Haacke knew his experienced 4x800 team needed to emerge from the quagmire of fast squads at the Tolono sectional. Mattoon, on cue, ran a personal best at sectionals (9:55.29) to secure second place at state and beat out Monticello and Tolono. They all finished within six seconds of each other.
"We're fast and motivated," Haacke said. "They're stronger, they're more confident."
Kylie Haacke, Quincy Collings, Mickenze Schofield and Ball are the same foursome that qualified for state in the 4x800 last year. They missed the finals by about four seconds. This year, they're the No. 9 seed at state.
The 4x400 team of Keleila Princko, Cortnee Wilson, Jenaya Carter and Ball ran the fastest time of anyone at sectionals (4:10.70), besting Mount Zion by 1.64 seconds. It enters state as the No. 7 seed.