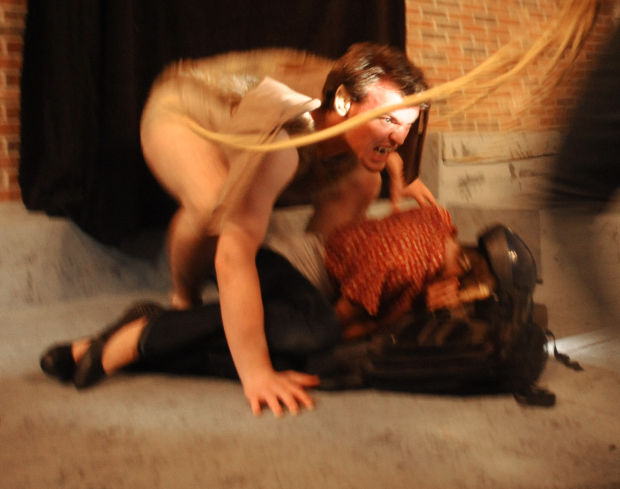 CHARLESTON — Vocalist and actor Andy Hudson enjoys a challenge, which led him to taking on the title role in the Charleston Alley Theatre's ongoing production of "Bat Boy: The Musical."
The role involves Hudson wearing a costume with bat ears, fangs and wings; depicting a character that evolves from animal-like characteristics to socialized human behavior; and acting and singing in a production that is part dark comedy and part horror story.
"(The role) has really extreme demands and it is a really fun role to play. I knew I didn't want to miss that opportunity," said Hudson, a Charleston native who is a voice performance graduate from Illinois State University.
"Bat Boy: The Musical," written by Keythe Farley and Brian Flemming, is inspired by sensationalistic headlines in the World Weekly News tabloid. Their musical, with pop-influenced score by Laurence O'Keefe, tells the story of a half boy/half bat who is found in a cave in West Virginia coal mining country.
Other than playing a dog in one of Charleston resident Therese Kincaid's summer theater camps, Hudson said Bat Boy is the first nonhuman role he has played. Hudson said when Bat Boy is introduced, he communicates and moves in animal-like fashion.
"I spend a lot of time perched on the balls of my feet and walking around like that," Hudson said, adding he wears a costumed designed by the CAT's Diana Allen.
With help from the local veterinarian's family, Bat Boy starts to become a well rounded and civilized human. He becomes known as "Edgar," the name lovingly given to him by the veterinarian's family.
You have free articles remaining.
Hudson said this socialization results in "Edgar" shedding some of his bat-like appearance, but he continues to exhibit an animalistic lack of restraint. Hudson said the character "throws himself into everything he does," including talking excitedly with his hands and jumping up and down.
Conflict arises as close-minded residents in his community have trouble accepting this fanged newcomer in their midst, Hudson said. The show makes audience members laugh and stop and think, he said.
"It is something we all sort of relate to, being ostracized or feeling different," Hudson said. "It is the struggle we all face to fit in and find acceptance as who we are."
"Bat Boy: The Musical" conveys a range emotions with a lively pop-influenced soundtrack. Hudson, who is assistant music director and voice teacher with The Little Theatre On The Square in Sullivan, said he has performed classical music and opera before, but found the music in "Bat Boy" to be even more challenging, albeit ultimately very fun. The show features a house band.
Hudson, who previously appeared in the CAT's "Reefer Madness: The Musical," said he has enjoyed working with a cast and crew of CAT veterans and of area high school students in "Bat Boy."
"We are all pulling together to make this a really good production," Hudson said. "We are going to have a show people are really going to want to go see."
Evening performances are scheduled for 7:30 p.m. tonight, Monday, Oct. 18, and Oct. 21. On Oct. 19, doors will open at 7 p.m. for light refreshments, and the show will begin at 8:30 p.m. Matinee performances are at 2 p.m. Sunday and Oct. 20. Tickets are now on sale for $13. Reservations may be made by calling the theatre box office at 217-345-2287. Performances will be at the theatre located at 718 Monroe Ave., Charleston.