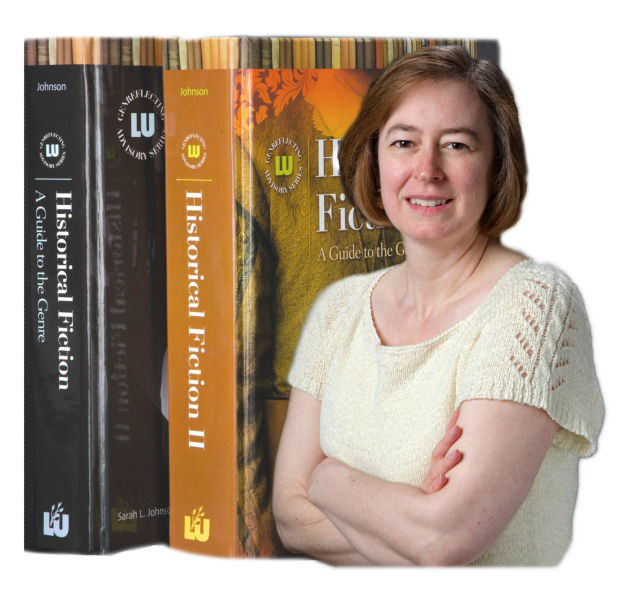 CHARLESTON — For some, learning about the past comes naturally through the pages of a good book.
That's how Eastern Illinois University Booth Library reference librarian Sarah Johnson first became a fan of historical fiction.
"I've been reading it since I was a teen," Johnson said, in a press release. "I started out reading historical fantasy novels, such as stories about King Arthur's court. Then I got more interested in the historical part of it."
Today, Johnson shares her love of historical fiction as a book reviewer and through her blog, Reading the Past.
Johnson, a professor of library services at Eastern, describes historical fiction most simply as "fiction set in the past." The book must be set at least 50 years before the author's time. The story is based on research and not on the author's personal experiences.
"So, books by authors like Jane Austen wouldn't count," Johnson said.
She has been writing Reading the Past for more than seven years. Although she had been reviewing books for some time, Johnson said she started the blog because, "there wasn't a place to have important conversations and to talk to others with common interests."
Reading the Past (www.readingthepast.com) now gets about 7,500 page views and 5,000 visits per month.
"My audience is steadily growing," Johnson said.
The blog contains book reviews, author interviews and more. Occasionally, she will accept guest blogs written by others. Oftentimes, these are written by authors of historical fiction who discuss their research process.
However, Johnson most enjoys communicating with other fans of historical fiction.
"A lot of people visit the blog but don't comment. Others comment regularly. When they do, I try to always respond," Johnson said.
In addition to the blog, Johnson has written dozens of historical fiction book reviews for Booklist and other publications. She gets many requests to review books, usually from authors or their publicists, but she has stopped accepting submissions for now.
"I'm still trying to catch up," she said.
Johnson said she reads about eight books per month. She reviews most of them and posts some on her blog, too. She keeps track of all the books she has read on the Goodreads website. She also communicates with other historical fiction fans through her blog's Facebook page, which she updates regularly, and through Twitter, where she has a growing audience of almost 2,500 followers.
And just as she uses social media as a way to communicate with fans of historical novels, she also uses modern technology to read them.
"I used to read books exclusively in hard copy," Johnson said. "In the last couple of months, I've been reading more and more ebooks, or online versions of books."
In addition to reading, reviewing and blogging about novels, Johnson edits others' reviews for the Historical Novels Review. She started as an editor there in 2000 after reading that the British publication was seeking editors in America.
"I didn't really know what I was getting into," Johnson said.
As an editor, she requests books from publishers and assigns them to various reviewers. She also edits the completed reviews before they appear in the quarterly journal, which publishes about 300 reviews in each edition.
In order to help organize the many titles of historical fiction, Johnson has written two reference works, "Historical Fiction: A Guide to the Genre," which covers novels published between 1995 and 2004, and its companion, "Historical Fiction II," which lists titles published between 2004 and 2008. Both are published by Libraries Unlimited of Westport, Conn.
"Most reference materials sort titles by time periods," Johnson said. "I organized mine by subgenre, since that's how most people try to find books."
For example, titles are listed in a subgenre such as historical thrillers, and then by sub-categories, such as literary, spy or intrigue.
The reference books are designed to help librarians guide their patrons to specific novels. If a library patron enjoys a particular historical novel, for example, a librarian can help him find more books like it by looking in the reference book by author, subject, place and time. In addition to her two reference works and many book reviews, Johnson has written numerous essays and book chapters about the historical fiction genre.
Johnson has been a librarian for 18 years and has worked at Booth Library since 2002. As a professor, she works as a reference and electronic resources librarian. She was honored for her work in historical fiction last year when she received the American Library Association's Louis Shores Award for excellence in book reviewing, among other honors.
The genre of historical fiction is a broad one, and Johnson admits her tastes are wide-ranging, although some of her favorite subgenres are early American settings, Medieval England and Europe, historical mysteries, and novels with strong female characters.
In the past, she became a fan of Jean Plaidy, who has written a series of books about royalty. Today, she enjoys works by Sharon Kay Penman, set in medieval times; and Kate Morton, who writes family sagas in the Gothic style, blending mystery and romance, set in the World War I and World War II era.
"These days I go for things that are more unusual," Johnson said. "After a while, you move on to something else and discover something new."
Johnson, a native of central Connecticut, and her husband, Mark, reside in rural Charleston. For more information about Johnson and the genre of historical fiction, visit her blog, www.readingthepast.com.