CHARLESTON -- It is the second year back for Eastern Illinois University's Celebration after a two-year hiatus because of the budget impasse that rocked universities across the state.  
Last year served as a rebuilding year. Dan Crews, festival director, said this year will serve as a continuation of that, noting it takes time to remind the public that Celebration is back. 
The festival gets underway when the EIU Jazz Lab Band takes the stage and the food booths open at 11:30 a.m. Friday on South Seventh Street in front of the Doudna Fine Arts Center.
Celebration will continue into the evening with entertainment. On Saturday and Sunday, the bulk of the event's offering will be featured from 10 a.m. to 5 p.m. 
Here is what you should know about the region's first festival of the warm season:
It could be wet
It has become an ironic tradition at this point. Although branded with sunshine, Celebration could get rained on as it has countless times before.
It is still several days out, but the National Weather Service forcasted a chance of rain showers for Charleston over the weekend. 
The festival will kick off with sunny weather, according to current weather projections. 
 Crews said the official motto of the event is "Be there or, be dry!"
No ticketing on EIU lots
Three parking lots sit on both sides of Ninth Street just east of Doudna. These lots will be the closest entrances into the festival.
Normally, the lots are designated staff and student parking. Crews said those parking in these lots will not be ticketed for the entirety of Celebration weekend. 
The festival is free... mostly
The festival entertainment will be free and open to the public outside of Charleston High School's production of "Music Man."
Crews said it was a Charleston High School event. The university partnered with the school to include it within the slate of entertainment scheduled this weekend. 
The CHS performances are scheduled for Wednesday-Saturday. There will be 7 p.m. performance on Friday and Saturday, as well as one at 1 p.m. on Saturday.
Tickets are $11 for adults and $9 for students and senior citizens. They can be purchased at the Doudna box office and online at doudnatix.universitytickets.com. 
You have free articles remaining.
Keep reading for FREE!
Enjoy more articles by signing up or logging in. No credit card required.
Much of the funding from the event comes from vendor and booth fees, and oftentimes, the event breaks even, Crews said. 
There will be a full roster of artists 
This year will include a full roster of artists, five of which are said to be new to celebration. 
Crews said there will be about 40 artists coming to Celebration this year including some new additions such as a Kanoko Shibori artist. Kanoko Shibori is a form of Japanese tie-dye. 
There also will be a group that makes jewelry out of 3D recycled metal, an Ashmore artist who creates metal art, and a new painter and weaver.
Holi will be a part of festivities
For several years, EIU's Holi Festival, sponsored by Eastern's Indian Student Association, has been associated with Celebration, but has always been separated from the rest of the festivities.
This year, the festival will go from 3 to 5 p.m. Saturday on South Seventh Street along with the rest of celebration.  
Holi is celebrated in India and Nepal, and is most often referred to as the "Festival of Colors." It is a celebration of spring and friendship. During EIU's take on the international celebration, primarily Eastern students can be seen chucking colorful powder at one another until they are mess of color. 
Ahead of the event, the will be an international fashion show with a cultural mix of performers made up of EIU international students. That is scheduled for 2 p.m. on the outside stage located just south of Doudna. This year the stage will be facing Ninth Street. 
The Dachshund Dash is back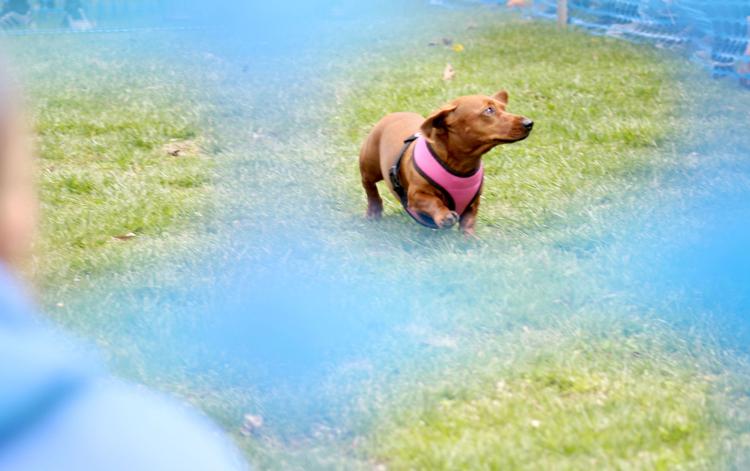 It was one of the bigger hits at Celebration last year, and Crews said it is coming back this year. 
Registration for the dash will be from 10 to 11 a.m. Saturday, along the South Seventh Street festivities. There will be an entry fee of $5. All of the proceeds will be donated to the Genesis Animal Rescue. 
Do you recognize some of these bands?