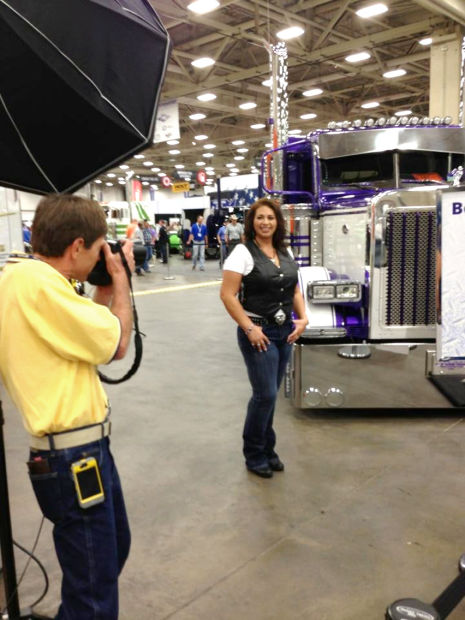 DALLAS — Truck driver Libby Clayton, a former Charleston and Kansas resident, said she did not win top honors at Overdrive magazine's Most Beautiful contest Aug. 22-24, at the Great American Trucking Show in Dallas, but said she had an "absolute blast" at this event.
Clayton was a top-three finalist in the contest, along with fellow female drivers Tina Comer and Maggie Stone. They received make-overs at the Great American Trucking Show, signed autographs, and participated in a photo shoot for Overdrive magazine at the Pride & Polish event. A team of judges chose the grand prize winner, who will appear on the cover of Overdrive.
"Maggie Stone was named grand prize winner, but we were all winners. She's very sweet and every bit a hard working trucker," Clayton said via email.
Clayton was raised in Kansas, where she attended grades kindergarten through eighth in the local school district.
Her family subsequently moved in 1975 to Charleston, where she attended and graduated from high school. Her mother, the late Kay Kerans, worked at Eastern Illinois University. Clayton later moved to Arkansas.
Her family has a history in trucking. Once her two sons were grown, she decided to leave her desk job and pursue a career on the open road as a trucker.
You have free articles remaining.
Clayton has been a trucker for more than seven years now. She works for the Fort Worth Carrier Corp. and drives doubles across the country for the Little Rock division of Dillard's Department Stores. She drives a 2006 Kenworth T600 semitrailer.
Clayton, now of Jacksonville, Ark., told Overdrive that show trucks have always caught her eye and she had always wanted to be photographed with one, so she decided to enter the magazine's contest.
Clayton said via email that she is excited to have been in the top three in the Overdrive contest.
More than 70 women initially entered the Most Beautiful contest. Online voters narrowed the field to 10 in April, and then Overdrive readers cast their votes to help select the top three in June.
"So many people have supported and encouraged me," Clayton said. "The amount of people who voted for me from my hometown area of Charleston and Kansas has been huge. Classmates from K-12, long-time friends of my mother, even my kindergarten teacher voted for me."
Clayton said that it has been both a privilege and honor to be able to participate in the Great American Trucking Show, and to represent women in the trucking industry.
"I hope that I'm able to do justice to all the ladies who choose to be professional drivers," Clayton said.