Barbeque enthusiasts know that"low and slow" is the only way to go, whether it's cooked slowly over wood, charcoal or in the oven. Like other barbecue pork experts, chef Ryan Ratino prefers the pork shoulder because he knows classic barbecue cooking breaks down the meat while retaining moisture. It's the best way to get a fork-tender dish that's irresistible combined with your favorite barbecue sauce.
Ratino suggests dressing the lacquered shoulder with herbs including basil, dill and parsley and serving it with bread-and-butter pickles, summer melon and grilled or sautéed corn.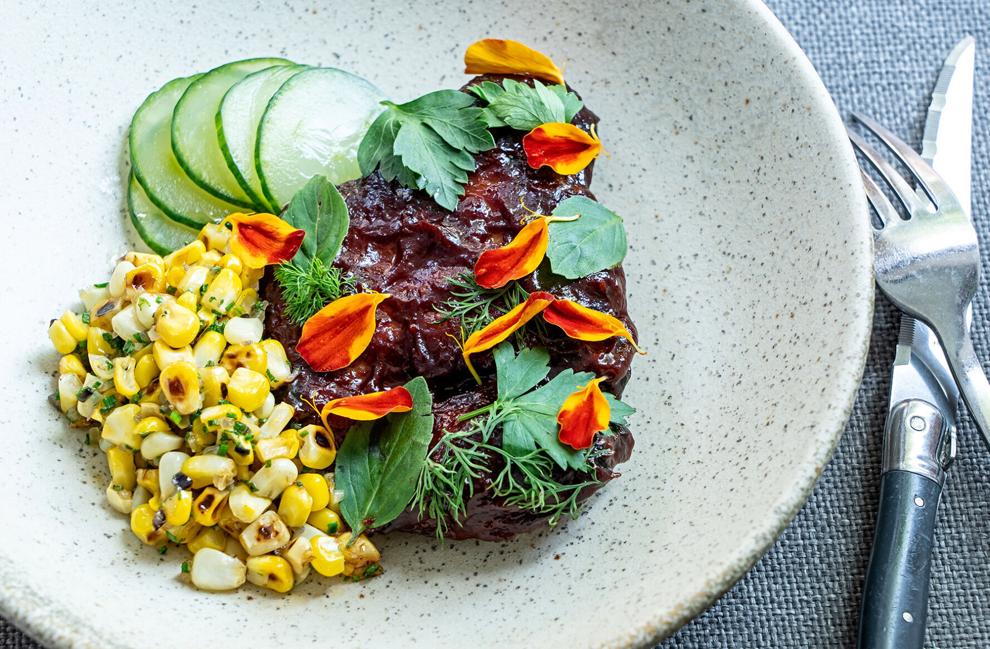 ---
BBQ Pork Shoulder Confit
4 lbs boneless pork shoulder
1 cup favorite barbecue spice rub
1 cup salt
¼ cup coarsely ground black pepper
1 gallon vegetable oil
2 cups favorite barbecue sauce (such as Sweet Baby Ray's)
Cut pork into 4 equal chunks, each about 4 to 6 inches wide and 1 pound. In small bowl, stir together spice rub, salt and pepper; rub pork well with spice mixture, pressing so that it adheres. Allow pork to sit and marinate at room temperature 2 hours.
Preheat convection oven to 225°F or conventional oven to 250°F with oven rack on lowest position. Transfer pork to wide-bottomed, oven-safe saucepot at least 6 inches deep. Pour enough oil over pork to cover. Cover saucepot with lid or wrap tightly in foil. Bake 3 hours. Carefully remove saucepot from oven. Test pork to see if it is fork-tender. If not, cover and bake 1 hour longer. Remove saucepot from oven; allow pork to cool in oil at room temperature 2 hours.
Preheat oven to 450°F. Place large wire cooling rack inside large rimmed baking pan. With spider-style strainer, remove pork from oil, allowing excess oil to drain off; place pork on rack. Brush all sides of pork generously with some barbecue sauce. Roast about 20 minutes or until the outside is well caramelized and internal temperature reaches 155 to 165°F. Brush pork with remaining barbecue sauce to serve.