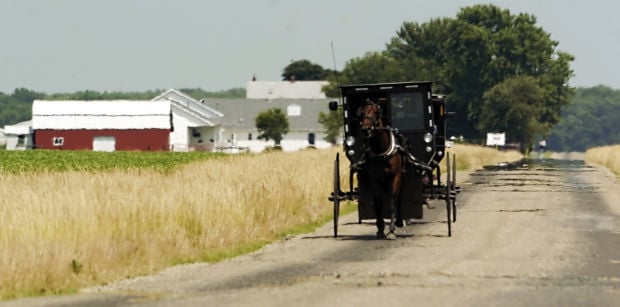 "But the Comforter, which is the Holy Ghost, whom the Father will send in my name, he shall teach you all things, and bring all things to your remembrance, whatsoever I have said unto you. Please I leave with you, my peace I give unto you: not as the world giveth, give I unto you. Let not your heart be troubled, neither let it be afraid." -- John 14: 26, 27
What a dreary day! Gray, misty, but really not too chilly and no snow, ice or strong wind. So yes, it is a nice day! It's just, well, it is dreary.
And with my energy level at rock bottom, I have a hard time seeing the beauty of the day.
Having a badly bruised, broken or cracked rib just doesn't help matters any at all. I hurt and I can't lie comfortable in bed so part of the night is spent on the couch, resulting in a somewhat less than restful sleep.
This is probably my fourth experience with a cracked or broken rib. Twice it came from bike accidents, the third time I fell off the storage shed porch. This time our horse squished me against the wall. I'm pretty sure I heard bones crunch.
I'm getting along mostly okay except when I have to cough, it hurts so extremely bad. And then lying down I have to have numerous pillows and still it isn't comfy. But I'll be fine in about four to six weeks.
We had the pleasure of having our dear friend, Mona Hunter, visit us Saturday. Her daughter of New York brought her out. Thank you Karen! I have been wondering how she was doing. It was so refreshing visiting with Mona and Karen.
We had our Plank family Thanksgiving gathering Sunday at sis Louise and Dale Kauffman's house.
Louise could show off her newly remodeled kitchen. Here old dark cabinets were replaced with white ones. She has a light gray floor. It is really nice and bright. Small, yes, but really nice.
I'd like to have new cabinets in our kitchen.  After 11 years, our pine cabinets are dark and dreary looking. But oh well, they'll do.
There were some revelations made at our gathering. My siblings figured it would be too late to write about it. But they were wrong and underestimated their sister/columnist!
My brother Marx must have had a senior moment, although he is not actually a senior. Or maybe he just takes after his sister of whom's name I won't mention but she can be a little dizzy and air-headed. At any rate he couldn't find his phone in the truck. So he used the flashlight on his phone to search out the floor board of the truck. Duh!
Then sis Barb revealed how one time, probably a year ago, she took me to Champaign to the foot doctor. Our mom went along and sat in the front or Barb would have never got this past me. She had on two different shoes. She had another pair at home just like it!
Anyway sometime on the way she realized it so they drop me off and hightail it to the nearest shoe store and never told me until now. It wasn't too late!
Last week one day I decided to rearrange the furniture in our living room. That meant emptying two bookcases and that was a lot of books. I culled out some, a mere boxful. I wanted to take them to the MCC Thrift store in Arthur.
Since I had to go to the doctor the next day, I decided to do it then. Sis Ferne was taking us. We get to the store, back up to the back door, I ring the bell, again, again, no response. I bang on the door, no answer. Ferne calls on the phone, still no response. Okay I'll go around to the front. It's dark. What? Then one of the ladies comes to the door, "We're out of power! A transformer blew."
All along Route 133 the businesses were dark. We decided to go uptown to see where else the power was off. It wasn't off along Vine Street and since I needed stamps I decided to go in and get some since we were right by the post office. When I got in I met my eighth grade science teacher. I went to Arthur Junior High in my eighth grade term. Elmer Stanford was my science teacher. He almost didn't recognize me. When I told him I was Millie Plank back then, he was like, oh, I can see it now. Seriously I never liked science. It had nothing to do with the teacher, I just think I didn't need that in my life.
In closing: You know technology has passed you by when after you have a power outage nothing you own is blinking. 
How about trying these easy pecan rolls maybe for a holiday brunch.
Chocolate Pecan Rolls
1/4 cup packed brown sugar
1-8 ounce can refrigerated crescent rolls
1 tablespoon butter, melted
1/2 cup milk chocolate chips
Heat oven to 375 degrees. In a small bowl mix brown sugar, ½ teaspoon of cinnamon and ¼ cup butter. Spread mixture in bottom and up sides of eight nonstick muffin cups. Sprinkle each with one tablespoon pecans.
In another small bowl mix sugar and remaining cinnamon; set aside. Unroll dough on work surface. Firmly press perforations to seal. Press to form 12-by-8-inch rectangle. Brush dough with one tablespoon melted butter. Sprinkle with sugar mixture and chocolate chips.
Starting with one short side, roll up tightly, pinch edge to seal. With serrated knife, cut into eight one-inch slices. Place each slice cut side down, over pecans in muffin cup.
Bake 15 to 20 minutes or until deep golden brown. Immediately turn rolls upside down onto serving platter. Cool 10 minutes. Serve warm.
Millie Otto of Arthur is a member of the Old Order Amish. Contact her by writing to 1584 CR 2000N, Arthur, IL 61911.
Make your house a home
For the holidays: Get inspiring home and gift ideas – sign up now!