LERNA — Two of the most recognizable figures from the Civil War delivered a piece of history Sunday and made sure the ones who saw it had it in perspective.
Portrayers of Abraham Lincoln and Ulysses S. Grant had a profound visual effect during the two days of the Civil War Weekend event at Lincoln Log Cabin State Historic Site.
Curt Fields' appearance marked the first time Grant was part of a Civil War event at the Site. Fields used his presence as Grant to urge that history not be forgotten.
"Take jealous care of it, for if you don't, it will go away," the Collierville, Tenn., resident said during Sunday's activities.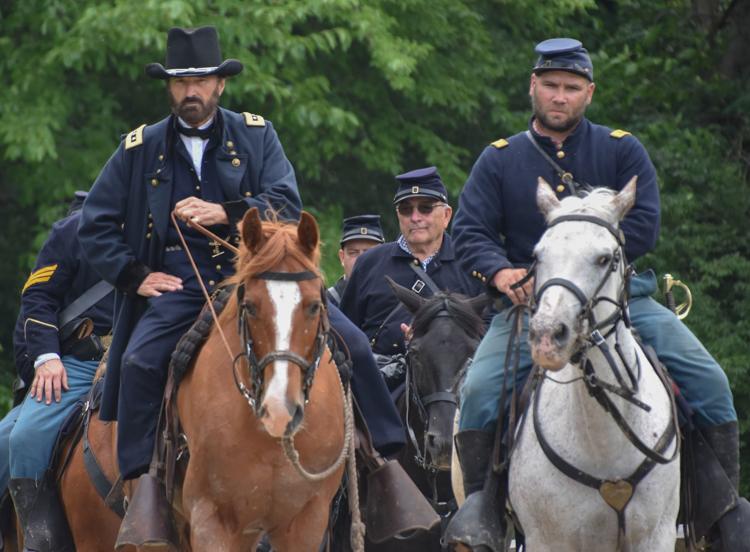 George Buss, a resident of Freeport who's portrayed Lincoln during other local events over the years, carried a similar theme.
Copying Lincoln's habit of storing papers in his stovepipe hat, Buss produced a copy of the Gettysburg Address and read it to Sunday's audience.
"By hearing the words in our time, we continue to remember the sacrifice," he said.
Just as Buss' height and other features made him a natural as Lincoln, Fields' stature and whiskers made for an accurate resemblance to Grant.
As he noted, Sunday's appearance of both also made for an usual sight, as the two men were never photographed together.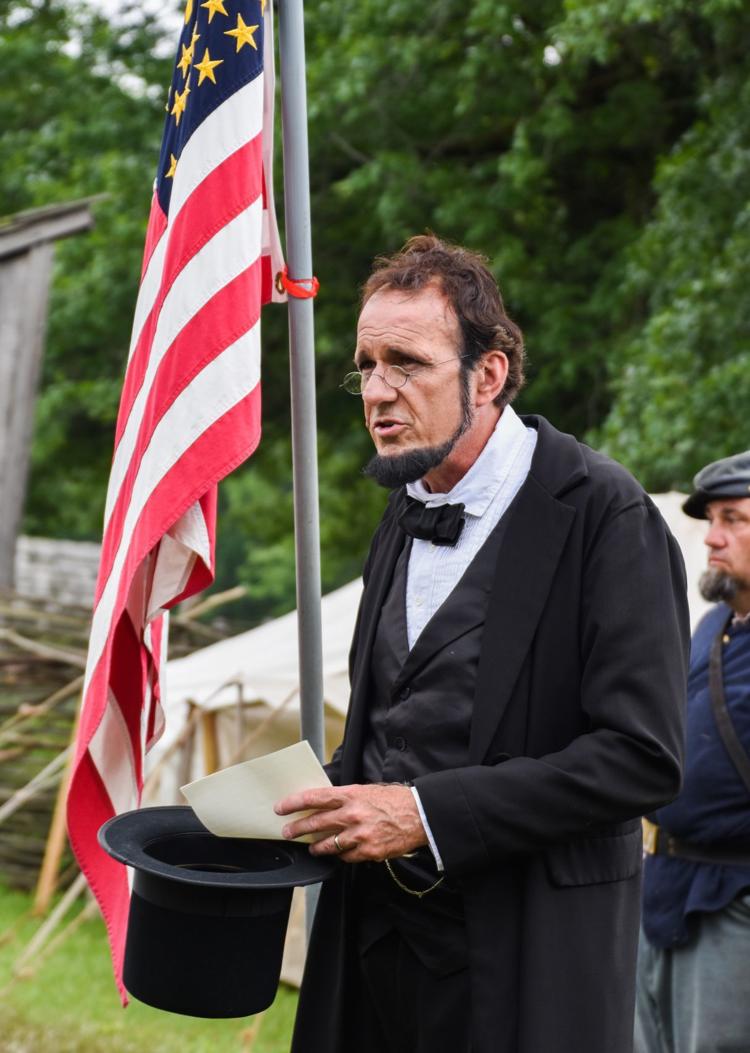 Register for more free articles.
Stay logged in to skip the surveys.
Sunday's activities included a troop review that Fields conducted on horseback, something visitors learned was also unusual.
Members of the 5th Illinois Volunteer Cavalry re-enactment group also took part in the site's event. Member Blake Sponsel told the visitors that most re-enactments that include a Grant portrayer don't show him riding.
Some of the event's activities also took place on Saturday and the rainy weather didn't seem to hold down the crowd size much, historic site Manager Matthew Mittelstaedt said.
A Civil War ball Saturday evening started inside the site's visitors center but later moved outside as first planned, he said. The ball went longer than scheduled and was "well attended," he added.
Fields attended the ball and also addressed an audience in the visitors center on Sunday. During those, his theme was the Grant who conducted a troop muster in Mattoon in 1861.
Both he and Buss said they appreciated visitors' reactions to their appearances.
"I love the looks on their faces when they see us," Fields said.
Buss said children always appreciate the portrayals. "If that gets them one step closer to history, we've done our job," he said.
GALLERY: CIVIL WAR WEEKEND