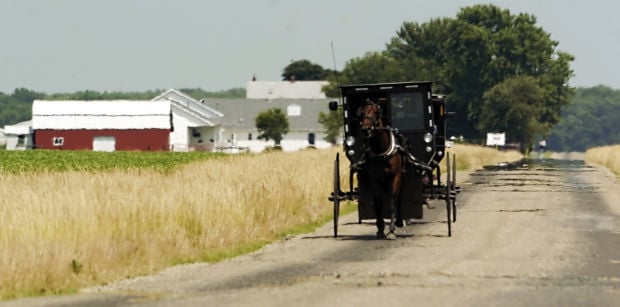 "Watch therefor: for ye know not what hour your Lord doeth come. But know this, that if the goodman of the house had known in what watch the thief would come, he would have watched, and not have suffered his house to be broken up. Therefor be ye also ready: for in such an hour as ye think not the Son of man cometh." --Matthew 24:42-44
A muggy morning. Earlier is was sunny but thundering. And then the rain came. After granddaughter Sherilyn was here and said she'd like to take their "Littles" to the park if her mom would agree. She said she'd even get the lunches packed so her mom could sew a little longer. I very much doubt they went.
It is still thundering on this Tuesday. It is close to 11:00 a.m. Almost time to go bring Erwin home from the workshop. I kind of hope the rain will hold off now until we are home and Erwin is safely in the house.
Maybe I should just go early. Surely it wouldn't matter.
It is now after lunch. We made i home before another shower hit. We've had almost 0.7 inches of rain. Right now the sun is shining but the east looks stormy.
I guess if it does clear off I could go do laundry. In case I can't tomorrow.
I need to go back to the dentist tomorrow. My partial doesn't fit. I wore it for about a day total, then gave up. It just hurt so bad. I tried several things to no avail. I decided I don't have to hurt and took the thing out.
Sunday our church services were held on our old home place. It was interesting, going back. Actually, I had been back once before but didn't have a chance to check things out.
The place has really changed but the house still has some vestiges of its former life.
What used to be my room is no longer the PINK it used to be. Yes, I wanted it pink. But actually, I think when I moved out, sis Barb took it over and painted it a fresh, light yellow.
The stairway is still the same: narrow, steep, hard to navigate.
But back in the day, we gallop up there two steps at a time! And see how many steps up we could be and jump down. Crazy girls! Those were the days! Now I can't even jump, don't even want to!
And thinking about back in the day, this morning I bought a bag of ice as I do at least every other day. I told the lady behind the counter, back in the day we wouldn't have dreamed of buying ice. We made our own or did without. I think we just did without.
If we wanted cold water, we went out to the pump which had a tin cup there for any and all. It got washed by the rain.
Inside we had a bucket with a dipper sitting on the counter. We'd slurp out of the dipper, drop it back in and go on our merry way with no thought of GERMS!!
Did we even know germs? And now, now we have to wash our hands every time we turn around, use hand sanitizer in between, wear masks, the world has gone crazy!
Back in the day only train robbers wore masks. Or Halloween pranksters. Spare us!
Don't get me wrong, I believe in being sanitary and now I would not drink out of a dipper or cup that everybody and his dog slurped out of.
And our well, does anyone even have well water anymore? Maybe that's the problem, we need "well" water.
Anyway, it looks like it's clearing off, but I still can't do laundry. I just happened to think, we'll be going to the visitation of a long ago neighbor.
I don't remember Jacob Miller as a neighbor, but his mom and dad and younger brothers and their pony, Dickie.
I thought they were so lucky to have a pony. I always would have liked to ride it but being the shy girl (did I hear a snort?!) that I was, I just never got around to make my wishes known.
In closing--Dachshunds are ideal dogs for small children, as they are already stretched and pulled to such a length that the child cannot do much harm one way or another (Robert Benchley).
A recently acquired reader requested this recipe. I may have ran it before. Or a variation of it.
This makes a large batch, like for our church.
Mixed Peanut Butter
1 lb. butter (room temperature)
Mix all ingredients together. More or less syrup can be used.
Be the first to know
Get local news delivered to your inbox!