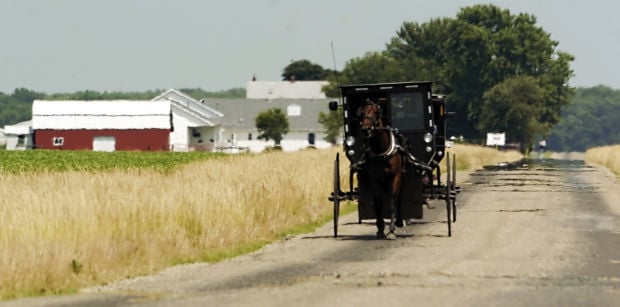 "Whosoever that believeth that Jesus is the Chris is born of God; and everyone that loveth him that begat loveth him also that is begotten of him. But this we know that we love the children of God, when we love God, and keep his commandments for this is the love of God, that we keep his commandments: and his commandments are not grievous." --1 John 5:1, 2, 3
Another beautifully sunny summer day. Not a cloud to be seen and it isn't even very humid. And here I am, behind my desk, pen in hand, wishing I could be outside tackling the weeds that are threatening to take over the garden.
Yesterday (Monday) started out so nice and sunny, the forecast in the paper said thunderstorms. Well, forgive me, I must have been a doubting Thomas, I did not believe them.
First I got my laundry done, then I started my community newsletter. This stuff all after I got home from cleaning and dropping off hubby at the workshop.
As I was writing, I guess God nudged me to go out and check the beans. I did. And decided to pick them right away. Also, I checked the corn, and yes, I had some ready, so I gathered that.
I husked the corn, cleaned the beans, brought my laundry in from the line, by then it was time to go get hubby.
On the way home, the clouds started coming up in the west, pretty fast, actually. Then I wondered, I guess the paper knew more than I gave them credit for. Those clouds came up in a hurry and yes, we drove through a rain shower on the way home.
I didn't care I just counted my blessings that I picked the beans and brought in the corn, the clothes were inside and dry, although still in the basket "curing".
Now as I write, I have the accompaniment of a very annoying buzz. Our solar motion light quit working quite awhile ago. Just lately it has taken up this buzz. I keep thinking anytime now the thing will take off and fly. It sounds like it could.
I can't fix that like I planned to fix some dogs yesterday. I was sitting in the yard under the shade tree, cleaning beans. A couple of dogs were under the storage shed, bark, bark, bark, on and on and ON! I was getting very annoyed! What could I do to shut them up? I know! I got my hose all ready. I was going to blast them good with a surprise shower. Well, by the time I had everything ready, they came out and trotted home with the air of mission accomplished. But my mission wasn't! I must say, I was disappointed. Oh well, it was quiet once again.
I haven't been getting a lot of corn and beans. I may have to go to Shady Crest to get beans to can enough.
Our corn is ever so good! Corn on the cob, fresh tomatoes (from Shady Crest), watermelon (also from Shady Crest), that makes the best summer supper. Providing your mouth doesn't hurt to chew. My partial still hurts my mouth. It is now on the other side.
I don't want to take another trip to the dentist so I'm babying my mouth, hoping the hurt will go away. It sure does take away from enjoying the summer's bounty.
This is now late in the afternoon. I took off to go get hubby at the workshop. And no one even realized I was gone. Sigh!
We had lunch. Rewin was barely hungry, he was too tired, but I was starving, so I may have eaten enough for two!
I did laundry again. Why do I wash every day? Well, mostly because I can, it's easy and fun, it doesn't take long, it's summer and it dries fast. Are those enough reasons? Oh yes, I don like having those stinky clothes lying around.
We had the privilege/pleasure of having granddaughters, Andrea and Kaitlyn stay with us Saturday afternoon.
Big sis Julia was with them until shortly after lunch then she had to leave so she brought them over. Mom, Jane and Dad Milton went to the school meetings. Sherilyn went along to help baby sit the little ones that were there.
I was doing corn. I had picked beans but I put those in the fridge. I didn't want to cook beans on a Saturday afternoon.
Andrea helped some with the corn. I always enjoy when they are here.
In closing: Perhaps it's true that the early bird gets the worm, but did you ever wonder if he enjoys it as much as the other bird enjoys sleeping in?
Would you like to sit under the shade tree munching chips and dip? You might want to try this black bean salsa.
Black Bean Salsa
1 15 oz. can of Bush's best black beans, drained
1 11 oz. can of white shoepeg corn, drained
1 14 oz. can of diced tomatoes (basil, garlic, oregano flavor)
1 10 oz. can of diced tomatoes with green chilis
1 8 oz. bottle of zesty Italian dressing
Mix all ingredients together. Refrigerate for at least 1 1/2 hours. Serve with tortilla chips.
Millie Otto of Arthur is a member of the Old Order Amish. Contact her by writing to 1584 CR 2000N, Arthur, IL 61911.
Be the first to know
Get local news delivered to your inbox!