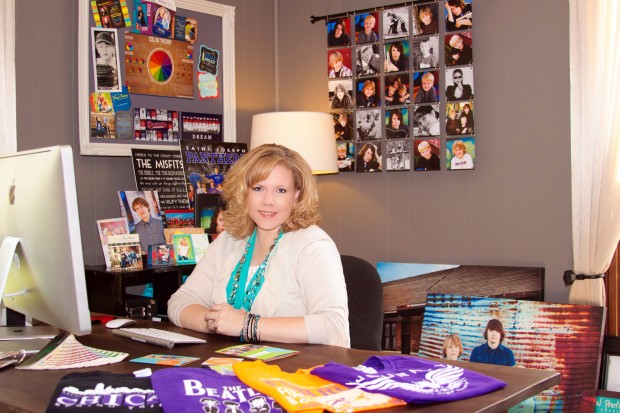 ARCOLA — Kris Bott, a graphic designer for Kendra Pence Photography of St. Joseph, was nominated for and received the honor of a 20 Under 40 award for her work in the design field and also for her various commitments to the Arcola school system.
"Kris herself is a wonderful designer and photographer. Her wedding invitations and Christmas cards are like no others," said Rachel Farmer, a previous 20 Under 40 recipient, in her nomination letter. "(Her) work was featured on 'Extreme Home Makeover' with the rebuilding of a local family's home and food bank." In addition, Farmer said, "Her wedding invitations and Christmas cards are like no others."
Bott said working with the television program was one of the most interesting and exciting professional experiences she has had. "In 2009, Kendra Pence Photography, along with Your Reflection My Style in Bloomington, was asked to photograph the Montgomery family from Philo, Ill., and to create wall collections and memories for the family. What a neat experience that was — one I will never forget," said the graphic designer.
One of the best parts of being a graphic designer is creating keepsakes and artwork that last for a number of years, she said. "Whether it's a newborn's birth announcement, graduate's album of their senior pictures, or a large family photo that will hang above the fireplace, I always feel a personal attachment to each project," she said.
Bott is also passionate about her photography work. Growing up, her mother and grandmother were avid photographers at family events, and it is something that she, too, grew to enjoy. "I love photographing my boys at their events, capturing candid shots of that moment in time. It almost makes time stand still when reflecting on those photographs," she said.
Raising three children with husband Sean keeps her busy, but not too busy to give back to the Arcola community via its school system. She plays an instrumental role in the Arcola Band Parents group. "Kris is tremendously active in the Arcola community, namely the schools there and the activities that involve any of her three boys," said Farmer. "She has helped organize trips for band members to Disney World and chaperoned field trips to Chicago as well as dished out hot chocolate at a cold Oblong band competition."
Lending a hand in her son's classrooms with a variety of holiday projects throughout the year is another way she helps out the school system.
"Our school district has such amazing teachers, and I absolutely adore my children's classmates," Bott said. "I try to pitch in and help where I can and the teachers know they can count on me to do whatever needs to be done.
"Whether it's in the band department, junior high wing, at scholastic bowl events, class parties or with a Fun Run, it makes me extremely happy that I can share my time and talents at the school," she added.
Having a job that allows her to work out of her home allows Bott the flexibility to stay involved with her children's activities, she said. While that flexibility makes her feel lucky, she said sometimes balancing work and home can be a difficult task because the work is always in front of her, and it's hard to know when to quit for the day.
"In the crazy world of photography and design, you are so busy on a day-to-day basis," Bott said. "Even in my off time, I usually have my nose in a book / magazine or my iPad reading about what's up and coming, trying to stay current and keep my ideas fresh. Sometimes it's very hard to just unplug and clock out for the day. This is when I'm thankful for my children's events; it forces me to step away and just enjoy life."
As for her long-term goals, Bott just said she wants to continue to do the best job possible with the talents she has been given.