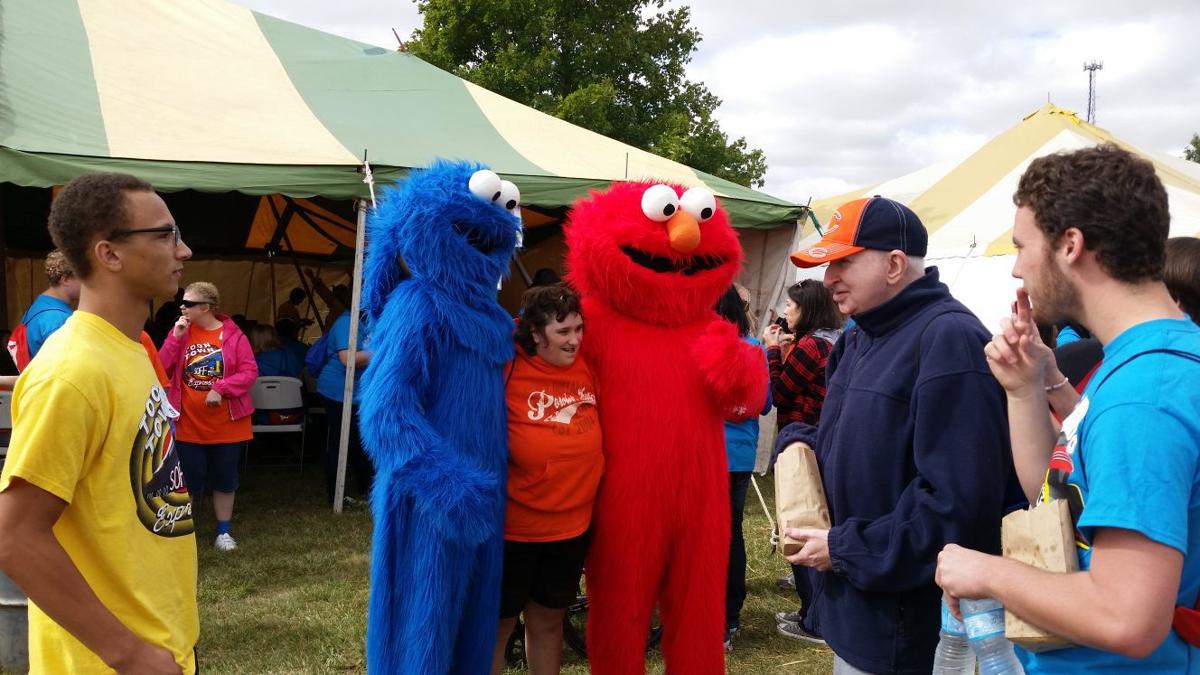 MATTOON -- Gerry Myers first got involved with the Special Olympics Family Festival when his employer, Consolidated Communications, founded this event in 1984, and he has been volunteering ever since, even after recently retiring.
"It's very rewarding. It is just a fun day for everyone involved, the participants and the volunteers," Myers said on Saturday at the 32nd annual festival on Lake Land College's campus.
Myers said he has served as a facilities chairman for the festival, unloaded and loaded tables, run various errands, and helped with other tasks over the years. He said a large team of volunteers is needed to hold the festival, but it is well worth the effort.
"This is just a special day for the Special Olympians and they look forward to it," Myers said. "If I can help make that day better for them, it's the least that I can do."
Many longtime volunteers, on their own or as part of various organizations, take part in the festival, which Consolidated sponsors with Sarah Bush Lincoln Health Center and First Mid-Illinois Bank & Trust.
One of these volunteers is Joe Dively, who is chairman and CEO of First-Mid. Dively, formerly an executive with Consolidated, said he has volunteered for 24 years now and has spent half of these years hanging out with his Special Olympian Friend-For-A-Day, Tom.
"It is one of my favorite days of the year. I really do look forward to it," Dively said. "I love being in the Field House and watching the initial introduction of the Special Olympians and their Friends-For-A-Day."
Dively said some of the new volunteers feel awkward at first because they are going out of their comfort zone by accompanying someone who has special needs. He said they lose this nervousness after spending the day alongside their new friends.
"All that awkwardness is gone and there is a special bond. A lot of Friends-For-A-Day come back the next year looking for their Special Olympians," Dively said.
Eastern Illinois University seniors Allix Sullivan and Kelly Ingalls, both from Ashkum, returned as Friends-For-A-Day this year. Sullivan, a special education major, said she enjoys hanging out with her Special Olympians and helping make sure they have a good day.
Ingalls, an adult and community education major, said she has fun getting to know her Special Olympians and finding out their favorite activities. The two EIU students said their friends were fond of the temporary tattoos, face painting, photo taking, and costumed characters this year.
"My face hurts from smiling so much because they have made me so happy today," Sullivan said.
Ingalls added, "It lets you get out of your bubble by spending time with them."
One of the most popular carnival attractions this year was the karaoke tent, where Consolidated employee Brandy Caldwell served as emcee. The Special Olympians sang "Achy Breaky Heart," "Let It Go," and many other songs before concluding with a spirited sing-a-long on "Sweet Caroline."
"It's a lot of fun. They get to be a rock star or a country singer," Caldwell said.