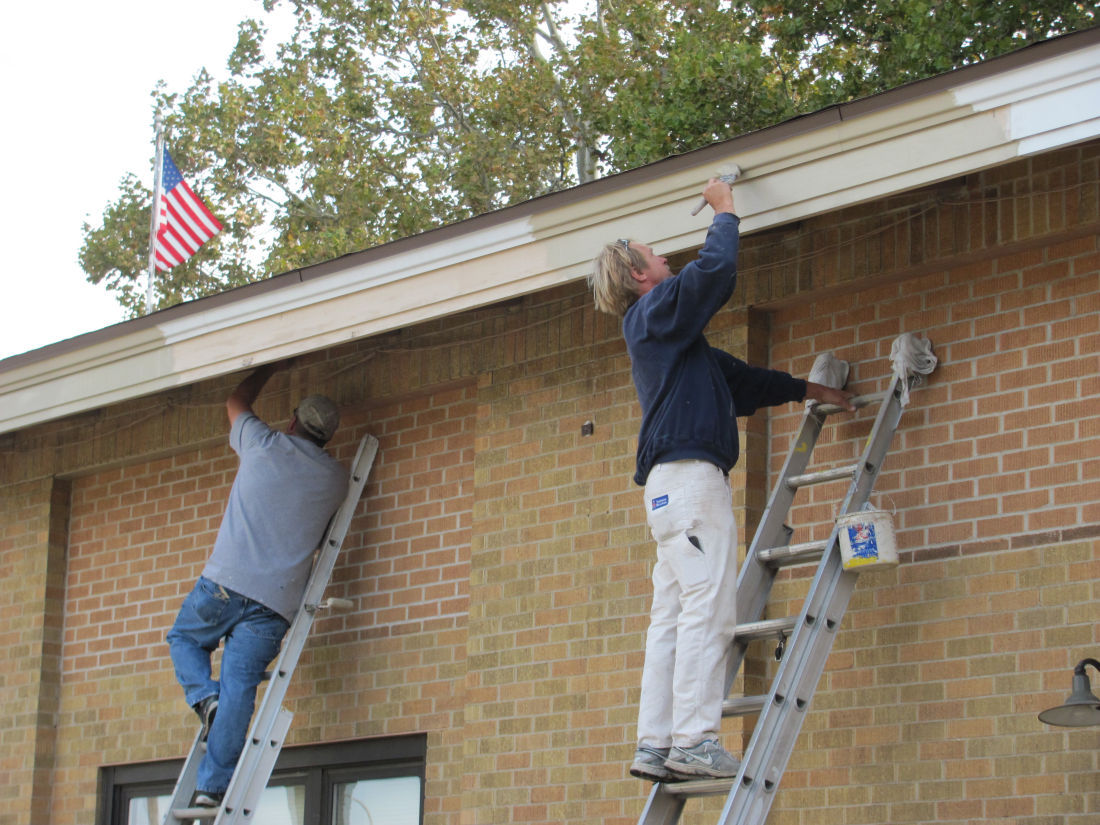 MATTOON -- The city has been sprucing up the exterior of the 62-year-old Burgess-Osborne Memorial Auditorium.
The sprucing up has included power washing the bricks, cleaning rust off of the aluminum window frames, and removing overgrown yew shrubs from around the building, 1701 Wabash Ave.
In addition, Gossard Holsapple Painting, Drywall Inc. has started painting wooden trim and panels on the building after Standerfer Construction replaced deteriorated wood there.
"Our overall goal is to make Burgess-Osborne more attractive for wedding receptions and other rentals," said Public Works Director Dean Barber.
He said the auditorium is frequently used for meetings, classes and other events, but added that some of these events only last for an hour or two.
Barber said the city also plans to enhance the appeal of the building for rentals by adding counter space with plug-ins for crock pots and other small cooking appliances, as well as a sink, inside the auditorium. He said the city has applied for grant funding and hopes to finish this work during the winter.
The city also is preparing to plant new trees and shrubs around the building this fall and flowering plants in the spring, Barber said. The property has a good mixture of sunny and shady plots for plantings that will complement the Douglas-Hart Foundation's adjacent Friendship Park, he said.
"We want our landscaping to tie in with Friendship Park," Barber said. He noted that the Douglas-Hart Foundation is expanding the west side of the park into an adjacent lot at 1712 Lafayette Ave. where a dilapidated house was demolished last winter.
Barber said the city has already resurfaced 17th Street and installed a new sidewalk on the east side of the auditorium. He said they plan to resurface the parking lot on the west side of the auditorium in the next year or two, adding that this lot will serve the expanded Friendship Park too.
Historic preservation consultant Steve Thompson, who is a member of the Coles County Historic Preservation Advisory Council, said the auditorium has been named as a Coles County landmark because of its architectural and social history significance.
Mattoon native Emily Burgess-Osborne, who lived from 1867 to 1949, established a trust for the creation of a building to host meetings and special events, Thompson said. The building was constructed in the post-World War II modern movement style, he said.
Thompson said the city has been using paint and building materials that fit the historic look of the building, and has removed long overgrown yew shrubs that had obscured the exterior of the building.
"That will make the building stand out. It really will," Thompson said.