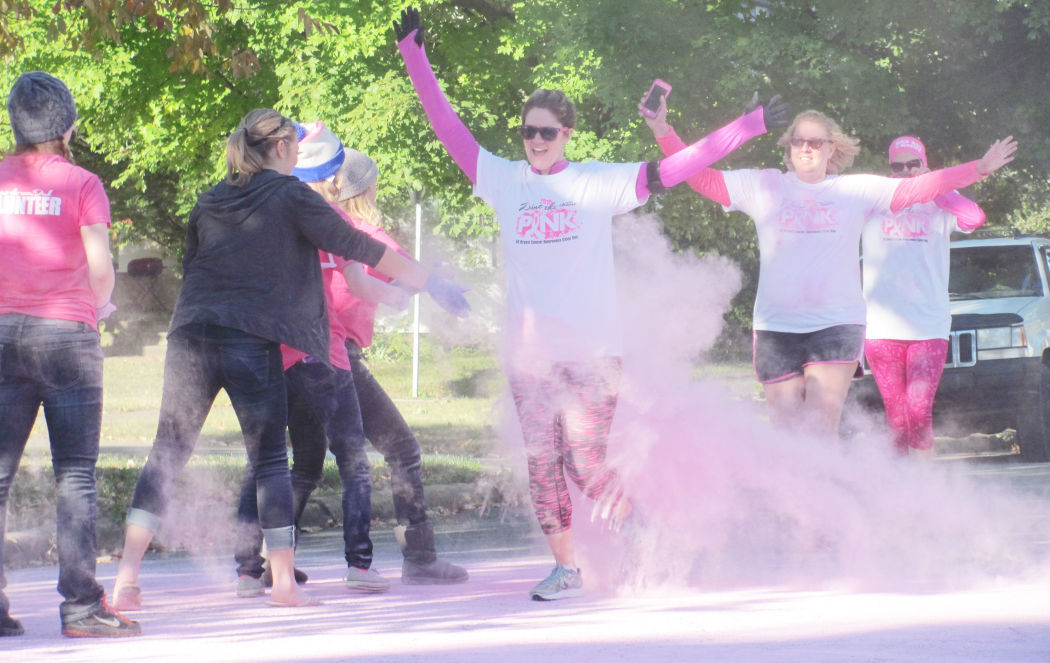 MATTOON -- Runners and walkers were doused in pink powder Saturday morning at various points along the route for Sarah Bush Lincoln Health Center's Paint the Town Pink 5K Color Run/Walk.
However, many of them were colorful beforehand, wearing pink tutus and wigs at the starting line. The event was held to help raise money for Sarah Bush Lincoln's planned Regional Cancer Center during pink-hued Breast Cancer Awareness Month.
Gary Carter of Mattoon said he and his wife, Sheila, modified children's Halloween costumes to create matching pink tutus and wigs for them to wear in their first cancer awareness run/walk.
"It's a great opportunity to raise money for a cause the community needs. We need that cancer center," Gary Carter said. "You can't beat improving facilities."
Gary Carter said he ran in the 5K in honor of his mother, Judy, whose lung cancer is in remission. Sheila Carter said she took part in memory of her sister, Lynn Shoots, who died from stomach cancer.
Lori Poorman of Sullivan and her daughter, Brianna Quinlan, dedicated their participation in the walk to women in their family who have fought cancer and to all other women who battled this disease.
Quinlan, who is living in Alaska while her husband is stationed there with the Army, said she suggested to her mom that they enter the Paint the Town Pink 5K together while she was back for a visit. They wore pink tutus and wigs adorned with flowers for the event.
"It will be a fun memory for us to have," Quinlan said.
Laura Bollan, director of the Healthy Communities program at Sarah Bush Lincoln, said they organized the inaugural Paint the Town Pink 5K benefit as a way to raise cancer awareness and to get the community involved. She said they encouraged participants to wear pink tutus, and to take selfies in them and post these photos.
"It's such a meaningful event for so many people. They are running for loved ones. They are running for friends and family," Bollan said. She added that organizers have been honored to hear participants share stories from their own lives about battling cancer.
More than 600 runners and walkers signed up for the Paint the Town Pink 5K, Bollan estimated.
These participants included breast cancer survivor Diana King of Heyworth, who was accompanied by Marissa Ford of Mattoon and Bridget Henderson of Wapella. They had a dusting of pink powder on them as they crossed the finish line together.
Henderson said they had fun Saturday morning, adding that their experience with Paint the Town Pink 5K was well worth the early morning drive to get to Mattoon.
"Watching the little kids throw the pink powder was cute," Henderson said.
Ford added that, "The volunteers are really hyped up and excited."