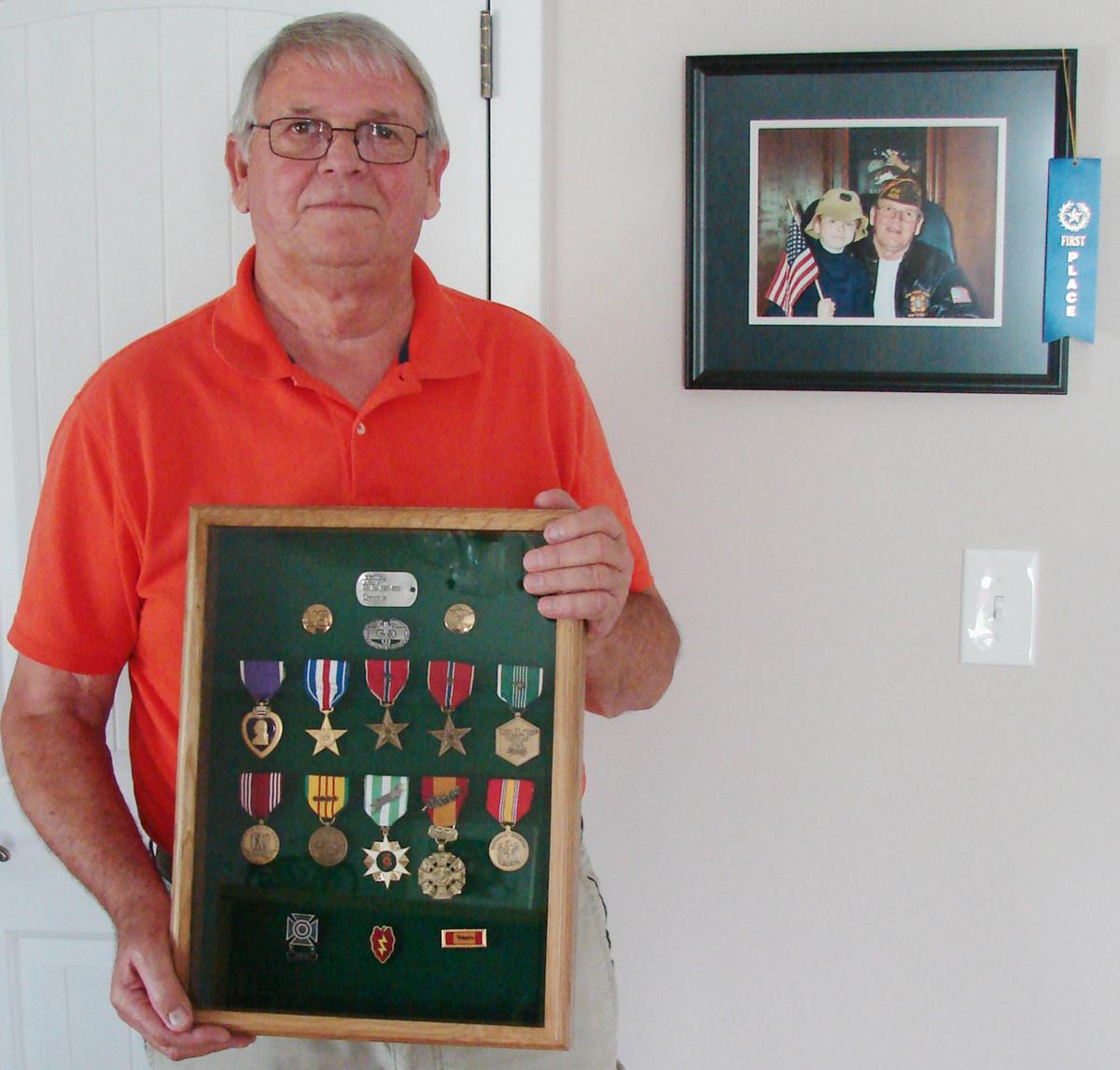 MATTOON -- The nickname "Doc" has stuck with Joel DuFrain ever since he served in Vietnam as a medic alongside his fellow soldiers in Delta Company of the 2nd Battalion, 27th Infantry Regiment, known as "The Wolfhounds."
"If they liked you, they called you 'doc.' I earned that. I am proud of that nickname," DuFrain said. "If you were a good medic, they just treated you right. They trusted you, and that was worth a lot."
The longtime Mattoon resident, who grew up in Staunton, said he had not set out to become a medic, but this specialty was assignment to him after he was drafted into the Army in spring 1968.
DuFrain said he underwent medic training at Fort Sam Houston in Texas and then was assigned to the 11th Medical Corps Battalion at Ford Hood in Texas before he was deployed in spring 1969.
In Vietnam, DuFrain said he was assigned to Delta Company and transported by helicopter to their fire base along the Cambodian border. DuFrain said he flew alongside body bags to the fire base, which he found out had been overrun by Viet Cong guerrillas the night before.
"That first day in the field was quite an eye opener," DuFrain said. Several soldiers had been killed in action there. DuFrain said one of his first duties at the base was to help place their remains in the body bags and load them onto the helicopter.
DuFrain said, as a medic, he took care of everyone in his unit, from the captain down to the enlisted men. His pack include field dressings, morphine and other supplies. DuFrain said his basic job when soldiers were wounded was to stop the bleeding and get them stabilized until they could be picked up by helicopter.
The veteran said his "longest day" in the field occurred on July 29, 1969, when his unit was called to help Army Rangers who were in trouble at a remote fire base. He said his unit flew so far out of their area that they needed to stop and refuel, a rare occurrence, before touching down at the fire base.
"It turned out we walked into an ambush," DuFrain said. "We took a lot of sustained fire. We all scattered and got as much cover as we could."
DuFrain said he ended up near his commanding officer and two radio operators in a spot where they were separated from their unit by a hedgerow. DuFrain said he tended to his officer's chest wound and the shrapnel wounds to the face of one of the radio operators while they were pinned down.
The other radio operator called in an airstrike by a Cobra helicopter gunship, DuFrain said. During the ambush, DuFrain said he saw a Viet Cong guerrilla approximately 30 yards away preparing to throw a grenade at him. He said the grenade then apparently detonated prematurely and killed the guerrilla.
Quiet fell over the area after the guerrilla was killed by the grenade and the gunship completed its airstrike, DuFrain said.
"It seemed like an eternity, but it was only an hour and a half," DuFrain said of the time they were pinned down. DruFrain said his unit lost its commanding officer, a radio operator, a medic, and an M60 machine gun operator during this attack.
DuFrain said the actions during the remainder of his deployment were not as intense as the July 29, 1969, ambush. He said his deployment ended in March 1970 and he subsequently returned to civilian life in Illinois. He took a job with UPS that led to him relocating to Mattoon.
"I wanted to blend in and get back to normal as fast as I could," DuFrain said.
In Mattoon, DuFrain spent his career with UPS until his retirement in 2000. DuFrain said he also has been actively involved in the Veterans of Foreign Wars post in Mattoon since the mid-1970s and took part in the dedication of the Vietnam memorial at Peterson Park.
"I am proud to be a Vietnam veteran and I thank God my name is not on a wall in Washington, D.C.," DuFrain said.