CHARLESTON -- Eight years after his coaching career ended and four months after his final departure, Bob Spoo was remembered Saturday as a continuing influence.
Noting the hundreds of players on whom Spoo had an effect during his time as Eastern Illinois University's football coach, longtime colleague Roy Wittke said that reflects in them now.
"I think we need to celebrate you," he said, noting that some of Spoo's players now have sons playing the game. "You are the ones who carry on his influence."
Wittke helped Spoo coach such players as Tony Romo, a former NFL player now in a broadcasting career. He worked with Spoo for 17 years and is now on the football staff at Syracuse University.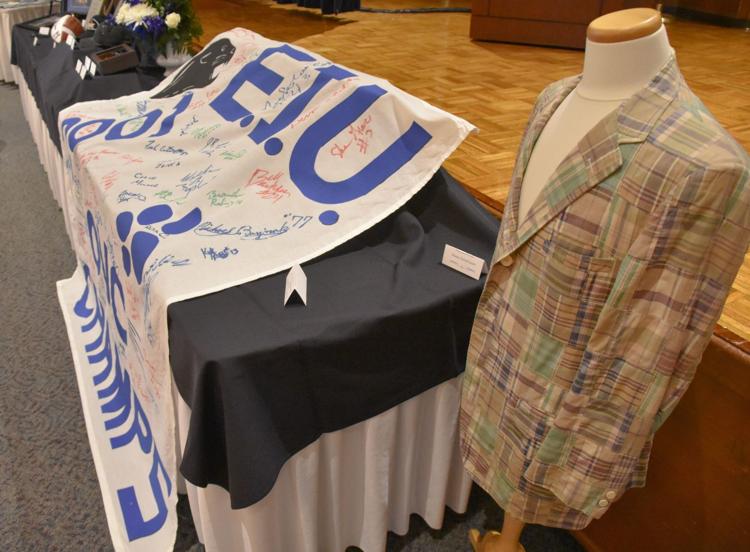 "All these things were born with coach Spoo's influence," he said.
A large crowd gathered Saturday in the university union's Grand Ballroom for the ceremony that honored the man who led EIU football from 1986-2011, winning 144 games.
There was a funeral at the time of Spoo's death in October, but that was a "terrible time" for many who knew him who are still connected to the game, Spoo's daughter Katie Spoo said Saturday.
She said the memorial and the timing fit between the end of the playing and recruiting seasons and start of spring practice. But there was never any doubt that a memorial at EIU would take place.
"EIU football has always been a tight community," Katie Spoo said.
She's now a veterinarian working in Rockford, where her dad and mom Susie Spoo, who died in 2017, moved after Bob retired from football. She said EIU softball coach Kim Schuette played a large part in organizing Saturday's event.
"This is probably going to be harder for me than the funeral," Katie Spoo said. "EIU is where I grew up. It will be tough, in a good way."
She said her dad would "probably be embarrassed" by the attention.
Register for more free articles.
Stay logged in to skip the surveys.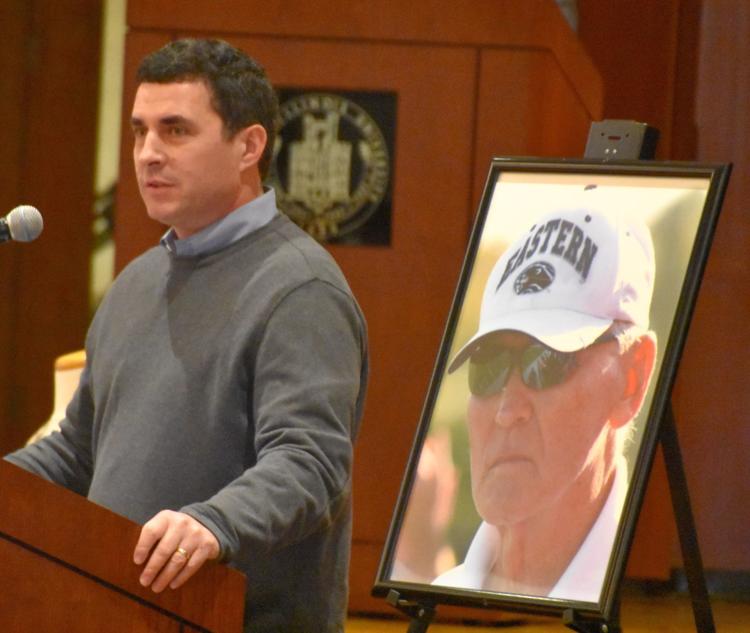 "He was never one to talk about his achievements or accomplishments," she said.
That was something Wittke also mentioned, saying Spoo would probably have preferred being at McDonald's doing newspaper crossword puzzles than hearing people praise him.
His voice breaking at times, Wittke also said Spoo always took the time to talk about how much his wife and daughter did for him.
Wittke also told of the final time they spoke, shortly after Syracuse won a game following two losses.
"Literally, the last two words he said to me were 'keep winning,' " he said. "I took those words to mean keep winning in life."
Saturday's speakers also included Tim Carver, who admitted he was an undersized linebacker when Spoo took a chance in giving him a scholarship. He played at EIU from 1992-95 and ended as the school's all-time leader in tackles.
"He really taught you how to serve, how to love and how to care," Carver said. "I did my best as a player and that's the highest tribute I could give."
He recalled how Spoo "never wavered" in his decisions on the field and was grateful for such things as players making sacrifices to help the team.
"For all those qualities, we're just so grateful for him," Carver said.
The ceremony also included a performance by the choir from St. Charles Borromeo Catholic Church, where Spoo was a choir member, and the choir from the campus Newman Center.
The group sang "On Eagles' Wings," which was "a piece Bob loved," director Allan Horney said.
Thanks to Katie Spoo, those who attended were able to see several items from Spoo's coaching and playing career, which included the plaid sports jacket that some said served as his trademark.