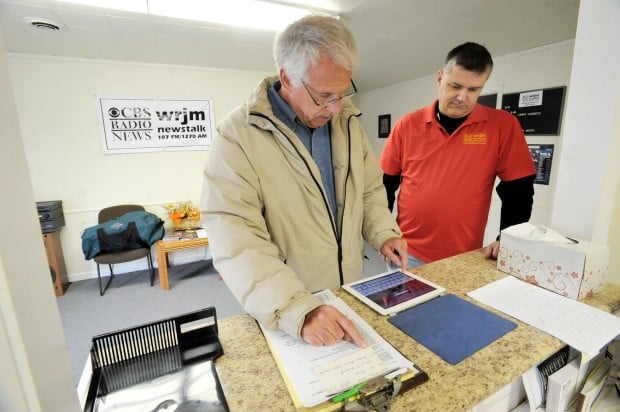 CHARLESTON — How do you remember the Charleston careers of great Trojan athletes Rex Morgan, Jon Buckellew, Stan Royer, Derrick Landrus, Sara Fisher and Curt Hinds.
Do you remember seeing them in person, reading about them in the paper … or do you remember hearing their names and accomplishments during a radio broadcast on WEIC-AM 1270?
Charleston Trojan sports were a fixture at 1270 on the AM dial for close to 40 years. A long list of men broadcast those games to the Trojan faithful that could not be there in person — and even sometimes a transistor radio was at the game helping fans follow along from the stands.
But that ended in December 2003 when Charleston sports relocated to WEIU-FM 88.9.
Charleston baseball and softball games were occasionally broadcast on AM 1270 during the 2012 spring season, and as of Sept. 28, a full schedule of Trojan sports can again be heard on AM 1270, which changed its call letters to WRJM in February.
"I'm tickled to have the opportunity to broadcast Charleston sports," says Randy Miller, president and owner of WRJM. "I want to do a very good job of it. I'm tickled to have the same announcers that had been on the former 1270 and then WEIU. I'm tickled to have that continuity, and (Charleston sports are) a real important piece of making WRJM become Charleston's local radio station."
WRJM got the chance to return Charleston sports to 1270 when a new NCAA rule no longer allowed college-owned stations, like WEIU, to broadcast high school games. EIU learned of the rule change Thursday, Sept. 27, and it created two busy days of preparing to move the broadcasts to WRJM for the Sept. 28 Charleston football game.
Jack Ashmore and Rob Calhoun have continued to do the Charleston football games on WRJM. Ashmore and Calhoun are slated to also do boys' basketball games this winter. Calhoun broadcast the Charleston girls' basketball games from 1998-2003 on 1270, but EIU students are scheduled to do the CHS girls' basketball games this year.
This is Ashmore's 19th year broadcasting Charleston football, and he will soon start his 18th year doing Charleston boys' basketball. He started doing football broadcasts in 1994, and the only basketball season he missed since 1994-95 was the 2004-05 season because of a temporary retirement. Ashmore also did Charleston baseball broadcasts regularly from 1995-2002 on WEIC.
Ashmore says he is glad Charleston sports have returned to 1270 because of the historical connection that exists.
"Really since its existence here, 1270 has broadcast Charleston High School games with the exception of these last years," Ashmore says.
WEIC-AM 1270 went on the air Dec. 12, 1954.
Clancy Pfeiffer says he believes that he was the first sports broadcaster for the station when he started around 1965. Pfeiffer got the job based on a referral from his cousin Jim Kimball, the former Journal Gazette sports editor.
The first question Pfeiffer was asked by WEIC general manager Jim Seed before being hired was to name the most recent Duke football All-American.
Pfeiffer's response was Ed Meadows, who played three seasons with the Chicago Bears.
The answer got him the job.
"Why he asked me and why I knew Ed Meadows?" Pfeiffer said this week by phone still bewildered by the inquiry. "Then he had me read some wire copy, and he said, 'I think you can do the job.'"
Pfeiffer, a 1951 CHS graduate, did the job of broadcasting Charleston football and boys' basketball through about 1972.
He saw future Boston Celtic guard Rex Morgan wear the Scarlet and Gold.
He saw Charleston football go a perfect 8-0 in 1966.
He saw a boys' basketball game between Charleston and Oblong that included Oblong getting so frustrated by Merv Baker's zone press that the Oblong coach instructed his players to start making layups in Charleston's basket.
"(The Oblong coach) said after the game, 'If he wanted to get to 100 points that bad, I was going to help him,'" Pfeiffer says.
Bob Romanko was Pfeiffer's color commentator that game. Romanko contacted one of the wire services about Oblong's antics, and the story was picked up by the wire service.
Other color commentators that occasionally worked with Pfeiffer were Scott Allen and Tom Everett.
With all Pfeiffer got to see broadcasting Charleston games, it was what he missed that sticks with him. He missed getting to be a fan when his sons Steve and Chris played football and basketball.
"I wish I hadn't announced when the boys played," Pfeiffer says. "I'd rather get right down in the action."
But the experience overall was a pleasure.
"I still have people today tell me they got tapes," Pfeiffer says. "It's a long time ago, but they kept tapes of the game. That is enjoyable to hear that they enjoyed listening."
It is unclear who succeeded Pfeiffer as the Charleston announcer.
Steve Garman arrived at WEIC in 1981 as the station manager. Garman spent 13 years at WEIC, and he oversaw the station go from broadcasting two Charleston sports to regularly covering five of them.
"A local station, you always do the local sports. You do it. You do everything," Garman said this week by phone of his philosophy running WEIC. Garman currently works in sales for KKTV in Colorado Springs, Colo.
Ray Smith was the Charleston sports broadcaster for WEIC when Garman arrived in 1981, and Smith broadcast Charleston and EIU sports for the station starting in the winter of 1979 until WEIC and EIU severed ties in 1985.
Garman became the station owner in 1984, and he replaced Smith with Mike Moore and CHS principal Dean Tucker on the Charleston broadcasts. Garman doesn't remember how Tucker became involved in the broadcasts, but Moore sought the opportunity.
"He just wanted to do it badly," Garman says of Moore. "He came in and said, 'I'll do it. I want to do games.' He developed into quite a personality for us, quite honestly. Ray Smith was loved by everyone. Mike Moore was just more of a character. Those two were probably our best known announcers."
Tucker's daughter Heather Uppencamp remembers the passion that both her dad and Moore had doing broadcasts of Charleston football and boys' basketball.
"He and Mike both loved Trojan athletics, and you just couldn't get them to stop talking about the games after they were over," Uppencamp says. "What I remember most though was just the love that (Dad) had for Charleston High School and how proud he was of his school. He loved being able to support his school in whatever way he could."
That included taking the idea to Garman of broadcasting the girls' basketball games.
John Easter started the CHS girls' basketball program in 1976-77, and Easter had the program peaking with three regional titles in four years from 1989-93.
Tucker broadcast many of the girls' basketball games by himself, and Garman says it was a success.
"He did a great job," Garman says of Tucker, who died in 2006.
Garman's favorite memory of a Tucker broadcast was when things did not go so well. Tucker's microphone was not working during a basketball broadcast. Garman was listening from home and had to quickly drive to the radio station and take new equipment to Baker Gymnasium.
A police officer caught Garman speeding in the process of his task, but when the officer learned Garman was trying to get the CHS basketball broadcast back on the air, the officer gave Garman some help.
"I'm speeding down Ninth Street, and I got pulled over," Garman says. "As the cop came up to the window, he said, 'Are you going up there to fix the mic?' I said, 'Yeah.' He said, 'Good, follow me.' He took me up there with lights. … Mark Jenkins, the cop, made sure I got to the game so I could get the microphone fixed."
Moore moved out of the area around 1992, and Garman regularly joined Tucker on Charleston broadcasts until Garman sold WEIC in 1994.
The other sports that were added while Garman owned WEIC were Charleston baseball and boys' soccer.
Baseball's success led to WEIC broadcasting the team's games. WEIC started with broadcasting the team's regional and sectional baseball games. Charleston baseball saw significant success in the 1980s with four regional titles in five years from 1981-85, and the Trojans won at least 20 games seven consecutive years from 1984-90.
Garman and Moore were WEIC's broadcast team for baseball games.
Charleston soccer was in its infancy when WEIC started carrying the Trojans, but Garman's neighbor Bill Hall brought him the idea and enough sponsors to carry the team's games. Charleston soccer started in 1986, and before the team had its first winning season in 1994, WEIC had already started carrying its games.
Hank Nino was the Charleston boys' soccer coach from 1992-99.
"It started off as playoff games being broadcast," Nino said this week in a phone interview. "Obviously on the field, it made no difference, but I think for the fans and the audience and the parents and the friends of the players, it was really a good thing."
Gary Lee purchased WEIC from Garman in 1994. Lee changed the format of the station to solid gospel, and he was forced to change announcers.
There was a new superintendent for Charleston in 1994 named Terry Weir. He wanted Tucker available for supervision during games, so Lee approached Jack Ashmore to become the voice of Charleston football, boys' basketball and baseball. Hall continued to broadcast the boys' soccer games.
Ashmore had been broadcasting EIU football the previous six years, so he added the Trojan broadcasts to his docket.
"It's been a fun ride," Ashmore says.
Ashmore initially did the football broadcasts solo, but WEIC salesman Dean Hamilton joined him on the broadcasts midway through that first year. He later did football broadcasts with Bill Monken and boys' basketball broadcasts with Jeff Holloway. Calhoun got started doing CHS girls' basketball before joining Ashmore on the football broadcasts in 2000.
Except for a 9-2 football season in 1996, those were lean years for Charleston football and boys' basketball.
"When you're winning, it's a lot of fun," Ashmore says. "What else is a lot of fun, too, are teams around .500 because you generally have a lot of really good games. What is not fun are 0-9 or 1-8 because then you're looking at the other end of that. That's not nearly as enjoyable."
As football and boys' basketball struggled, the CHS boys' soccer team started to thrive. WEIC responded by increasing the broadcasts from just postseason games to adding regular season road games
"The teams weren't winning much, but then all of a sudden, we started having some successful seasons," says Nino, currently a doctor in Silverton, Ore. "The interest in the parents and in the school perked up. We had some pretty good athletes that decided to play soccer instead of football, and I think the interest in the community picked up a little bit."
Hall, who died in 2011, continued to broadcast Charleston soccer games on WEIC through Charleston's appearance in the 2000 IHSA state tournament.
Calhoun also got to see Charleston girls' basketball have success when he started doing the team's games in 1998. The girls' basketball team had four consecutive winning seasons from 1997-2001, which included an Apollo title in 1998-99.
"The first three years they did real well until Trevor (Doughty) left," says Calhoun, who got a lot of good feedback doing the girls' basketball broadcasts. "The girls just really appreciated their games being on the radio because a lot of schools didn't have their games on the radio, and here every one of their games were on."
Charleston sports were doing well at the turn of the century.
Ashmore points to the 2002-03 boys' basketball team being one of his favorites to watch as that team went 23-8 and made a postseason run to the sectional title game.
"Not only because they won, but because that was just a very likeable team. Good kids, and I really liked the way they played," Ashmore says of the team that included Brandon Murphy and Nathan Homann.
But that was the final season of boys' basketball on WEIC-AM 1270. Owner Gary Lee died in May 2003, and Lee's son decided to drop Charleston sports after the 2003 football season.
Charleston sports went to WEIU for eight years.
Girls' basketball took second fiddle to EIU men's and women's basketball. Charleston baseball and boys' soccer disappeared from the airwaves.
But Charleston sports are back on 1270 AM under the call letters WRJM, and Randy Miller is making changes.
Miller plans to carry every Charleston boys' and girls' basketball game this winter with occasional Charleston baseball and softball games on the radio this spring. He also said he is open to broadcasting soccer if there are enough sponsors.
"People like Randy Miller, he is a throwback," Garman says. "He owns stations in all these really small markets. Charleston is one of the bigger markets he owns. He's an old-school broadcaster. I love Randy because he's like I was — he wants to run the station for the local community. That's a good thing, and I'm glad to hear he bought the station."
Miller's approach will give the Charleston community a place to hear about the Trojans' next Rex Morgan, Jon Buckellew, Stan Royer, Derrick Landrus, Sara Fisher or Curt Hinds.
"I think the more exposure for our athletic teams and the student athletes that play on them, that's good," says Jim Wood, Charleston High School athletic director and head boys' basketball coach. "I think it's good in a number of ways. It's good for the community to get to be exposed to Charleston athletics, and it can expand Charleston's fan base across the different athletic contests being covered on the radio. It can do nothing but generate more positivity for more Charleston sports."
Be the first to know
Get local news delivered to your inbox!