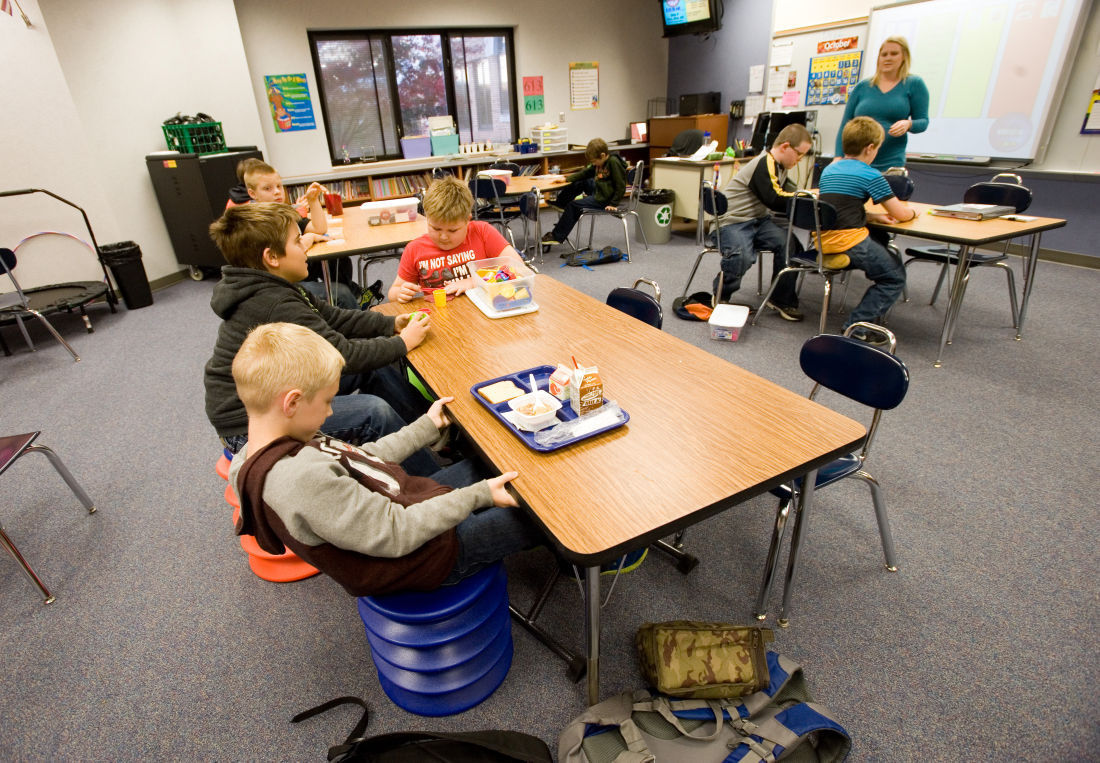 MATTOON -- Both of the city's elementary schools have received grants to aid them in their new program to help students manage their emotions and let off some steam.
Riddle Elementary School received a grant of items from Sarah Bush Lincoln Healthy Communities. Williams Elementary School received grants from SBL Healthy Communities as well as the Women Connected Group.
With this grant, Riddle created a room designed to help students learn how to regulate their emotions or feelings to help them better learn, instead of having to be corrected, redirected or praised.
Riddle Principal Christy Hild said this room is equipped with tools acquired through the grant to let students exercise and release energy to bring the youngsters to a better learning state.
The items include a small trampoline, stationary pedals to allow students to exert energy while in their seats, accordion stools and wobble seats that allow students who fidget to move in their seat without issues, and liquid motion timers and toys to calm someone down, along several other items used to exert energy.
This room, called the Zones Zone, is part of a school-wide program using "zones" in correlation with emotions to help students identify their emotions and if they feel out of control and how to handle those emotions.
Hild said the program and the tools will help students learn how to control and be mindful of their emotions as well as others' feelings instead of a teacher telling the student to settle down. She said it is teaching them how to control their emotions in order to put them in a good position to learn.
The program goes beyond teaching a student how to calm down and not be disruptive. In the morning, a group of students recommended by their teachers eat breakfast together and assess what emotional zone they might be in and discover ways to regulate it.
Hild said some students, especially at early ages, have difficulty transitioning themselves in a learning state in the mornings. She said whether they are too tired or too wound up, they use the tools in the room to get them to a place of learning.
This zone program is weaved in with the curriculum to ensure students know how to maintain their own emotions without having an external force tell them to.
"We talk about it in all of our classes that every emotion you feel is normal," Hild said. "We all feel those ways. We just want to teach you if you are feeling that way, what can you do to regulate yourself back down to a place where you can learn."
Hild said before the implementation of this new program, teachers were already teaching and helping students regulate their emotions, but there was no consistent language or tools to do so, which is important when students have different teachers.
"I feel like this is all of the stuff that I don't remember anyone explicitly teaching, but I think kids' experiences are different now," Hild said. "We recognized you can't really learn about the American Revolution when you're mad at something that happened at recess."
This is the first school year the program has been implemented.
Williams will be using the granted items in a similar way to help students regulate emotions soon, Williams Principal Kris Maleske said. The school received the items a little over a week ago.