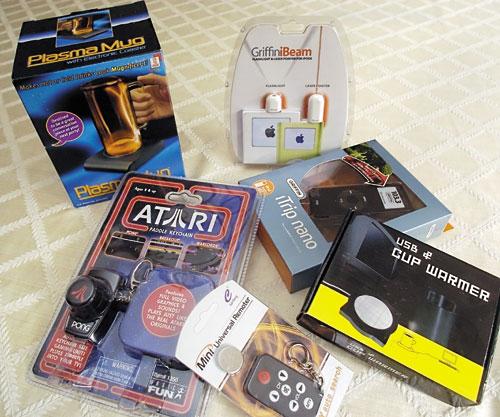 CHARLESTON — David Orr's after-school job is expected to gross more than $100,000 this year, and he has as many as 30,000 customers a day.
To earn spending money, Orr, of Effingham, asked local businesses last year for unused banners they could sell on eBay.
Sales of these items, including a Mountain Dew banner for $48, ultimately inspired Orr to start an online sales business of his own, Fruper.com. Orr's success with Fruper, which is anticipated to have sales in excess of $100,000 in 2007, enabled him to purchase a Range Rover before he was old enough to legally drive.
"I started with no money in my pocket. If I can do it, anyone can," Orr, 16, said Thursday. He was a featured speaker during the SCORE/Eastern Illinois University Center for Entrepreneurship and Innovation annual breakfast at the Tarble Arts Center.
Fruper sells primarily consumer electronics in a one deal per day format, such as Thursday's Hyundai mini microphone. The products that do not sell out completely as daily deals are offered for sale through Fruper's online store, where customers can find LED mini lanterns, rechargeable batteries, and more.
At the breakfast, Bob Schultz of Schultz Investment Co. in Effingham introduced Orr by noting that at age 12 he founded David's Disc Jockeys, which is still in operation.
After the presentation, Orr said his initial foray into eBay was motivated by a desire to purchase a video game system and a four-wheeler. Orr said he figured he could not earn money fast enough by working part-time at a restaurant or store.
Orr and a friend, Joel Baker, began a sales business known as BakeOrr Enterprises through online auction sites before forming Fruper in 2006. Orr said they were looking for a catchy name and picked Fruper in part because it rhymes with super. He said their site offers "Fruper Duper Deals."
You have free articles remaining.
Fruper's Web site reports its goal is to find deals on wholesale quantities of consumer electronics and other products. Fruper offers these finds at nominal markups so that customers can buy each item at a price comparable to its wholesale cost. In fall 2006, Orr bought out his partner and became the sole owner.
Meeting with suppliers in other cities had been a challenge until recently because he had to rely on his parents to drive him there, the young entrepreneur admitted.
Orr said he established a business relationship with Griffin Technology of Nashville, Tenn., after meeting the company supplier through eBay. He can now handle wholesale shipments by using storage space at Total Quality Warehouse in Effingham, instead of using his family's basement, as he had done previously.
Dell contacted him about selling color laser printers after seeing Fruper was the third-ranked "Deal of the Day" Web site in the United States, Orr said. Fruper is now ranked in the world, he said.
"I spend an incredible amount of time searching for good suppliers. When they come to me directly, it is outstanding," Orr said. He has many products shipped directly from manufacturers in China to his customers, instead of his warehouse, to reduce shipping expenses.
Orr said he spends about 45 minutes every weekday morning posting the daily deal and conducting other business transactions before going to school at 7:30 a.m. He takes eight classes and is active in cross country, soccer and track. After school, Orr said he spends three to five hours a night working with Fruper.
Twila Orr, writing about her son, said he has had a few expensive learning experiences through Fruper. For example, he once purchased 100 whole-house wireless Internet routes for $3,000 and was only able to sell them for $1,200. Still, she said her son has almost always met his goal of earning at least $50 per day.
The A's and B's that are consistently on her son's report card show he has kept up with his schoolwork while handling his Fruper work, Mrs. Orr said. However, she said her son has always considered effort, rather than just brains, to be the key to success in the business world.
"If David's ideas turn into successes, it will have a little to do with the fact that he's smart enough and a lot to do with the fact that he has a drive that pushes him to work hard to accomplish what he wants," Mrs. Orr said.