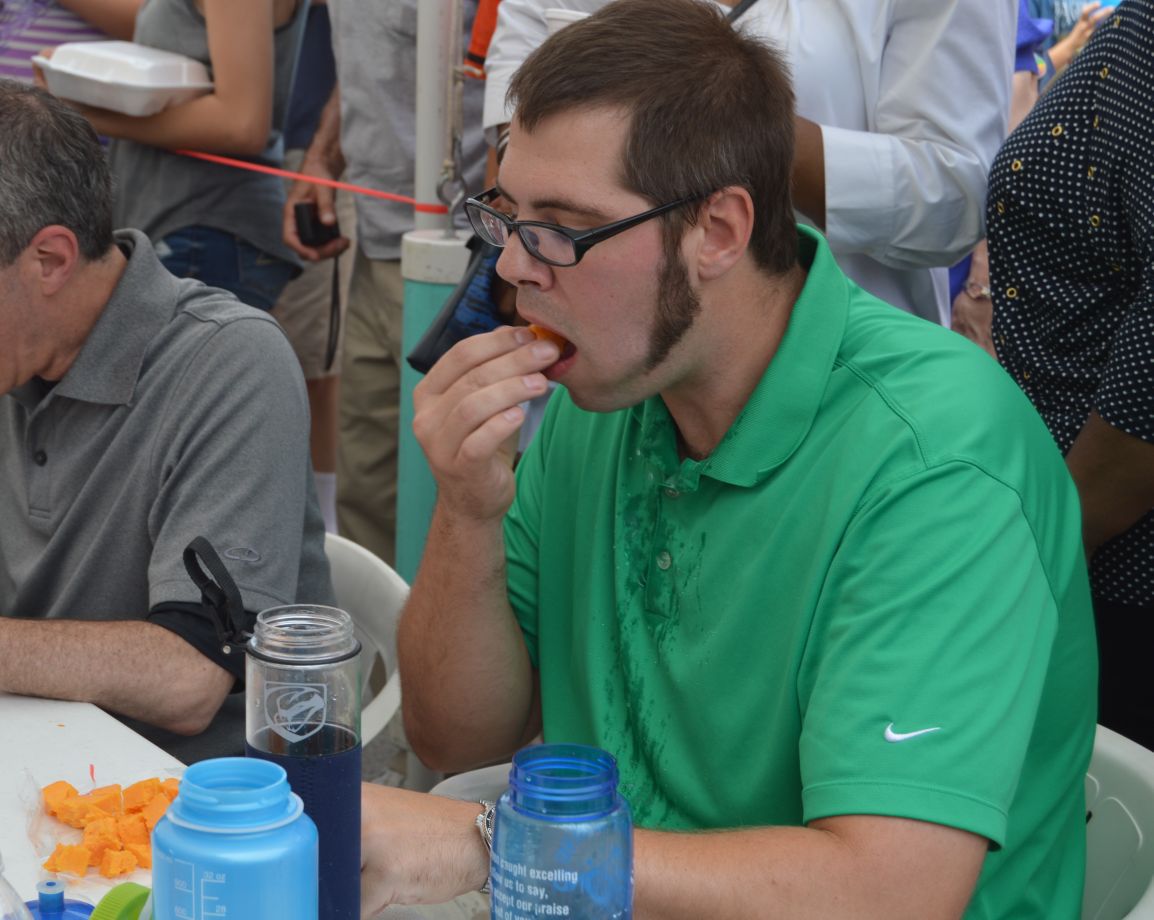 ARTHUR -- Brian Cordes has built a cheese-eating dynasty.
On Saturday, the Tuscola man was able to devour a pound of cheese in less than four minutes. It wasn't close as he won the adult division of the cheese-eating contest at the Arthur Cheese Festival for the fourth year in a row.
"I trained this year," Cordes said after the competition. "I'm glad it paid off."
More than 30 cheese eaters took part in the adult division of the contest, which has taken place the last 16 years at the 43-year-old festival.
The competitors had five minutes to eat away at their one-pound blocks of cheese, with the winner being whoever finished first or ate the most before time expired.
Cordes, 35, was serious when he said he practiced for the event, which was actually part of his history of taking part in eating competitions.
He said he really became active in the competitions while living in the Detroit area, when his roommate was one of top competitors in the region. He said he likes different competitions but doesn't really travel too much to take part in them.
"I'd love to find an ice cream-eating competition," he said.
Cordes also said he first attended a food-eating competition when he was a kid and "that was when I realized I had a special gift."
Meanwhile, there was more of an upset in the competition's youth division for cheese eaters age 16 and younger. Three-time winner Trent Parkhurst, 13, of Decatur was edged out by Colton Romine, 14, of Atwood.
There were about 15 competitors in the youth division, which had the contestants work through a half-pound cheese block, also with a five-minute time limit.
The cheese-eating competition and other cheese-related contests are some of the Labor Day weekend event's biggest attractions, according to festival official Danny Powell.
He served as emcee and judge for the cheese-eating competition and for the cheese curling competition that followed. The curling competition was a contest for teams to roll a cheese wheel then guide it with a broom to try to make it stop on a target.
Powell said the competitions can get serious but overall the events are good-natured.
"It's all in good fun," he said. "It's a different kind of thing."
Powell joined in the levity by announcing that the competitions were based on rules from international cheese eating or cheese curling organizations.
"Don't try this at home," he warned the cheese-eating competitors.