MATTOON — The more than 100 LSC Communications Inc. employees who were on hand Tuesday morning at the Mattoon plant were gathered in the cafeteria there for a life-changing announcement — the company plans to close their workplace in a matter of weeks.
LSC employee Seth VanScyoc of Mattoon said many of his assembled co-workers started shaking their heads, crying, and wondering what they would do next for a living upon hearing this announcement.
"I have never seen a room full with so many people who had such helpless looks on their faces," VanScyoc said, during an interview Wednesday afternoon.
VanScyoc was one of several current LSC workers, former employees, and family members who responded to a post on the Journal Gazette/Times-Courier's Facebook page that asked to hear from those impacted by the company's decision to close its Mattoon manufacturing facility.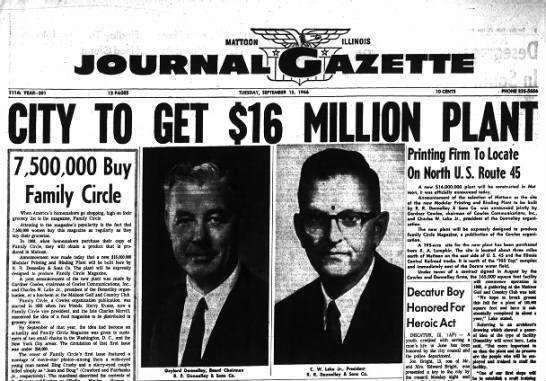 Chicago-based LSC reported that it plans to close plants in Mattoon; Strasburg, Virginia; and Glasgow, Kentucky by July as it streamlines its printing operations for magazines and catalogs. Mattoon's LSC facility, previously known as R.R. Donnelley, has 750 employees and is the largest industrial employer in Coles County, according to information on the Coles Together economic development organization's website.
The Illinois Department of Commerce and Economic Opportunity reported that it did receive a required WARN notice from LSC regarding the planned factory closure and the projected job losses. The total number of impacted workers is 796. The WARN report will be available on the DCEO website in February.
Mattoon's LSC facility, located along north U.S. Route 45, celebrated its 50th anniversary in 2018 and had been issuing employee hiring announcements as recently as this week.
LSC Communications, Inc. has announced it plans to close its manufacturing facility along north U.S. Route 45 in Mattoon by July.
LSC employee Mary Jones, who has worked part time there for three years, said she was reporting for her first day of full time work with hopes of advancement Tuesday morning when she was called into the cafeteria for the announcement.
Jones said her understanding is that the part-time positions will be eliminated first in coming weeks, so she already has begun looking for another job. Jones added that, "I have got to have something to replace it. I have nothing to fall back on, otherwise." Still, Jones said she feels particularly bad for the many longtime employees at the LSC plant.
"There have been people out there for their entire adult lives. There are people who have been out there 40-50 years," Jones said of their focused career experience. "That's all they know. They don't have anything else."
VanScyoc said he has worked part time at LSC since December 2018 and previously worked 15 years there starting in the early 2000s. VanScyoc said he had already started looking for a new job prior to the closure announcement. He said some of his co-workers were also job hunting as they watched the printing industry decline, but many thought that the Mattoon plant would be open for at least another 10 years.
Over the years at the Mattoon plant, VanScyoc said he always appreciated that the facility was willing to give prospective workers from a wide variety of backgrounds a chance, offer flexible work schedules, and provide overtime hours to supplement starting wages, which are currently $12 per hour. He said many workers came and went over the years, but the core workforce was tight knit and industrious.
"I can't stress enough how hard the people out there work and what a good group of people they are," VanScyoc said. "I wish them all the best. They are family."
Former Mattoon resident Elizabeth Andåas, who now resides in the Chicago area, said her family lived in Mattoon in the 1980s while her father, Alan Penick, worked at the R.R. Donnelley plant and she still has friends in the community.
Andåas said her father, who also worked at the Glasgow, Kentucky plant before retiring, is sad to hear about the planned closure of both facilities. Andås said she is glad ti see that local government and civic groups are stepping up to help the dislocated workers. She said organizations throughout the Mattoon area will have to prepare for the impact of the community losing more than 700 jobs.
"It's going to be a tremendous loss. The churches are going to need to be ready, the social services are going to need to be ready, the schools are going to need to be ready," Andåas said.
---