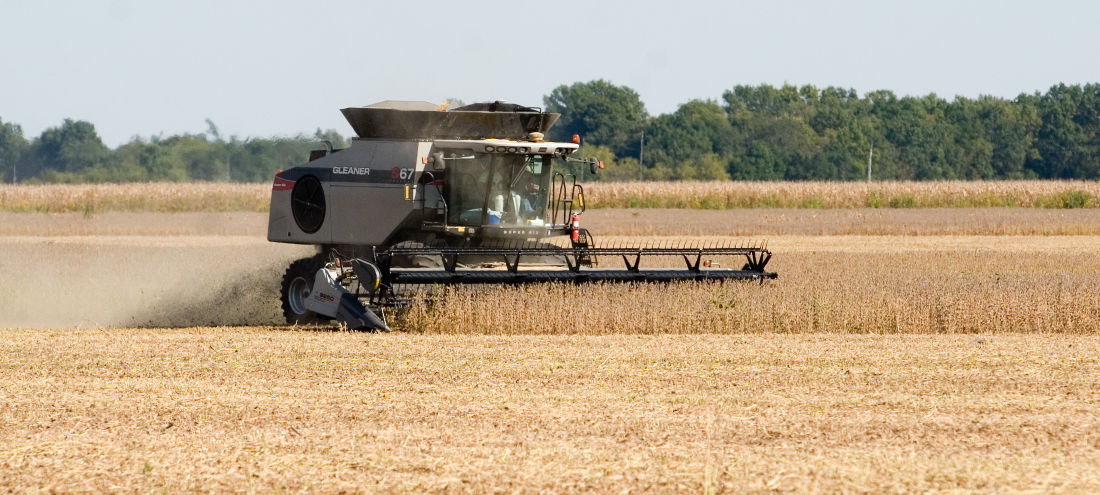 CHARLESTON -- More than a week of dry weather that ended with Tuesday's rain helped area farmers make good progress toward bringing in this year's crops.
The dry conditions meant farmers could speed up their work so they're on a typical pace toward finishing the harvest, said Dennis Bowman, commercial agriculture educator with the University of Illinois Extension Service.
"It's been pretty phenomenal for the harvest," Bowman said of the recent weather conditions.
Tuesday's rain broke a nine-day dry spell with three-tenths of an inch of precipitation, according to Cameron Craig, climatologist with the Eastern Illinois University weather center.
Though the Coles County area hadn't received any rain since Sept. 19, a heavy two-day rain the first of the month helped mean September's total was slightly above average, Craig also noted.
"September was really a roller coaster month," he said.
Bowman said farmers' progress on the harvest "depends on their priorities," as some started harvesting corn then switched to begin harvesting soybeans.
For those who stayed with the corn harvest, that's mostly finished, while the bean harvest is now getting near completion, he said.
The recent lack of precipitation meant crops dried faster and contributed to the reason for some farmers moving to harvesting soybeans, Bowman added.
If soybeans get too dry, they can shatter and be difficult to harvest, while corn is "pretty safe" as long as the plant's standing, he explained.
Corn yields reported so far have been "extremely variable," largely because of the growing season's moisture conditions, Bowman said. Heavy rains in June caused standing water in some fields and reduced yields there, he said.
Results are "all over the board," with some corn acres yielding 200 bushels while in some other areas it's been as low as 100, Bowman said.
The critical part of the growing season for soybeans is later in the summer so they had a better chance to recover, he also said, and reported yields have been "really good," around 60-70 bushels per acre.
Craig also used the term "roller coaster" to describe the entire summer's rainfall, as well. The heavier rains of June and July were followed by less than half the average total for August, he said.
"The summer was way cooler than we're used to," Craig also said, as the rains led to lower temperatures.
The cooler weather that follow Tuesday's rain should continue as we head into October, but not for the entire month, Craig added. He said the next week or so should bring below normal temperatures but they should be above normal for the rest of the month.
Coles County is on "the edge" of an area that might see more rain than usual for the next week, while an average amount of precipitation is expected for the rest of October, Craig also said.
He said the current outlook for the winter is for it to be warmer and drier than usual as the El Nino system in the Pacific Ocean and the weather patterns it creates are "starting to take shape."