CHARLESTON -- Speaking to an audience that included many former teachers, it was little surprise that pensions and education reform were key platforms that 110th District state representative candidates made sure to touch on during a candidate forum Tuesday.
As in years past, the Coles County Retired Teachers Association sponsored a candidate forum at the LifeSpan Center for those seeking public office in local and regional races to put a face with a name and vie for votes as Election Day draws near.
Through their introductory message to the crowd and the question and answer period after, contenders Shirley Bell and Chris Miller expressed their thoughts on the Illinois pension system, which has garnered criticism from both sides of the aisle in recent years.
"The pension problem is a mess, as is our budget in general," said Bell, who is running as a Democrat. 
The funding shortfall across Illinois' five retirement systems climbed to $137 billion by last June, a jump of about $17.8 billion since 2015, according to a Bloomberg report in May. 
Both candidates stressed an interest in honoring commitments already made by the state, even if they might have been too lofty as Miller indicated.
"Career politicians have promised more than what they could have ever delivered," said Miller, an Oakland farmer and a Republican.  
Bell, a retired Eastern Illinois University professor, said also that the state needs to stop shifting costs.
"The state government needs to stop taking pension holidays," Bell said. "The reason we are in the mess that we are in at this point in time is because the state has not paid into the system, its fair share of what that system was." 
Miller indicated it is critical the state stops the budget bleeding before more damage is done. He suggested the state adopts a 401k-like system for new hires or something other system like this that is "sustainable," unlike how Miller sees the current system.  
Bell sees an "overhaul" of the entire taxing system in the state as a good start toward reaching that goal of fixing the pension system. 
"When I say the entire tax system, I mean income taxes, property taxes and sales taxes," Bell said. "We need to get a tax system in that is fair."
Register for more free articles.
Stay logged in to skip the surveys.
Bell did not expand on what a fair system would look like in her two-minute answer to an audience question on pensions. 
Miller is not in support of any increases on taxes to solve the issue. He sees this as a recipe for outward migration from the state more than a solution to the pension woes.  
Bell also said that, if elected, she will not take a second pension as a state legislator.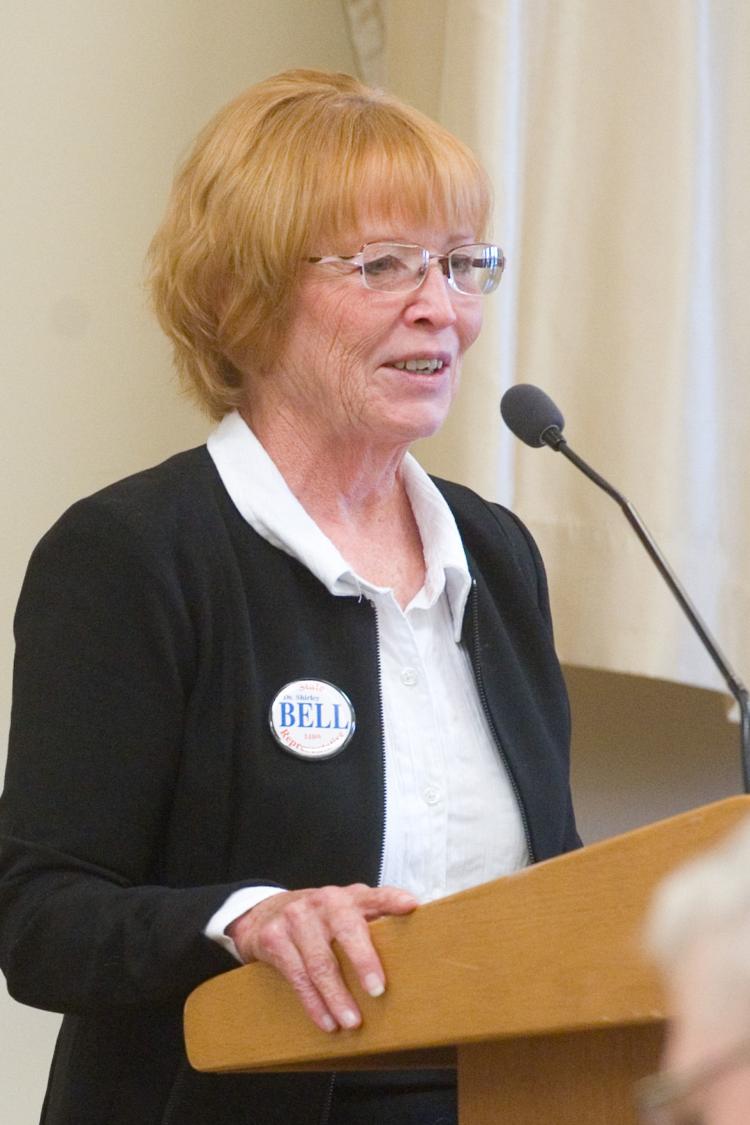 She added pensions are one of several factors contributing to a growing problem recruiting teachers in the state. Bell said after the forum that uncertainty over the future of state-funded pensions has contributed to a "brain drain" of professors, public school teachers and other professionals leaving Illinois. She said these professionals would have otherwise stayed in their communities.
Regarding tax reform, Miller said after the forum that the state has a "spending problem." He said this problem has been compounded by high taxes, causing this outward migration of businesses and residents he spoke of during the forum. He said tax increases in recent years have not helped the state get its finances in order.
Miller said the question of how to reform the way that the state levies its income tax and other taxes is not a simple question. Miller said he wants to research this issue further, adding that he is open to seeking input from economists at area universities.
"I don't know if there is a one-size-fits-all solution," Miller said.
Also at the forum, Bell made sure to speak on the education specifically. She attested that education, specifically the teacher shortage, would be a primary focus for her if elected.
Bell and Miller are running for a seat that is being vacated by incumbent state Rep. Reggie Phillips, R-Charleston, who has opted not to seek a third term in office.
Other candidates for other offices were at the forum, including: 
15th Congressional District: Democrat Kevin Gaither. Incumbent Republican John Shimkus was not in attendance because of scheduling conflicts.
Regional Superintendent of Schools: Republican Kyle Thompson, unopposed.
Coles County Clerk: Republican Julie Coe, unopposed.
Coles County Treasurer: Republican incumbent George Edwards, unopposed.
Coles County Sheriff: Democrat Greg Voudrie; Republican Jimmy Rankin did not attend because of scheduling conflicts.