CHARLESTON -- Herbert H. Bronson.
His is a name not one many in the nation, let alone Coles County, know, but a local police officer is hoping to change that.
Scott Workman of the Charleston Police Department, with the help of local researchers and historians, has been working to uncover the story behind Bronson, a Charleston officer from the 1800s, and get his name etched on the national memorial located in Washington D.C.
Time has eroded Bronson from the collective memory of the city, but in 1874, Bronson's name was likely one that reached every household in the county and the surrounding areas.
Bronson was on duty on when he was slain in what The Charleston Courier called an "atrocious murder," one committed at the hands of a "desperado," George W. Strange.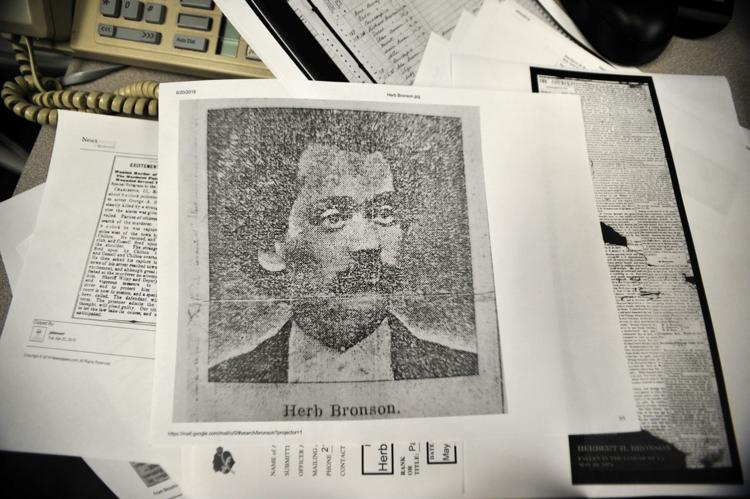 Scott Workman found out about Bronson through an employee newsletter. The newsletter comes out every month, and one month last summer, a snippet pulled from a local book that details the history around the Charleston Square was included. With no date, it mentioned Bronson's death on patrol one day.
Workman was surprised he had never heard mention of this man or his death working on the force and was curious whether his name was on the list with many others carved into the National Law Enforcement Officers Memorial. There were two Bronson's on the memorial: Edgar J. Bronson of Chicago and a Bronson K. Kaliloa.
There were even officers from Coles County on the wall. He found a name for a Mattoon police officer, John McKinstry, who was assaulted while attempting to maintain order at a public dance in 1867. He found another for a Coles County Sheriff's Office constable, Arthur R. Blomstrom, who was shot in the face when he and two other law enforcement officers attempted to serve a warrant on a suspect for assault in 1949.
An entry for Bronson was not there.
Over the course of a year, Workman said he has been tracking down information needed to get Bronson's name included among the other names on the memorial.
"I felt like he deserved to be remembered," Workman said. "I started looking into it and figuring out what I needed to do to get him submitted and added to the wall."
The tasked proved more challenging than one might expect. Workman said he started by trying to find the date and the article the Charleston square book specifically mentioned in The Charleston Courier.
"I wanted to find that article," he said.
Workman contacted his sister, who worked on his own family's genealogy. They checked the Charleston Carnegie Public Library, the Library of Congress and the Illinois State Library. None had that article. There were only brief mentions of a Charleston officer dying a the time.
He then tried Eastern Illinois University Booth Library, where he requested help from Andrew Cougill and Brad Tolppanen to find the article. He came to them with a name and a year.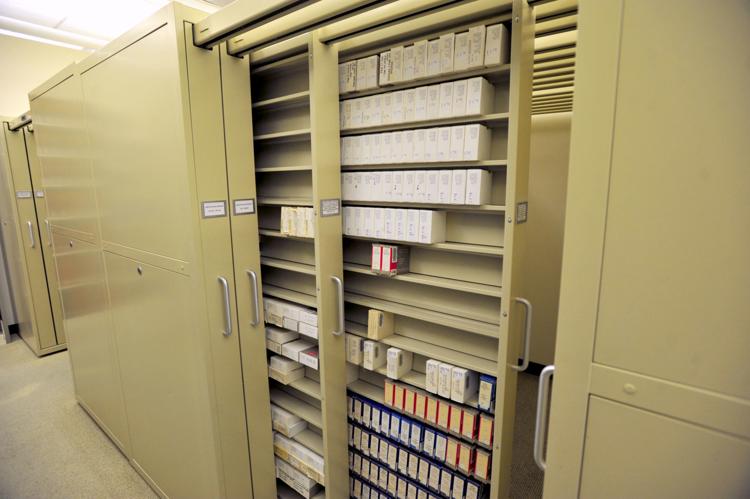 "That's all we had to go on," Cougill said.
Tolppanen explained the newspapers they had on file in microfilm were only what survived. After sifting through their catalog, Tolppanen found it. Tolpannen noted it was the one and only issue for a two year period in their archive. It was worn and torn in the middle of the page, but it displayed a detailed look of the incident all those years ago, something Workman said he could not find anywhere else.
You have free articles remaining.
Keep reading for FREE!
Enjoy more articles by signing up or logging in. No credit card required.
Cougill said it was shocking that the only detailed mention of the murder could be found in this article. Archives of papers in the region mentioned the murder, but a comprehensive account only existed in this one article on that one day.
Cougill said they get a lot of inquiries, many that are borderline genealogical-type questions.
"This one was really cool," Cougill said of Bronson's story. "It was really unique."
"This was a wild story. We got to learn. We got to find more," Cougill said.
According to the article, it was 9 p.m. on a Saturday in May in 1974 when Bronson was killed. Earlier that day police, including Bronson, had been following a party near the square.
The article stated the party was made up of countrymen who were drinking and "seemed determined to make a disturbance."
Among this group was Strange, who repeated that he intended to kill some of the police for insulting him.
At one point around 9 p.m. Bronson and another officer arrested the man. Bronson had his left arm. The other officer held his right. Just before, the city marshal had called for backup. Bronson then instructed the other officer.
"The other officer did not walk to exceed ten steps to where the marshal was stationed when they heard Bronson fall," the newspaper read.
Strange used the moment to turn around a stab Bronson in the heart with a pocket knife he had bought earlier that day on the square.
Bronson bled out shortly after.
For Workman, Bronson's life should be not be relegated just to this article.
"It seemed like he was forgotten," he said.
Currently, Workman is actively looking for Bronson's grave with the help of historical society's and cemeteries, including Donna Stewart of Roselawn Cemetery.
Also, he is looking for living relatives of Bronson of which Workman said was critical to getting the officers name on the wall. Bronson said it has proved challenging so far. Bronson was engaged at the time of the shooting and did not have any children.
He was also not from the area. Bronson, Workman said, lived in New York and Wisconsin with relatives, some of which had the last name Jerome.
Applications to submit a name to the memorial each year are due in December and honorees added to the wall before Memorial Day.