CHARLESTON — Last year, the Charleston Fire Department added its first female recruit and the Charleston Police Department added two new female recruits.
Now several months into their service, firefighter Allison Tinnon and officers Logan Aker and Kirsten Dicus recently took time to reflect on their work and their hopes for more women becoming emergency responders.
Tinnon joined the fire department in August, followed by Aker and Dicus joining the police department in December. All three are on probationary periods as they complete training for their specific departments, but say they are excited to be working in the community as they do so.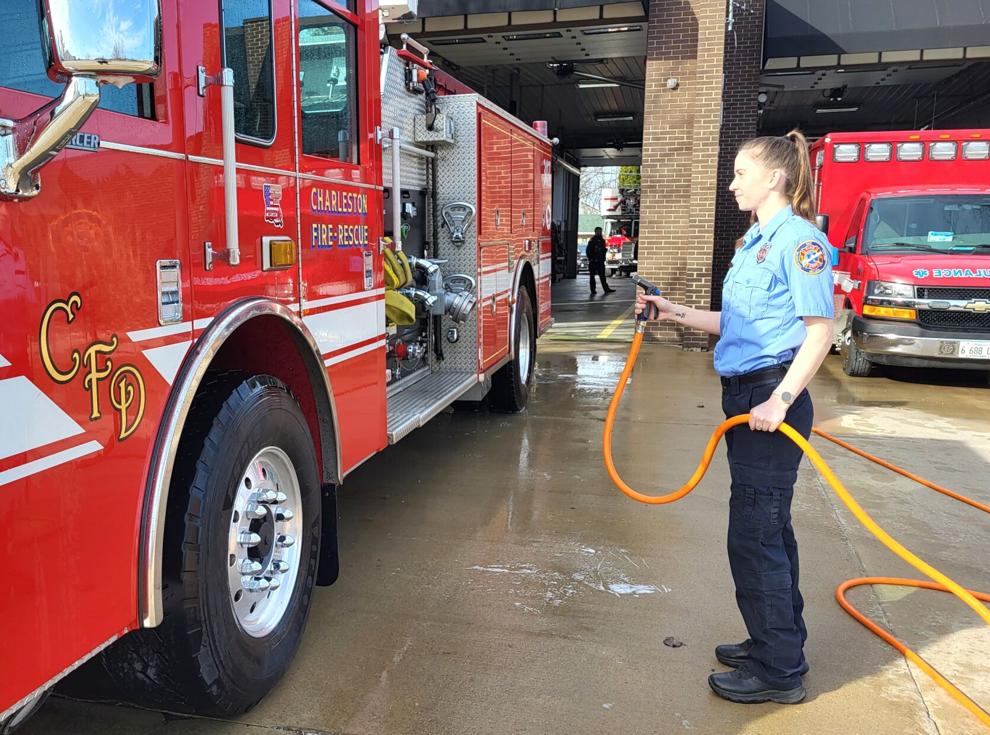 "I absolutely love it," Tinnon said recently while working at Fire Station 2, 1510 A St. "The guys are very welcoming. It's very fun. Every day is different."
Tinnon said she wants to connect with the community as a whole and hopes seeing her on the job will inspire young girls in the community to become firefighters, as well. 
"I definitely want to give them a push if some of them are hesitant or scared to jump into it or be the first. I definitely wanted to pave that way for them," Tinnon said. "But it's also nice to set the example and let them know that they can push through it and they can excel just like the guys here."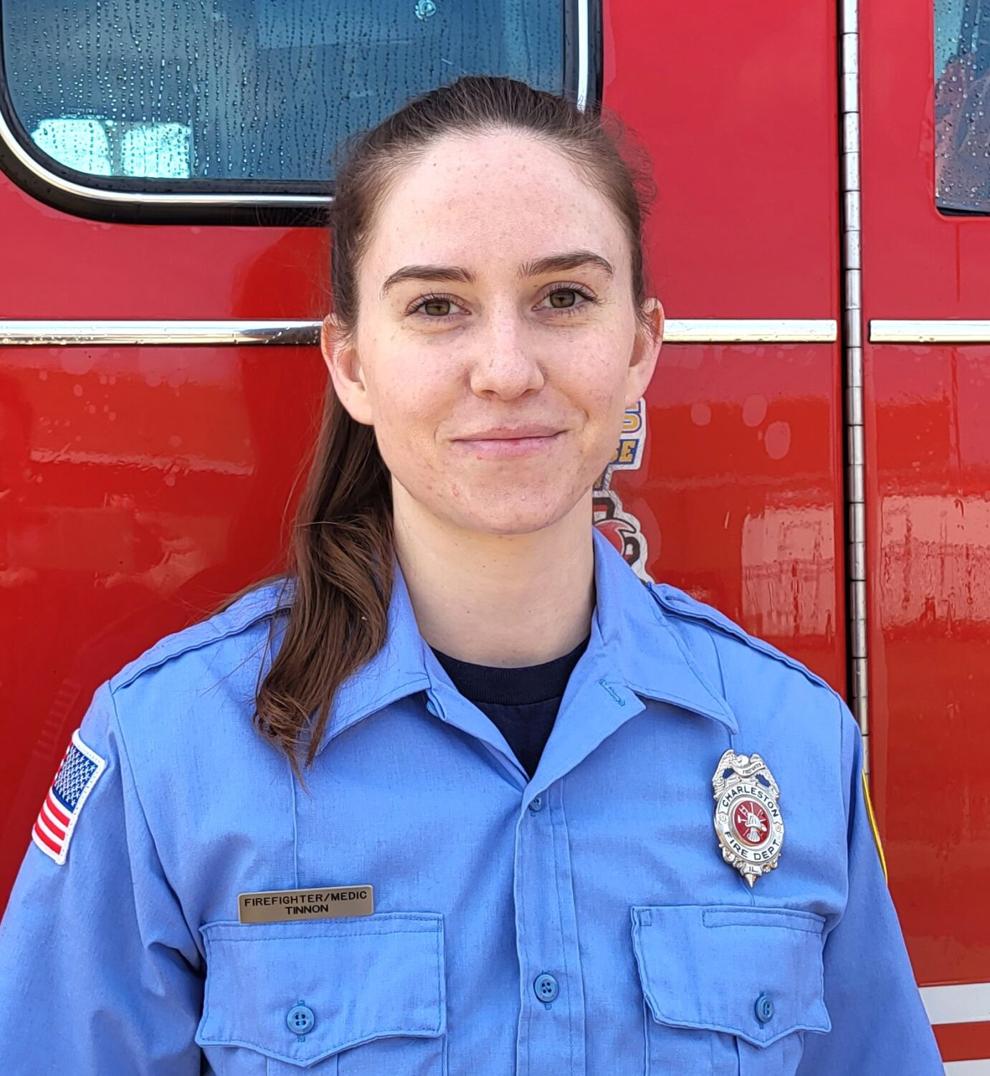 Charleston Fire Chief Steve Bennett said the department had tried to recruit women over the years and seen some female applicants test, but they did not pass or opted not to pursue the job opportunity further.
Bennett said fire department is hoping that Tinnon's highly visible role in the community will lead to other women applying. He noted that new recruits also have opportunities to work with the department's ambulance service, plus regional hazardous materials response and technical rescue teams.
Elsewhere in Coles County, two female firefighters have worked full time at Mattoon Fire Department in the recent past and several female firefighters volunteer with various rural fire protection districts.
Tinnon said growing up watching her father serve as a volunteer firefighter helped guide her interest in becoming a first responder. Tinnon said she is an Arthur native, but was drawn to Charleston's fire department because her mother is from this community.
"I had heard so many good things about this department growing up throughout the years, so I just set my sights on this department," Tinnon said.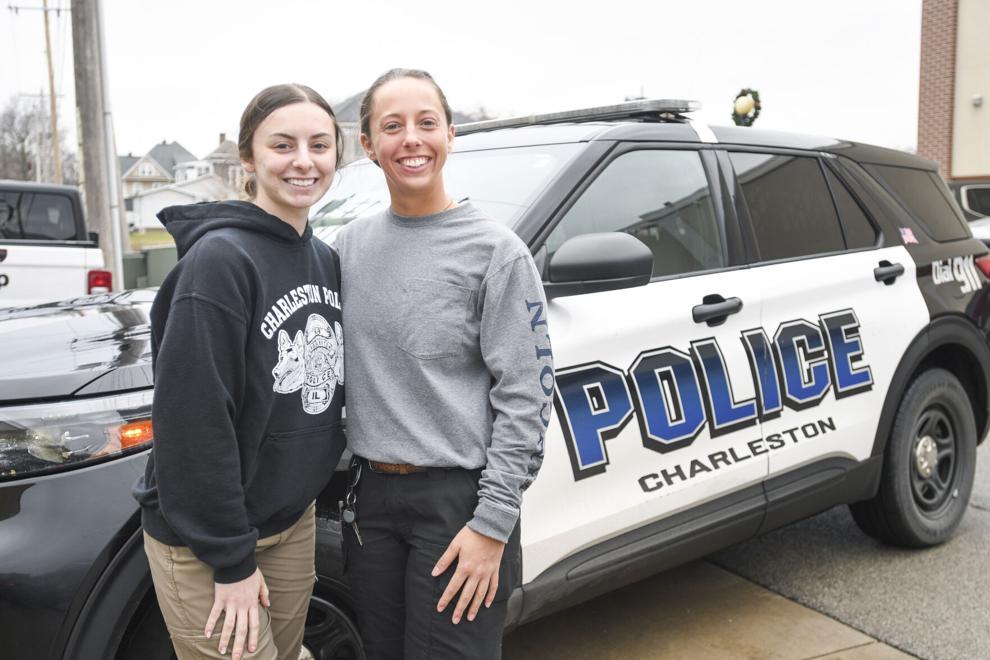 Both of Charleston newest female officers got their start with the department by working as community service officers downtown, where parking space time is monitored. Aker, an Indiana transplant, also served as an intern with the Charleston Area Chamber of Commerce and other city of Charleston departments before seeking a law enforcement career. 
"I had a lot of changes through college for what I wanted to do, but the main goal was to go into a field where I can help the most amount of people in the biggest way. I feel like by being a police officer, I will be able to do that," Aker said. "I'm a very social person, so I love being in the community." 
Dicus, a Mattoon native, said she is interested in policing because of how different the job can be from day to day. 
"You never know what you're going to get, which is exciting," Dicus said. "And just being able to help people, leaving an impact on the community is huge to me."
Dicus and Aker are serving alongside school resource officer Erica Roa in the otherwise all male police department. The two new recruits said they recognize what their new jobs mean in the grand scheme of things as they enter male-dominated fields.
Aker said she also hopes to encourage young women who may feel discouraged from pursuing a job in law enforcement because of their gender.
"I've had a lot of people not agree with my choices and think I shouldn't do it because I'm a female. Some people just think that, that females shouldn't be cops," Aker said. "For the women out there who are thinking about it, who want to do it, go do it. If that's your dream, if that's what you want to do, then go for it and don't let anybody stop you."