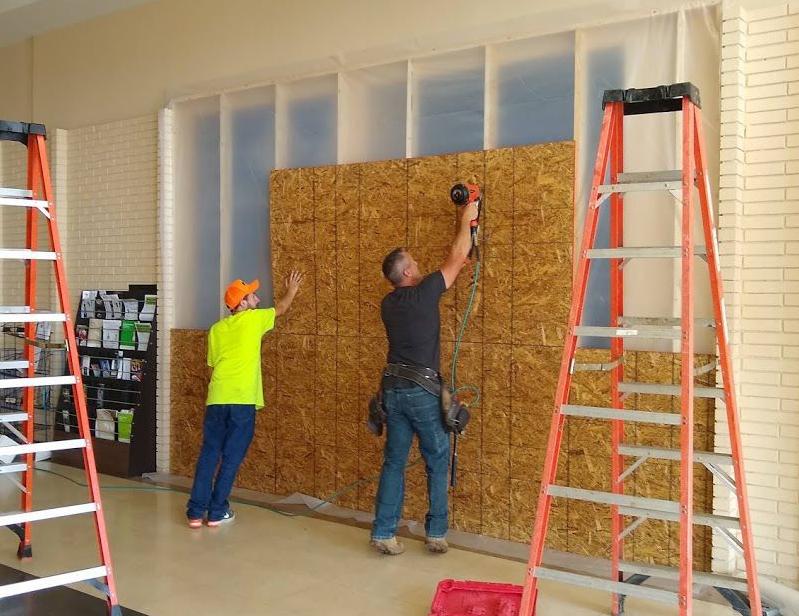 MATTOON -- Work on combining four storefronts and a corridor into a single space for a planned Marshalls department store has begun at the Cross County Mall.
Contractors boarded up entrances and windows at the former Payless ShoeSource storefront in the middle of the mall, a former First Neighbor Bank office at the front of the mall, and the corridor between these two spaces this week. The mall is owned by Mattoon-based Rural King Realty.
Blake Pierce, director of real estate for Rural King, said the boards were put up to separate the mall concourse from the construction of a 22,000-square-foot storefront for Marshalls. He said the retailer has requested space on the front of the mall for its planned department store.
"It's going to require a lot of renovation work to do that," Pierce said.
"We will be able to accommodate the store by combining multiple spaces," he added.
You have free articles remaining.
Pierce said the combination of spaces also will include the former Jumbo Buffet space at the front of the mall and the former Sam Goody storefront along the central concourse. This will place Marshalls next to Scotty's Brewhouse. He said the combined space is scheduled to be built in time for Marshalls to open before the 2019 holiday season.
TJX Companies is the parent company of Marshalls. TJX spokeswoman Katie Babb said the company has made no official announcements on whether it plans to open a Marshalls location at the Cross County Mall. She said TJX, which also owns the T.J. Maxx chain, does not make store opening announcements until a few weeks before a new location debuts.
Combining the storefronts and corridor for Marshalls would bring a department store to the front center of the mall for the first time. The Carson's department store that closed last year was located in the back center of the mall. The Carson's space remains available, but Rural King has been hosting employee training sessions and community events there.
The J.C. Penney department store has been a longtime anchor at the west end of the mall. Rural King moved its Mattoon farm and home store into the former Sears department store space at the east end of the mall in January.
In other matters, Pierce said construction is set to begin in approximately a month on the planned Cross County Innovation Center for entrepreneur development in available office space on the back of the mall. Pierce said this facility is scheduled to open in October.
The Innovation Center will provide startup workspace for local entrepreneurs and dedicated space for the ClassE entrepreneurial development program for Coles County high school students. This facility will be constructed with the help of $325,000 in Google grant funding.
Contact Rob Stroud at (217) 238-6861. Follow him on Twitter: @TheRobStroud