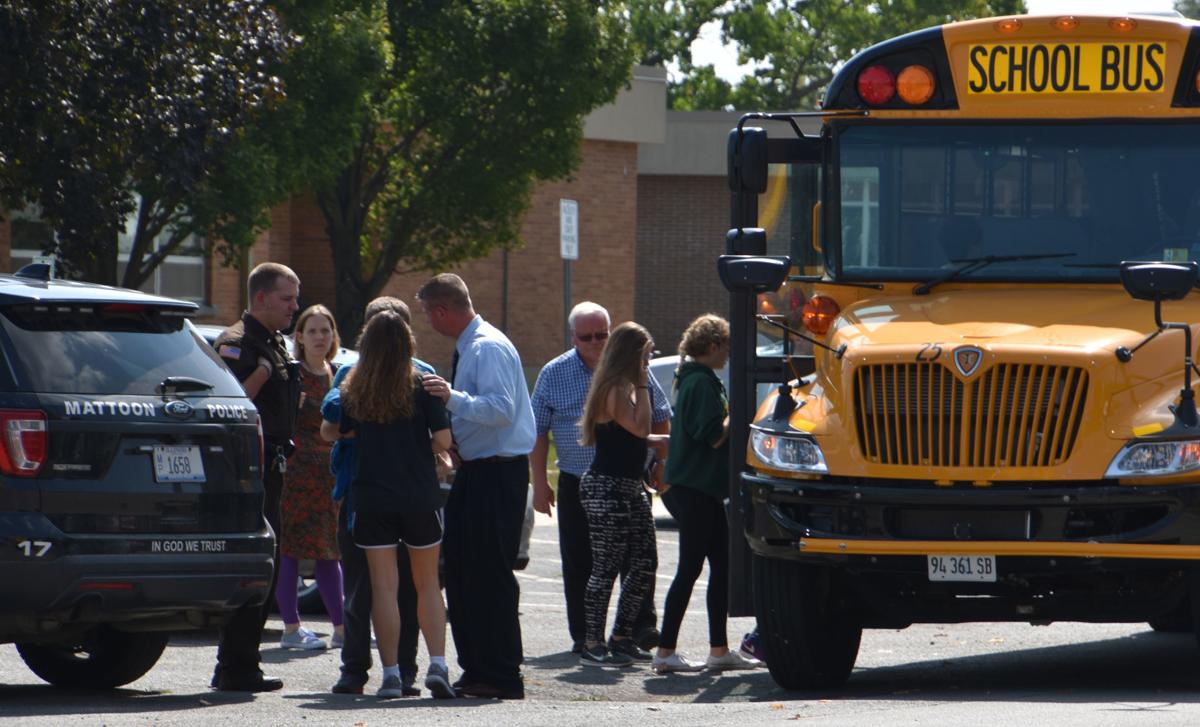 CHARLESTON -- Saying he hoped it was a sentence "you never serve," a judge Thursday made a 25-year term in adult prison possible for Josiah Lyons.
It was "fairly straight forward" to sentence the 15-year-old to juvenile prison for shooting a fellow student at Mattoon High School last year, Circuit Judge Matt Sullivan said.
What was "most significant," the judge said, was to make sure Lyons isn't a threat in the future and that it factored in the adult sentence possible.
Saying "I don't care" if the shots Lyons fired were intentional or accidental, Sullivan said the only thing that mattered was that he took a gun to school planning to shoot someone.
"No one should have to worry about their kids being shot at school," Sullivan said. "'I'm about to impose a sentence that, frankly, I hope you never serve. I hope you mature. I hope you never serve a minute of it."
It was during a hearing in August that Lyons admitted to a juvenile court petition, the same as a guilty plea, on a charge of aggravated battery with a firearm.
Lyons faced the charge after taking a gun to MHS and shooting another student in the school's cafeteria on Sept. 20 of last year.
The decision meant a sentence in adult prison can be imposed if Lyons commits other crimes or otherwise violates sentence requirements.
Lyons will start by serving his juvenile sentence.
In case of a violation, the state's attorney's office could file a petition asking for the adult sentence. If a judge agrees, Lyons could be ordered transferred to adult prison immediately or once he reaches a certain age.
On Thursday, the case's attorneys agreed that Lyons' juvenile court sentence should be to the Illinois Department of Juvenile Justice, the juvenile equivalent of prison.
However, detention in the juvenile system can't go past age 21. Also, it will be up to officials with that state department to determine how long Lyons spends in juvenile detention.
Prosecution evidence Thursday included a statement from the injured MHS student, identified only by the initials D.D. He told of how the shot went through his left hand and into his chest, leaving him with broken ribs and nerve damage in the hand that's in place to this day.
"Everyone in my family has felt the pain," he said.
Also, the boy's father described how he got a frantic call from his daughter, also an MHS student, at the time of the shooting and eventually learned that his son was the gunshot victim.
You have free articles remaining.
The man, who also wasn't identified by name in court, mentioned the claims by some that Lyons being bullied was what led him to do what he did.
"This was apparently somehow supposed to justify his actions," the father said. "This is not a gun issue, this is not a bullying issue. This is you, Josiah. You became the biggest bully in that school."
Lyons looked directly at the father during his statement and began crying when the man told him he held "no ill will" and he hoped Lyons can "make things right."
In his testimony, Mattoon police Chief Jason Taylor also mentioned the bullying allegations while addressing the shooting's costs, not only financially but to the community.
Police interviewed more than 250 MHS students about Lyons and the shooting and concluded the bullying allegation "does not hold water." Instead, he said, it happened because "that kid's got problems," referring to Lyons.
Mattoon police Deputy Chief Sam Gaines said the interviews included a student who said Lyons showed her the gun, a .40 caliber semi-automatic, and told her "he was tired of his life."
She said Lyons told her he "had issues" with another student and, as that youth wasn't in the cafeteria, he was "going to shoot everyone," Gaines said.
Lyons had the gun "pointed directly" at a student's head and "barely missed" when he fired as McQueen first grabbed him, he also said. After the first shot hit a student, seven other shots were fired, mostly into the cafeteria ceiling, Gaines added.
Though there was agreement on Lyons' juvenile sentence, Coles County State's Attorney Brian Bower urged Sullivan to consider that he "chose to fire that gun" when deciding on the possible adult sentence.
Bower recommended the 25 years as the adult sentence for the offense that requires a 15- to 60-year prison term with an adult conviction.
"Excuses exist and reasons exist, but when the day is looked at in its coldest, there is this young man's conscious decision to bring a gun to school," he said.
Defense attorney Ed Piraino didn't call any witnesses, saying everything in favor of Lyons was presented during earlier hearings.
That included testimony from Lawrence Jeckel, a psychiatrist who examined Lyons. Jeckel diagnosed a defiance disorder and other conditions and also said Lyons was bullied but had also acted as a bully himself.
Piraino noted his lack of success in finding a facility to treat Lyons for his mental health issues, which he said likely wouldn't be possible in juvenile prison.
He didn't ask for probation, with which treatment might have been a requirement, for that reason, he said.
Piraino asked for the minimum 15-year term for the adult sentence for something of a chance for "the time to get the help he needs."
Though Lyons "wasn't running around the school shooting everybody," there was "no excuse" for what he did and the student who was shot "didn't deserve" what happened to him, Piraino also said.