SULLIVAN — A Sullivan Elementary School student was among two people killed Friday when a school bus and SUV collided in Moultrie County.
"This afternoon, a Sullivan school bus transporting eleven students was involved in an accident. It is with deep sorrow that we are reaching out to let our school family know that a Sullivan Elementary Student lost their life as a result of this tragedy," Principal Dan Allen posted on the district's website Friday.
"On Monday, support and counseling services will be provided to students in all three buildings. We will share additional counseling details as plans are finalized. Please keep this family and our entire school community in your thoughts and prayers."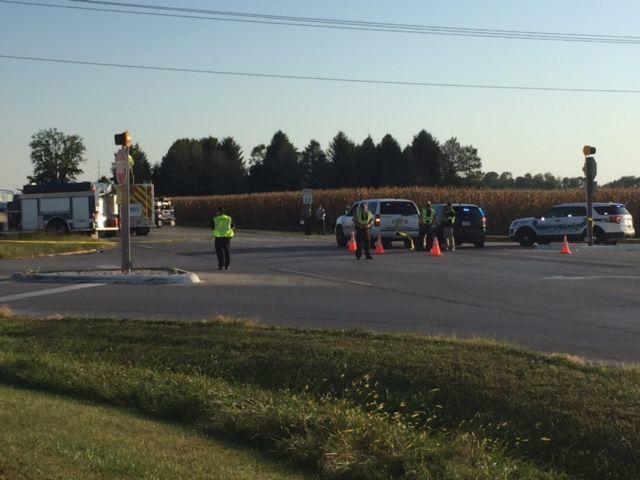 Illinois State Police said a maroon Ford Edge drove into the path of a Sullivan School District bus at 3:39 p.m. Friday. 
According to the preliminary crash investigation, the bus was southbound on Illinois 32. The eastbound SUV stopped at the marked intersection and then proceeded into the intersection and into the path of the bus. The bus struck the SUV's driver's side door.
The driver of the SUV was pronounced dead at the scene, as was the student on the bus. Identification of the deceased is pending notice of their families.
The Sullivan School District's Facebook page included a post that said, "The parents of all students on board have been contacted. Thank you to all of the first responders, particularly the Sullivan Police Department, Sullivan Fire Department, Moultrie County Sheriff's Department, and the Illinois State Police for their prompt and excellent care and comfort for all involved.
"Thank you to the staff of Rosati's and Phillips 66 for their compassion, the room for reunification, and the food and drinks provided to those responding to the accident. Further updates will be available through the Sullivan CUSD 300 social media as more information is obtained."
In addition to those mentioned in the district's social media post, the Illinois Department of Transportation and the Moultrie County Coroner's Office assisted at the scene. 
Traffic was diverted at the intersection for several hours. An Illinois State Police accident reconstruction team was called to the scene to investigate.
The accident occurred at the same location as car-school bus crash in 2017.
In that incident, an eastbound minivan driven by Scarlett McKinzie of Mattoon drove into the path of a northbound Teutopolis School District bus, causing it to overturn. The bus was carrying the high school boys basketball team, cheerleaders and faculty for a total of 35 passengers. r
McKinzie was sentenced to two years in the Illinois Department of Corrections  after pleading guilty to aggravated driving under the influence.
Contact Scott Perry at (217) 421-7976. Follow him on Twitter: @scottperry66
Get local news delivered to your inbox!
Subscribe to our Daily Headlines newsletter.