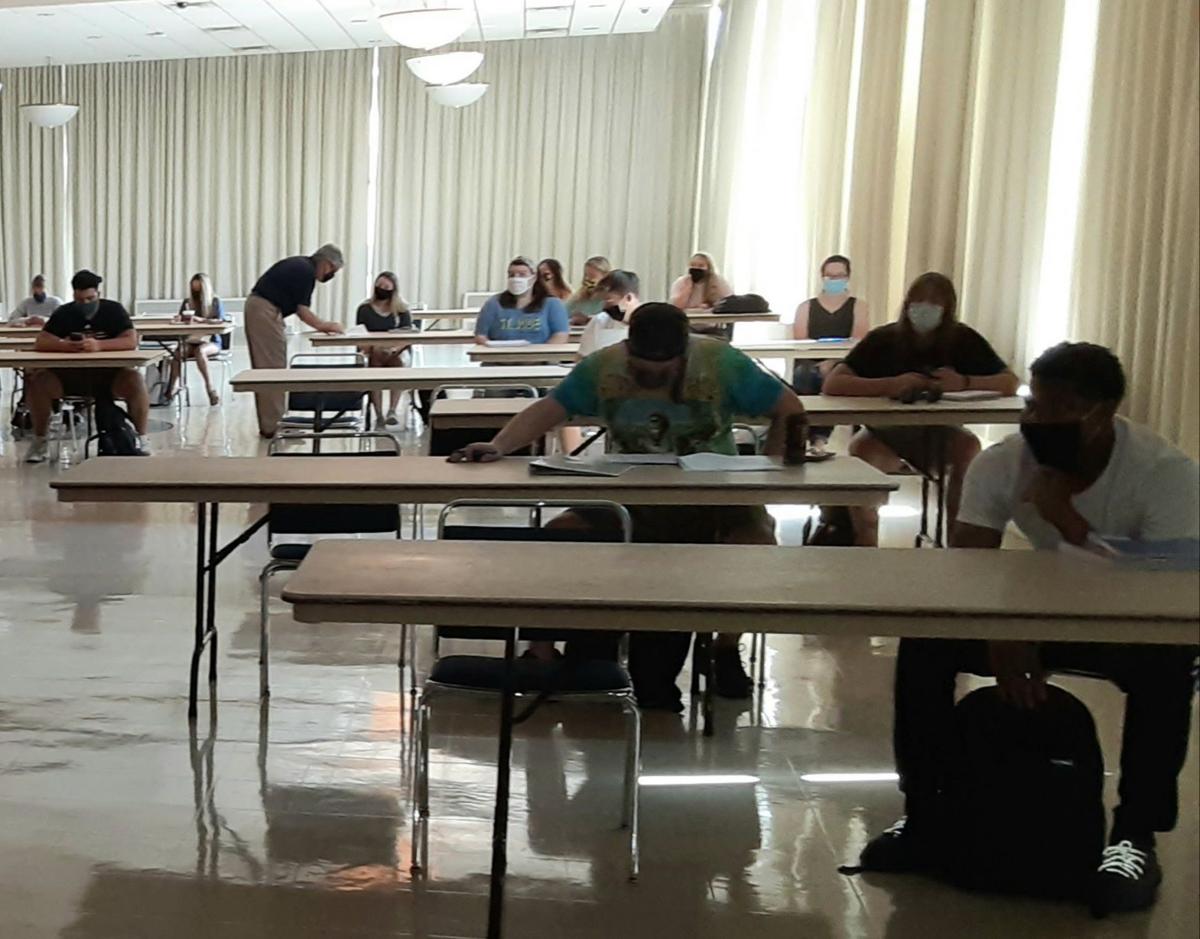 Freshman sports management major Tyler Clark of Chicago was one of 40 students in attendance on Tuesday for the first day of a "World Regional Geography" class in the University Ballroom, one of many nontraditional spaces that are being used to help students social distance. The other half of the students in this class were set to attend on Thursday.
Instructor Michael Cornebise, interim associate dean in the College of Liberal Arts and Sciences, introduced himself to Clark and the 39 other students before class started, with their voices being slightly muffled by the protective masks that everyone is now required to wear on campus.
"When it's hot, it's hard to breathe, but it's not bad," Clark said, adding that his fall semester has gone "pretty smooth" so far amid the safety precautions. "I feel very safe. I haven't had any problems."
Senior marketing major Rachel Cox of Bourbonnais said she did have some concerns going into the fall semester about how Eastern could possibly have face-to-face classes during the pandemic.
However, Cox said her feelings changed on the first day of classes when she realized all the precautions that EIU has put into place. She said these include ensuring that all students are sitting at least 6 feet apart in the classroom, dismissing students from class by rows, and ensuring they have masks and are using hand sanitizer.
"After seeing all these changes they have put into place, it has made me feel like there is potential for EIU to finish out the semester having face-to-face classes," Cox said. She added that she is enrolled in two hybrid in-person/online classes, and appreciates that instructors are trying their best to make class as "normal" as possible.
Senior digital media technologies major Justin Richards of Oblong said he is taking three online classes and two hybrid online/in-person. Richards said he prefers the hybrid format because it's easier to ask instructors follow-up question in-person right when he needs the information instead of emailing them later.
Richards said, as a person with asthma, it is not always easy for him to wear a mask any time that he is outside of his residence hall room. Richards said he sometimes forgets to wear a mask until he is heading downstairs, so he has to quickly go back to his room and get it while covering his mouth and nose with his shirt.
"The biggest thing on how to deal with it is just make it a part of the daily routine and always check that you have it regardless. I may have asthma, but I am trying to do everything that I can to make sure that I am protecting myself by wearing a mask and social distancing," Richards said, adding the he also wants to protect his family back home.
Junior public relations major Haylee Brickey of Jacksonville said it was tough for her to remember to wear a mask at first, but it has since become a habit to put it on when she goes anywhere on campus now.
"Wearing a mask is essential to keeping the campus safe, and I think that's a small price to pay to be back on campus," Brickey said.
Senior public relations major Faith Morris, who is minoring in fashion merchandising and design, said her only face-to-face class is being held in the Doudna Fine Arts Center fashion lab. She said her other three classes are completely online.
Morris said her instructors are using online discussion posts, prerecorded video lectures and interactive online activities to closely mimic the feel of a normal classroom.
"The pandemic has also opened up cool opportunities such as bringing in guest speakers from around the world through Zoom, which might not have been possible during a traditional semester," Morris said.
Morris said she and her parents have been happy with Eastern's decision to return to campus while following CDC guidelines. She said with this being one of her last semesters and her younger sister's first as a freshman, they wanted it to be as close to normal as possible.
"Being an EIU alum herself, my mother feels confident and safe leaving her daughters in Eastern's hands knowing from her own experience how great the campus, staff and community are," Morris said.
---
PHOTOS: Eastern Illinois University gets ready for the new school year
Get local news delivered to your inbox!
Subscribe to our Daily Headlines newsletter.