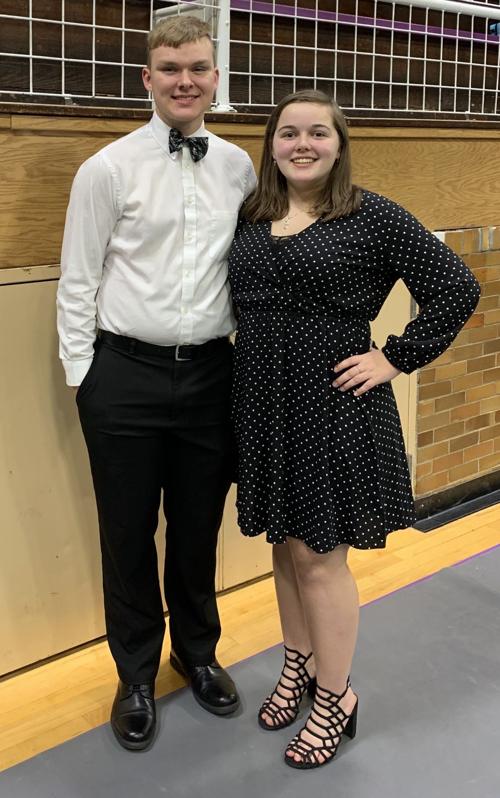 MATTOON — Hannah Bland of Greenup and Andrew Cole of Toledo, both from Cumberland High School, were each awarded a Health CareeRX Club scholarship of $250 by the club coordinators.
Bland is a senior and the daughter of Scott and Christina Bland. She plans to attend Lake Land College for nursing, then transfer on to Southern Illinois University. She hopes to specialize in labor and delivery.
Cole is also a senior and is the son of Dan and Lisa Cole. He plans to attend Lake Land College to receive a nursing degree, specializing in endocrinology
Bland and Cole were selected for the scholarship based on participation in the club events, and they will both be pursuing careers in health-related professions. Health CareeRX Club is designed for students who are interested in pursuing a career in health care, but are unable decide among the many options available to them. The program introduces students to health care professionals to learn about the daily activities of various careers, both clinical and non-clinical.
"CareerRX helped me seek out different career options in the health field," Bland said. "I was able to talk one-on-one with people from many different locations in the health field and learn about what interested me. After attending the program for two years in a row, I have a better understanding of what I want to do in the future."
The Club is coordinated by Area Health Education Centers, Carle Hospital, Eastern Illinois Education For Employment System, Eastern Illinois University, Lake Land College, Sarah Bush Lincoln, SIU School Of Medicine, and Peterson Healthcare.
Programming will begin again in 2020. The group awards several scholarships annually. High school students interested in joining CareeRX should check with their high school guidance counselor or contact Lisa Shumard-Shelton at DCP@lakelandcollege.edu.
---
Be the first to know
Get local news delivered to your inbox!