MATTOON — Aspiring teachers got a taste of rural education over the course of three weeks as part of a summer school program facilitated through Eastern Illinois University, and organizers are hoping this might inspire some to consider downstate options in an effort to quell large teaching gaps across central and downstate Illinois.
Tuesday served as the last day of a summer program for these college students. Each year for the past six years, EIU has served as one of several hubs across the state for education majors who are taking part in a Golden Apple Scholars Summer Institute, where scholars get an additional opportunity to hone their teaching skills while leading summer enrichment classes in the local school districts. 
Golden Apple is a Chicago-based nonprofit organization that offers education majors the opportunity to get hundreds of hours of classroom experience, including during summer institutes, before they graduate.
This year, in particular, there was a fervent push from leaders in the Golden Apple program toward highlighting rural districts amid a continuing drought of teaching candidates for farmtown areas, some of which have had longtime substitute teachers in the absence of candidates, said Timothy McCollum, coordinator directing the summer institute at Eastern.
McCollum explained it has been a gradual process impressing upon scholars the benefits of teaching in rural areas, but this year there was more intention in emphasizing what rural school districts offer.
"There has been a more direct focus on the rural setting, and purposefully teaching how to use a rural setting in a classroom," said Jeana Craft, assistant director of the local program.
This includes sending these scholars and their students to a contemporary farm and incorporating agriculture in the lessons.
"We also just try and showcase how nice it is to be in a small community: that it is quiet, that is is dependable," Craft said. "Some of them don't like that and some of them are really drawn to being somewhere smaller."   
McCollum said people never consider rural communities when deciding where they might land after college.
For Lauren Mellott and Emma White, Golden Apple Scholars who hail from rural communities, it is not a surprise. A teacher shortage is felt across the state, but in rural communities it is especially the case. These two scholars who plan on teaching in their hometown areas said it is a hard sell.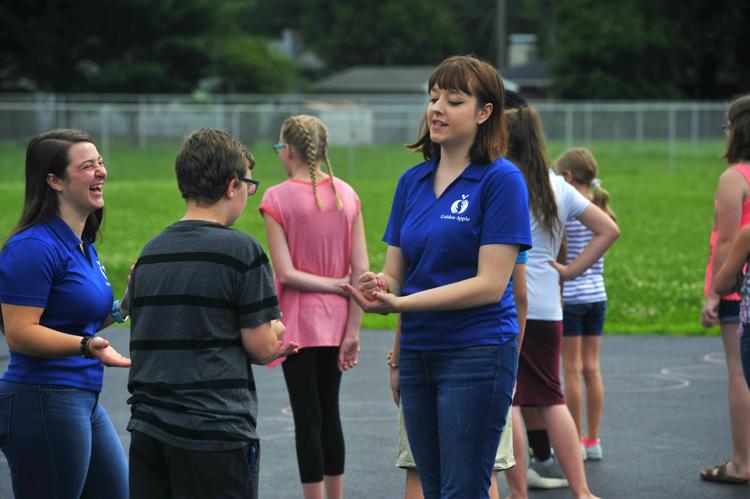 "The school that I grew up in — it is a very small school," White said. "If you did not go to that school, you are not going to move to my town to teach there ... People move to Chicago because they want to. No one wants to move to Beardstown, Illinois."  
A majority of those students who take part in the Golden Apple Scholars of Illinois Program come from upstate districts often in or near Chicago with little to no experience with small rural town life.
McCollum said he has noticed these more rural offerings are what some have found they were looking when the program sends them to the rural district. 
"We have found that there is a huge need for good teachers in rural classrooms," Craft said.   
You have free articles remaining.
Keep reading for FREE!
Enjoy more articles by signing up or logging in. No credit card required.
Throughout the three weeks, scholars went out into districts in the area and created lesson plans for elementary and middle school students for summer school with mentors on hand for guidance. Craft said they are, in essence, the classroom teachers.
This year, Charleston Carl Sandburg and Mattoon Middle School were added to the list of schools these scholars were sent out to. They were also stationed at Williams and Riddle elementary schools and a school in Arcola and Tuscola as they had been in the past. McCollum suggested an expansion to one other site next year as well. 
The local institute program doubled from the previous year with 60 scholars.
It is more important that a greater number of rural high school students are tapped to take part in programs like Golden Apple to build a strong base of teachers for rural areas, Mellott said. Mellott and White agreed these teachers are often from the communities they end up teaching.
Mellott of Charleston said she wanted to make sure those communities are represented.
"I know that a lot of Golden Apple's scholar base is in Chicago. I wanted to be able to be a part of it to learn more about what I could do for my own rural community and the rural communities that I am going to teach in," Mellott said. 
Mellott and White agreed the urban centers have their own issues, but they see downstate education needing a more focused look by those in education. 
"My school at home has over 15 openings right now that they have longtime subs for," White said. 
Both see room for more of an emphasis toward downstate teacher shortage issues. White and Mellott also said the institute at EIU provides a good representation of rural education.
"They are very rural focused," Mellott said. "They are utilizing the resources around here and it is great." 
In March, a report from the Illinois Association of Regional Superintendents of Schools concluded that the shortage has reached virtually every subject area and region of the state, and has forced schools to either cancel programs, enlarge class sizes or use teachers who are not fully licensed in a particular subject area.  
Lawmakers have been making attempts to ease the process to become a teacher in hopes it will help this widespread problem, but for students like White and Mellott, the focus should be on supporting the teacher when the reach the classroom. 
White spoke of pushback from some in her life when she decided to become a teacher, with many saying she shouldn't because she wouldn't get paid enough.
"This is a field you have to want to do," Mellott said.  
Along with attempting to make a difference on this shortage, the program dually serves as summer school for districts that could not offer it otherwise. Outside of Carl Sandburg, this summer program served as the only summer school in these districts, McCollum said, offering summer instruction to 350 students in these schools in the mornings each week.