CHARLESTON -- Annual efforts in Coles County to ensure those under 18 have at least one full, nutritious meal a day during the summer are underway or soon will be.  
Summer break is in full swing for students, but because of that, some lose the dedicated meals offered through the school free or reduced lunch programs. And there are some students who also benefit during the school year from  district programs that provide food to be eaten over the weekend.
"We know so many families in our community struggle to make ends meet and to put three meals on the table for their families," said Beth Gillespie, civic engagement and volunteerism director at Eastern Illinois University. "During the school year, a family who may be struggling can send their kid to school, and if they qualify, can get breakfast and lunch. There are 10 of the 21 meals each person needs a week."
"Their paycheck isn't going to get bigger in the summer, but they have to come up with food for 10 more meals," she added.   
According to the Illinois student report card, 45 percent of the Charleston student population and 56 percent of the Mattoon student population are eligible to receive free or reduced-price lunches, live in substitute care, or whose family s receive public aid. The state average sits at 49.4 percent.  Chad Burgett, assistant superintendent for business services in the Charleston School District, said it is likely the numbers don't capture the full scope of who is eligible for reduced lunch.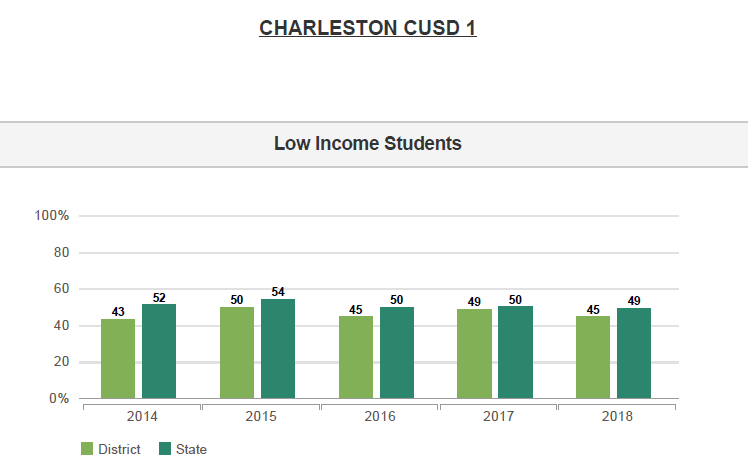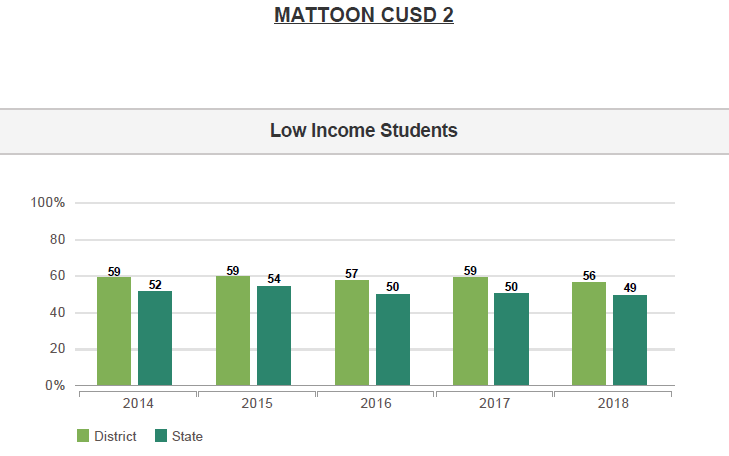 Despite efforts to inform families, some are either unaware or unwilling to apply for the free or reduced lunches. Eligibility depends on the family size and income, according to the Illinois State Board of Education.   
Burgett said the administration does monitor situations during the year. If a student is falling behind on lunch fees and the same can be said for family members in other schools, the administration often reaches out to the family to inform them they might be eligible of free and reduced lunch option, he said.
Of the districts' percentages, a majority of those on the meal programs are in elementary school.  
In an push to make sure kids don't go hungry, the school districts and community service organizations have established summer programs in Charleston and Mattoon to provide lunch during the week.
In Mattoon, the Salvation Army, through the Food on the Move program, have already started serving full meals to those under 18 at several locations where there is expected to be the most need. 
You have free articles remaining.
Keep reading for FREE!
Enjoy more articles by signing up or logging in. No credit card required.
Organizers are being stationed at West Park Plaza at 11 a.m., Lake Land Mobile Estates at 11:40 a.m., Old State Village at 12:20 p.m., Sunrise Apartments at 1 p.m. and Easy Rudy Apartments at 1:40 p.m. Monday through Friday in Mattoon until Aug. 9.
The same food program will be facilitated by EIU's Office for Civic Engagement and Volunteerism in Charleston starting Monday, June 3, and ending Aug. 8.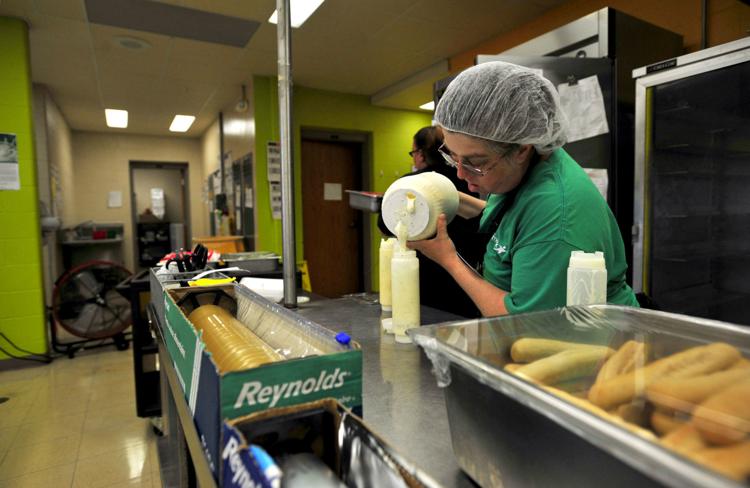 In Charleston, organizers will be at Ne-Co Fields Park at 11 a.m., Long Acre Estates at 11:30 a.m., Carl Sandburg Elementary School at noon and EIU Textbook Rental Service building at 12:20 p.m.
Carl Sandburg Elementary School is a new location in Charleston. Because the district got grant funding for a summer school program for kindergarten to sixth-grade students, the decision was made to serve a meal at the location through the Food on the Move program. 
The district will use a state grant to provide breakfast, Monday through Thursday, to those under age 18 from June 3 to June 27. 
Those in summer school will have meals from 7:45 to 8 a.m. and 9:45 to 10 a.m. Those not in summer school will be allowed to get breakfast at 8:15 a.m. 
"It is a great service that we can provide that we have not been able to do in the past," Aaron Lock, Carl Sandburg principal, said. "Anytime, we can help our students, either here at school or outside of school, we look for opportunities to do that. A program like this allows us to impact people in a way we wouldn't be able to otherwise. It is outstanding." 
Food for the summer lunch programs in both communities will not be served July 4 and July 5.  
Proof of income or identification is not required to participate in the programs, but children must eat their lunch on location. 
Also, those age 5 and under are expected to come with a parent or guardian. In the event of thunderstorms, lightening or torrential rain, meals may not be served that day. Cancellations will be posted on the Salvation Army Facebook page by 10:30 am., according to organizers.