ARTHUR — A fire destroyed one of Helmuth Custom Kitchens' cabinet manufacturing workshops early Friday morning, and some firefighters were still at the scene early evening as lumber continued to smolder within the collapsed structure.
Chief Chris Helton of the Arthur Fire Department said firefighters were gradually pulling debris away from the destroyed 20,000-square-foot structure so that they could extinguish several hot spots underneath this material. He said the workshop had contained seven semitrailer loads of wood at the time of the fire. No injuries were reported.
The Helmuth Custom Kitchens main building is located on the west side of County Road 1800E, just south of this road's intersection with Illinois Route 133 in Arthur. The workshop that burned is located across the road to the east, along East County Road 300N.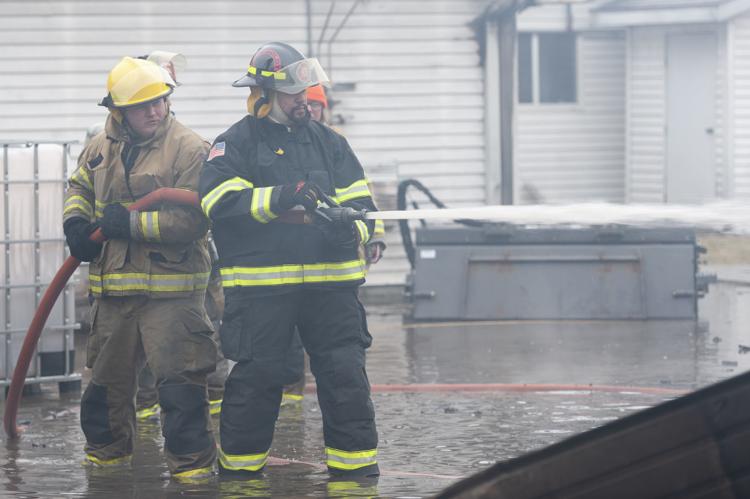 Helmuth Custom Kitchens truck driver Gary Herschberger, who has driven for more than seven years for this business, watched early Friday evening as firefighters finished up their work and Helmuth employees continued clearing debris away. Herschberger said it was rough seeing this workshop, where doors and door panels were made, destroyed by fire.
"They are a very good bunch of people here and it's hard to see this," Herschberger said. He added that this workshop did not produce cabinets, but was still a big part of the business.
Helton said firefighters were dispatched to the scene at 4:30 a.m. Friday and found flames emanating from the ceiling of the workshop. He added that the workshop partially collapsed shortly after they arrived there, as burning roof trusses and walls fell into the structure.
"We called for assistance right away, and after we were here for a little bit we called for more assistance," Helton said. Arthur firefighters were assisted by personnel from the Arcola, Atwood, Cooks Mills, Hammond, Hindsboro, and Lovington fire departments.
The firefighters needed approximately three hours to get the fire under control, Helton said. They prevented the fire from spreading to any of the adjacent Helmuth Custom Kitchens buildings, he said. 
Helton said one of the challenges that firefighters faced at the scene was gusting wind that rushed through broken skylights at the workshop and fanned the flames inside.
"The wind did not help us any," Helton said.
Helmuth Custom Kitchens staff speculated that a machinery malfunction may have triggered the fire, Helton said. The fire damage may be too absolute to determine the exact cause, he said. The fire chief added that there is nothing suspicious about the cause of the fire.
The ownership of Helmuth Custom Kitchens could not be reached for comment on Friday.
Video footage courtesy of media partner WCIA: