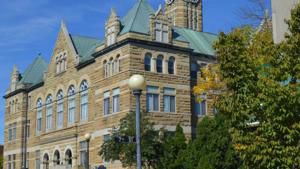 CHARLESTON -- A Coles County Board member on Tuesday assured there will be answers to questions about assessment irregularities the board heard about last month.
Kelly Munyon, who served as the county's interim supervisor of assessments for two months, returned to the board's meeting after raising the issues to the board in August, when her appointment to the position expired.
During last month's meeting, Munyon said she found that records for numerous properties had not been moved to the office's newer computer system, meaning their assessments weren't up to date.
Other irregularities she mentioned included that all the records of some lease properties she examined showed they were receiving an exemption for which they weren't actually eligible.
In response, board Vice Chairman Brandon Bell said newly appointed Supervisor of Assessments Denise Shores "has started to work on those issues."
Bell, chairman of the board's Offices and Rules Committee that oversees the assessment office, told Munyon he planned to have answers to her questions for the board's meeting in October.
Also in August, the board voted to appoint Shores to the assessment supervisor's position; Munyon hadn't passed the state-required test for the permanent position but she could fill it on an interim basis.
The board also heard continuing complaints Tuesday from members of the Concerned Tax Payers of Coles County, a group that's attacked the board's handling of a countywide reassessment of commercial and industrial property.
Group member Robb Perry asked board Chairman Mike ZuHone to apologize for halting his comments at last month's meeting, which ZuHone said was to avoid repetitive comments.
Perry said others who have addressed the board have made repetitive statements, to which ZuHone replied that it has his duty to run the meeting in "the most efficient and productive manner."'
In turn, Perry interrupted ZuHone when he started to explain why he wouldn't apologize. He then repeated the group's contentions about inaccurate property values and other problems with the reassessment and what he said was the lack of a board response.
"We obviously know something's wrong," Perry said. "It's time for it to come to an end."
Also, Concerned Tax Payers member Rex Dukeman said he verified the authenticity of a document ZuHone provided him last month showing a 1977 vote authorizing a board committee to enter into a county health insurance coverage agreement.
The group claims the insurance coverage shouldn't be allowed for county board members because the board doesn't authorize it regularly as part of members' salary and compensation, a position on which county State's Attorney Jesse Danley disagrees.
Dukeman said the question on the board's regularly voting on the insurance is still an issue.
The vote was to issue up to $600,000 for courthouse repair projects, though on Tuesday ZuHone said it should be "more in the range of $400,000." Additional bonds can be issued if unexpected expenses occur, he said.
The projects will address the courthouse roof and gutters, as well as the handicapped accessible entrance elevator. County sales tax revenue will provide the funds for the five-year payments, at a 3.5% interest rate.
Contact Dave Fopay at (217) 238-6858. Follow him on Twitter: @FopayDave
Get Election 2020 & Politics updates in your inbox!
Keep up on the latest in national and local politics as Election 2020 comes into focus.