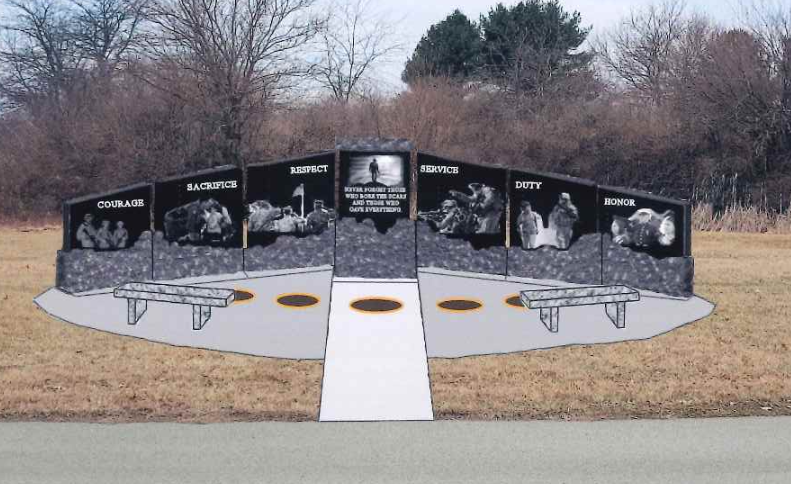 MATTOON — Lake Land College has made plans to place a veterans memorial wall next to the Podesta Park area on campus.
The college Board of Trustees is scheduled on Monday, April 8 to consider hiring Adams Memorials of Charleston to design and construct the veterans memorial wall for $117,200, funded by the Lake Land College Foundation.
Vice President for Business Services Bryan Gleckler wrote in a memo to the board that the Foundation has been developing plans to add the memorial wall to campus and working with Adams Memorials to design this display. He said the college has worked with Adams Memorials to seek competitive bids from granite providers to ensure the best pricing.
The memorial is described as a 28-foot-long, jet black granite wall with seven sections, each depicting imagery that personifies courage, sacrifice and other attributes of American service members.
In addition, the wall will be accompanied by a new brick paver walk and plaza using the same design and shape of the existing plaza area at the entrance of the park. The plaza will also encompass 24-inch round bronze emblems of the five branches of service inlayed into the walk area, along with two benches.
"There may be future additions to this display that will be funded through fundraising efforts done through the Foundation," Gleckler said.
In other matters, the board will consider certifying the results of the March 20-21 Student Government Association election. The 2019-2020 student trustee will be Shelbie Kile, an agriculture transfer student from Marshall.
The Student Government Association sophomore delegates will be Eusebio Briseno, Arthur; Kourtney Cordes, Effingham; Alanson Gann, Paris; Mya Garcia, Neoga; Citlali Hoyos, Effingham; Courtney Lee, Shelbyville; Cameron Noel, Kansas; Gunnar Scott, Marshall; and Nathaniel Shick, Kansas.
The board is scheduled to meet at 6 p.m. Monday, April 8 in the Board and Administration Center. Other actions that the board will consider taking include:
-- Hiring Bartels Construction Inc. of Mattoon for $66,615 to repair the sidewalks in several areas around campus.
-- Hiring Stuppy Inc. of Kansas City, Missouri for $99,915 to construct a 30-by-60 greenhouse for the college's Illinois Department of Corrections education program at the Joliet Treatment Center.
Contact Rob Stroud at (217) 238-6861. Follow him on Twitter: @TheRobStroud
Get Election 2020 & Politics updates in your inbox!
Keep up on the latest in national and local politics as Election 2020 comes into focus.