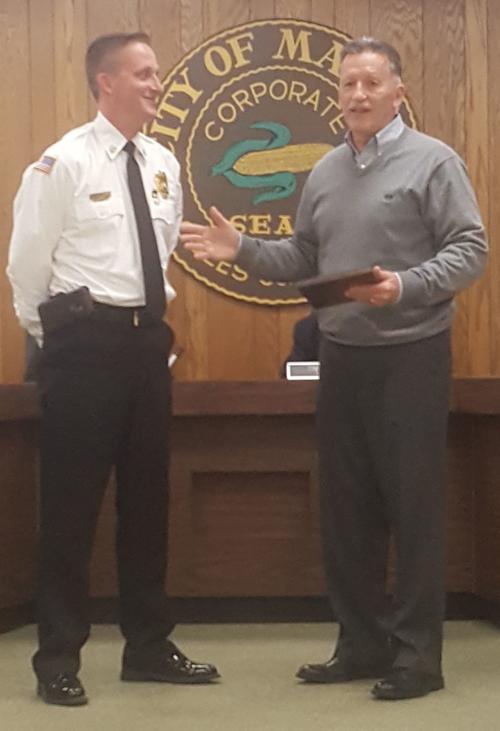 MATTOON -- Fire Chief Tony Nichols has announced that he plans to retire after leading the Mattoon Fire Department for nine years and after serving in the department for 24 years.
Nichols said in an interview Tuesday afternoon that his last day on the job will be Monday. He attended his final Mattoon City Council meeting as chief Tuesday evening. Nichols, who joined the fire department in December 1994, said he had planned to retire in December of this year but has decided to move up his retirement.
"Over the last couple years, economic struggles have forced some difficult decisions to be made within the department, and the job isn't as enjoyable as it once was. I now feel it is time to step aside and let someone else have the reins of this first-class organizations," the fire chief said.
Nichols said the budgets for the fire department and city have gotten tighter every year during the last decade. He said these tight budgets have made it tougher to operate the department. He said the council's vote to eliminate the department's ambulance service last summer was a factor he considered when deciding it was time to retire.
The fire department operated an advanced life support ambulance service from 2010 to 2018. City officials have said that the department's ambulance service lost money and duplicated the work of private providers. Firefighters countered that their service generated needed city revenue and provided essential coverage for Mattoon.
During Tuesday's council meeting, Nichols said the last approximately 10 years on the job have aged him. Asked about his plans after leaving the fire department, Nichols said he has taken a fire prevention post with the Illinois State Fire Marshal's Office.
"We appreciate your service to the City of Mattoon," Mayor Tim Gover SAID during the meeting. Council member Rick Hall, who is commissioner for public health and safety, presented Hall with a plaque during the meeting, which was attended by several of Nichols' family members.
Nichols, a Mattoon native, is a second generation Mattoon firefighter. His father, Gary, served with the fire department for 27 years and retired as captain more than a decade ago. Nichols joined the department after serving in the Navy and he then worked his way up to becoming chief in October 2009.
During the interview Tuesday afternoon, Nichols reported that some of the big fires that he and his colleagues faced over the years included blazes at the Walker's supermarket, the Dollar General along Lake Land Boulevard, Villa Pizza, and a storage facility along DeWitt Avenue East.
"I couldn't be more proud to have served with this department and all of its hardworking, selfless individuals that go above and beyond on a daily basis, not because they have to but because they want to. I'm so proud of the hard work and dedication that this department has put in while I was chief," Nichols said.
The fire chief said he is also proud of fundraisers that the firefighters have held for various community causes, such as Breast Cancer Awareness Month and the firefighters' Thanksgiving food basket program.
In addition, Nichols said he is proud of the more than $550,000 in grants that firefighters have obtained in recent years to help with the purchase of a new rescue pumper and wide variety of turnout gear.
"A lot of that equipment, with normal budgets, we would not be able to get," Nichols said.
At the close of Tuesday's meeting, council member Hall said the city is working on getting an interim fire chief in place as soon as possible.
In other matters, the council voted to award a $2,500 hotel/motel tax fund grant to the Douglas-Hart Nature Center to help with hosting the March 21-23 Environmental Education of Illinois State Conference. The council also approved the final revised 2018 motor fuel tax street maintenance expenditure statement in the amount of $267,983.
Contact Rob Stroud at (217) 238-6861. Follow him on Twitter: @TheRobStroud
Get Government & Politics updates in your inbox!
Stay up-to-date on the latest in local and national government and political topics with our newsletter.