CHARLESTON -- A direct descendant of the historic bur oak tree on Eastern Illinois University's campus has taken up residence where its parent once stood for approximately 150 years. 
The EIU grounds crews planted the roughly 5-year-old tree in the circle drive just east of Old Main, the original location of the old tree.
Standing 5-6 feet tall and roughly an inch in diameter, the young tree is dwarfed by size of the old tree in its final days.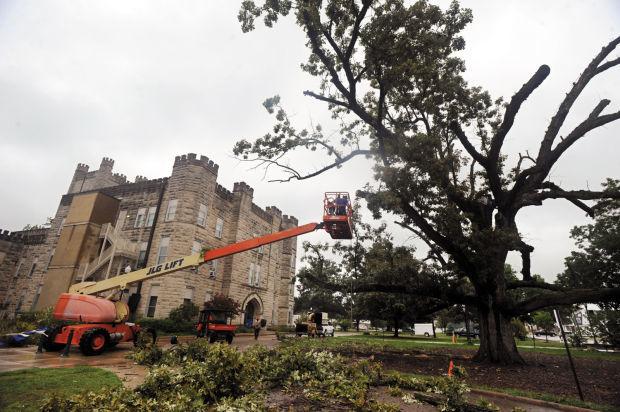 The old tree was 5 feet in diameter with a canopy that stretched 40 to 50 feet and was still growing before it was cut down, said Gordon Tucker, EIU biology professor.
The new tree is a fraction of that size, but Tucker said it will likely get to the same size in about the same amount of years. Where it is planted, the tree will have no competition from surrounding trees and will be able to thrive because of it, like the old one, he said.
Of note is the fact that the acorn used to plant this new tree was the largest in a batch of acorns taken from the old tree before its removal. 
Late in its life, the old tree suffered a few lightning strikes and a fungal infestation that weakened it to the point where crews need to cut it down.
As the JG-TC reported in 2014, several branches from the bur oak tree fell down, and former EIU President Bill Perry soon gave the order to remove the tree.
Tucker said it was sad to see it wither. He said it was a striking feature of the campus for many years. EIU grounds crews did everything they could to revitalize it, but ultimately it was beyond saving. 
The new tree is one of 20 new trees to span Eastern's campus, as a celebration of Arbor Day. The other 19 will be planted throughout the summer. As previously reported, this project was initiated to fall in line with the core standards needed to get a Tree Campus USA distinction by the Arbor Day Foundation for a commitment to healthy tree development.
EIU long held that Tree Campus USA distinction, but a renewal of the distinction lapsed year after year for a few years until now.
Project organizer Grace Wilken said the university is simply "continuing its legacy."