CHARLESTON --  Area residents are looking to ease emergency situations for parents, such as an abrupt visit to the hospital, by establishing a 24/7 crisis nursery and reduced daycare center in the Charleston.
Lisa Flynn, who has been leading a charge to create a crisis center in the city, said she and a group of others are intent on setting up a crisis center in Charleston similar to those in other areas, such as Effingham and Champaign, with the additional inclusion of a reduced-cost daycare. 
Simply put: In a time of crisis, a crisis nursery is there to to be an emergency space to drop off a child for short-term care, should another option not be available to the guardian. The proposed center in Charleston would provide 24-hour emergency shelter care to children birth through age six. 
At the Effingham Crisis Nursery, a person can come in without appointment to the nursery and go through processing, which includes detailing why they are using the service. 
This is not to say the nursery takes kids no questions asked, said Meghan Rewers, executive director at the Effingham Crisis Nursery. They have staff trained to prevent and reduce chances of the service being abused, for instance, if a parent or guardian is lying about their reason for using the service.
The intention is to make it a easy and quick for these individuals, because at the end of the day "crisis is crisis" and those in need of these services are not in positions to deal with loads of paperwork and other formalities, Rewers said.
On its website, the Effingham nursery includes examples for such care as as domestic violence, parental stress, medical crisis, mental health crisis, job or school-related crisis and court-related crisis as possible reasons for using the service. 
Ultimately, crisis is "whatever puts kids at risk," Rewers said, even if that means "catching up on sleep." She noted infants are at a high risk of neglect because of the attention that is required of parents. 
It is about reestablishing stability in these families, Rewers said. 
The Effingham location can serve eight children at a time, and the schedule is based on the severity of the need. 
Using the centers in Effingham and Champaign as framework, Flynn hopes to create this same level of service. She cites the area's high poverty rate as a reason the center like this is needed.
An analysis by Micheal Gillespie, an Eastern Illinois University professor who studies local poverty, showed county poverty at 22.4 percent in 2018 for families with children, a decrease from the year before but still high in comparison to the rest of the state. 
Register for more free articles.
Stay logged in to skip the surveys.
This figure does not take into account the food insecurity in the county. Currently, 44.1 percent are at-risk of not knowing from where their next meal will come.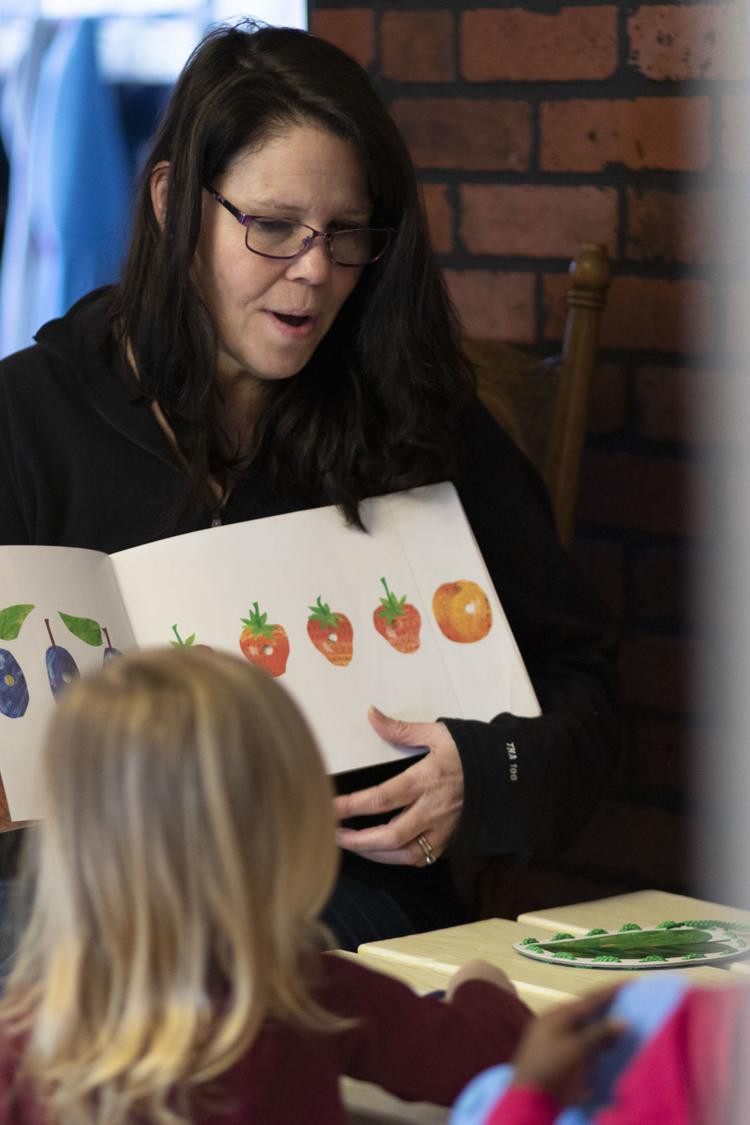 Inspired by this apparent need in the community, Flynn, who runs a daycare out of her Charleston home and comes from a line of daycare providers, said she wanted to apply her skills to supporting the low-income families.
"I have a daughter who has two children, and she was working two jobs, barely making any money at all," Flynn said. "If she would have had to rely on daycare at the time, there is no way she would've been able to work."  
Her daughter's experience, coupled with the poverty in the area, galvanized her and others to move forward with a plan to bring some support to families in the area.  
Flynn said the envisioned nursery would be for everyone, with no income guidelines for its clients. But the service would be geared toward low-income families. 
"Parents need timeouts, too," said Amanda Lewis, Charleston Crisis Nursery treasurer. 
"The kids will have a safe place to go, instead of (a parent) reaching that limit where you might end up shaking a child," Flynn said.  
"A lot of parents have two or three jobs, and you got children who -- maybe one's colicky -- and you just need a break."
Other services the plan for the crisis nursery and daycare include respite care, free mental health counseling from a licensed psychologist and after-school tutoring. 
Flynn indicated they are still early in the process, just recently getting non-profit status for the daycare. They also are looking for a space to house the planned nursery. The goal is to open up sometime in the fall, but Flynn said that is dependent on funding.