MATTOON — Contractors have been equipping and furnishing the planned Elevate Cross County Innovation Center so that it will be ready to serve entrepreneurs after coronavirus precautions on social distancing and staying in place are lifted.
Kevin Brege, a program manager with Google.org, said Google is a firm believer in innovation and entrepreneurs, and in the importance of spreading out economic development opportunities across the United States. He said Google has been impressed by the Mattoon in Motion community planning organization that applied for the Impact Challenge grant and has led the center's construction.
"In Mattoon in Motion, we found an organization that we really think is a kindred spirit," Brege said.
Elevate Executive Director Carlos Ortega said prospective entrepreneurs tend to become more creative as they find ways to work within the constraints, such as having to work from home, that are caused by crisis situations. He said Elevate will be ready to help them develop their ideas when it opens in coming months.
The business development center has six offices, including a double office, that are available for rent. Renters will be able to work in these offices and in the commons area in the middle of this facility, and they will be able to hold meetings in person and by video in the two conference rooms there.
"We have designed this space to be as flexible and as agile as the up and coming generation of entrepreneurs," Ortega said.
The commons area has sofas and tiered seating at its west end, and cafe-style booths and tables at the east end. Contractors installed appliances last week in the kitchen on the north side of the commons. The open area on the south side flows into a business center has a copier and other equipment available for use. There are also four "phone booths" nearby where Elevate members will be able to make calls and video conference in screened spaces.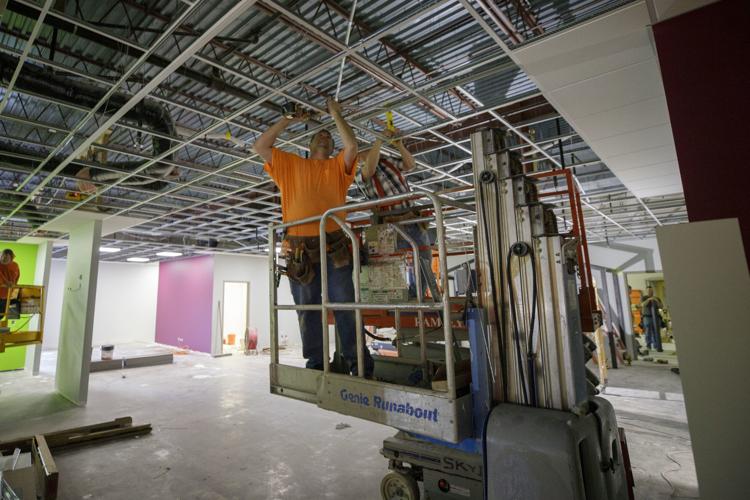 After completing the main section of the approximately 6,000-square-feet Elevate center on the north side of the mall, Quality Builders & Finishers Inc. of Mattoon recently began renovating the corridor that will connect this section to the mall concourse. Ortega said the corridor will eventually include kiosks where Elevate members can sell their products to the public.
Ortega said the center will be available for use by Elevate members, partner organizations, and community groups. As examples, ClassE Coles County high school entrepreneur program students will meet on site and Code Platoon coding classes for veterans will be offered there.
In addition, Ortega said the Elevate organization has already hosted two Grow with Google livestream webinars — one in October on holiday marketing plans for small businesses and another in November as part of National Veteran Small Business Week on connecting with local customers on Google.
"Once the center is open, the goal would be to organize workshops monthly around topics relevant to area entrepreneurs and implementing the Google IT Support Professionals Certificate program," Ortega said.
Brege said Google, through the Impact Challenge grant program, was glad to provide the tools that project organizers need to create the Elevate center.
"We hope this is just the beginning of our partnership," Brege said. "We are really excited about developing the relationship."
---
Contact Stroud at (217) 238-6861.
Concerned about COVID-19?
Sign up now to get the most recent coronavirus headlines and other important local and national news sent to your email inbox daily.