Now, a year later, the halls twist the same; however, students are walking throughout the school as different people. And many are hoping to heal and forget about the events of that day leading into today (Thursday).
At this point, the chaos of that day is not as hard to think about for some of these students. Rick Wright said for him and other students he knows, enough time has passed.
"Overall, it's not that hard to think about anymore," Wright said. "Enough time has passed and we are able to see our surroundings in a new light."
Wright, a sophomore at the high school, was in the cafeteria at the time. He remembered the bangs that, for a second, were thought to be balloon pops while he was playing a mobile game with his friends. He remembers running for the back doors toward the football field. And he remembers running toward nearby homes with other students.
But Wright said his story and other stories from that day can now be shared without making as deep an emotional cut. For him and people he knows, the incident only comes up on occasion.
Bianca Beltran, a junior, agreed with the sentiment. She said a majority don't think much of that day anymore, especially the freshmen. However, the scars remain.
"There are still scars, but they're kind of the scars that you can hide, that don't come out every day," she said.
For Beltran, the reaction can still be visceral at times. Beltran was outside the cafeteria at the time of the shooting, and similar noises still trigger a response, albeit "once in a blue moon," she said. Most recently, she remembered jumping at the sound of a door slam on the second day of class.
In those moments, she said, she simply tries to collect herself and move on with the day.
Alex Seymour, a sophomore who was around the corner from the cafeteria on that day, said these noises still make an impact on her life as well. Over the summer, Seymour remembered dropping to the ground at the sound of a confetti cannon going off at a concert.
The impact of those seconds in school when the shooting occurred is still felt. Seymour said the school and its students are healing, though.
"Something like that, a traumatic event, you can't really get over," Seymour said. "I would say there has been recovery. I don't get as frazzled with loud noises...it doesn't feel as fresh."
The differences seem to lie in how to heal, though.
Throughout the course of the year, the school and the community have started campaigns in an effort to show support, to promote togetherness, or to give back to their community in positive ways. And in that vein, students will be going out across the area, including into Charleston, doing community service work today (Thursday) as part of the Mattoon Green and Gold Day.
All of the students will be sent out to various sites to do some community service work. Some of the work will include:
Planting green and gold chrysanthemums along Broadway Avenue
Washing cars, organizing gifts for patients and putting together dental kits at Sarah Bush Lincoln Health Center
Cleaning up the Coles County Fairgrounds in Charleston
Presenting lessons on kindness and giving back to kindergarten and first-grade children at Riddle and Williams Elementary schools
You have free articles remaining.
Keep reading for FREE!
Enjoy more articles by signing up or logging in. No credit card required.
Seymour and Wright said they are excited by the opportunity. Wright sees it as a chance to help out those who supported him.
"They helped us on this, so we are helping them on this day," Wright said.
Wright will be performing and assisting seniors downtown as part of the Green Wave Singers.
"I am excited to turn over a new leaf," Seymour said.
Seymour said also it is also a good chance to get out of the building on that day "so we won't have to sit there and relive it."
Seymour will be organizing clothes in a transition closet at Eastern Illinois University for Spectrum, otherwise known as the Gay-Straight Alliance.
On the other hand, Beltran said she and others she knows wish the day would've been treated like any other, without any special attention paid to the one-year anniversary.
"We want to live a normal life," she said. "We want to go back to how it was before... We have to accept that we went through it... but we want to be treated like those teenagers again."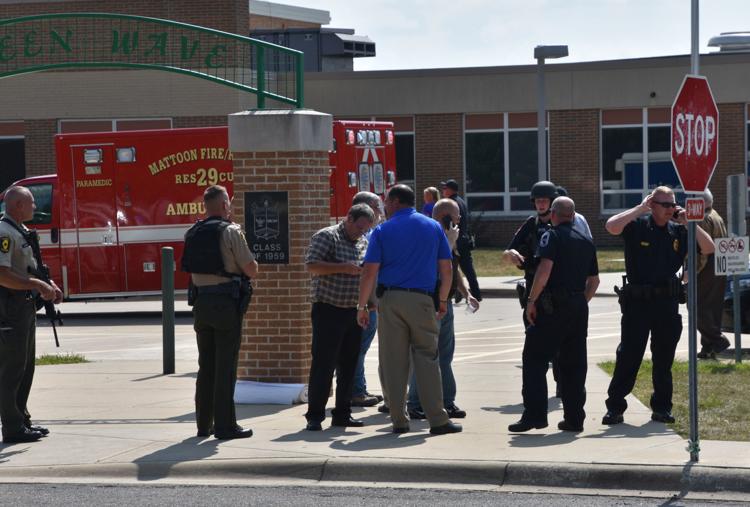 For Beltran, the service day and other such community-building campaigns associated with that day like #MattoonStrong, however beneficial, dually serve as an unwanted reminder of the events of Sept. 20, 2017.
The shooting made a mark on the students, not more so evident than in how they interact with each other. Wright said the students are more attentive to each other and aware of things like bullying.
"We have been able to share an experience that affected us," he said.
Beltran explained students are now taking more proactive roles in other students' lives.
For Seymour, the shooting ignited a passion for activism in whatever form that takes. She said it taught her to "speak up" for whatever she believes in. Seymour was notably one of the students who led a walkout as part of a national protest for changes in gun laws.
Wright said he grew from that experience. The student body grew.
School officials did not respond to requests for comment on this story.
---
092017-mat-mhs-shooting1-DF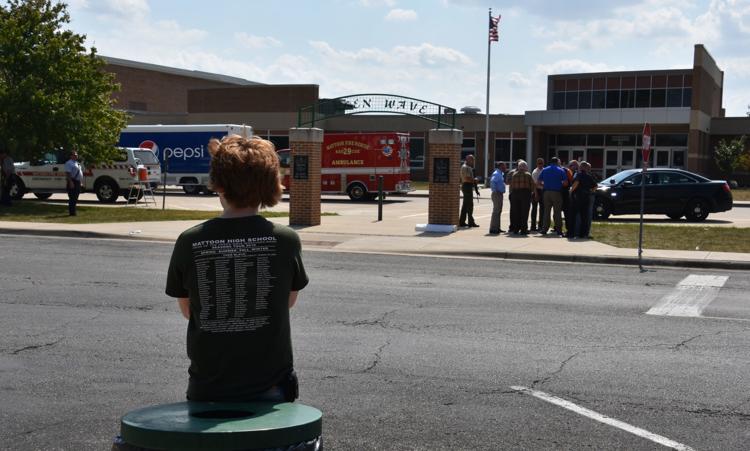 1 student shoots another student at Mattoon High School
MATTOON (JG-TC) -- A shooting about 11:30 a.m. today at Mattoon High School has left one wounded student in its wake, and the suspect, a male student, is in custody, according to Mattoon police.
In a press briefing at 1:10 p.m., Mattoon police Chief Jeff Branson and Mattoon Superintendent Larry Lilly said the shooting happened in the cafeteria. A teacher subdued the shooter, and when city police arrived at the scene, a school resource officer was already on site, authorities said.
The injured student is in stable condition at a local hospital, officials said.
Numerous police officers and other emergency personnel remain on the scene. Police were clearing the high school room by room at this time.
Later in the day, the school district canceled all evening events for the middle school. Mattoon High School students will be able to pick up their cars at 5 p.m. Wednesday but they will not be allowed in the building, school district officials said later in the afternoon.
High schoolers were evacuated outside the building to safe places just after the shooting. They were being bused to Riddle Elementary School, where they can be picked up, according to police.
After police responded to the incident, a Coles County Sheriff's Office vehicle was involved in an accident on Marshall Avenue north of the high school.
Just after the shooting incident, numerous student and others could be seen milling around along Marshall Avenue, two blocks from MHS.
The Mattoon school district posted this about the incident:
Mattoon High School officials were made aware of an active student shooter at approximately 11:33 a.m. this morning on the Mattoon High School campus.
The School Resource Officers and school officials headed to the cafeteria where they heard shots fired.
The suspect fired shots in the school cafeteria, before he was subdued and disarmed.
Emergency procedures were activated and students and staff exited the high school. As a result of shots being fired, one student was injured.
First-responders arrived, secured the facility, and transported the student to the hospital. The injured student's parents were notified and all students were transported to Riddle Elementary School to be released to their parents.
We are saddened that this event has happened and we will provide counseling to students in need. We will continue to work with emergency personnel to determine what happened.
We appreciate the quick response of school staff and first-responders. Most importantly, we offer our thoughts and prayers to the injured student and all who are affected by this tragedy.
This story will be updated as soon as more information is available.
MHS SHOOTING 2 (09/20/17)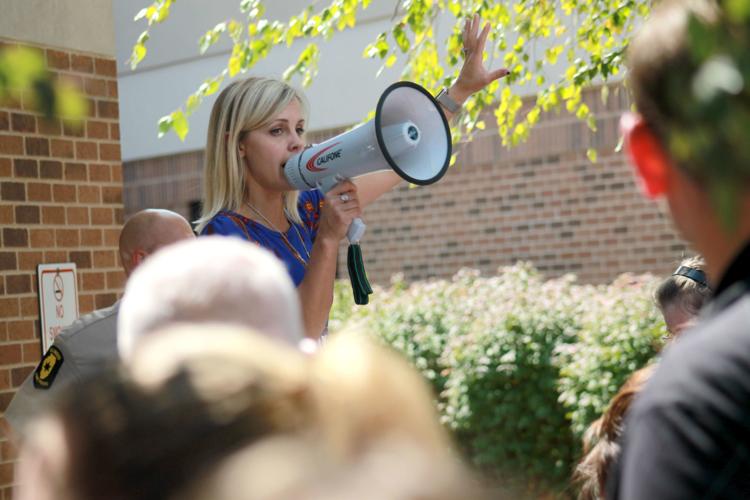 MHS SHOOTING 4 (09/20/17)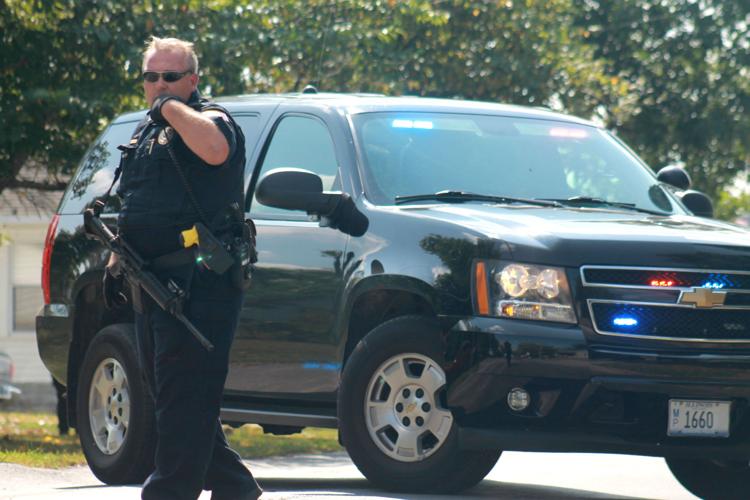 Mattoon High School shooting 2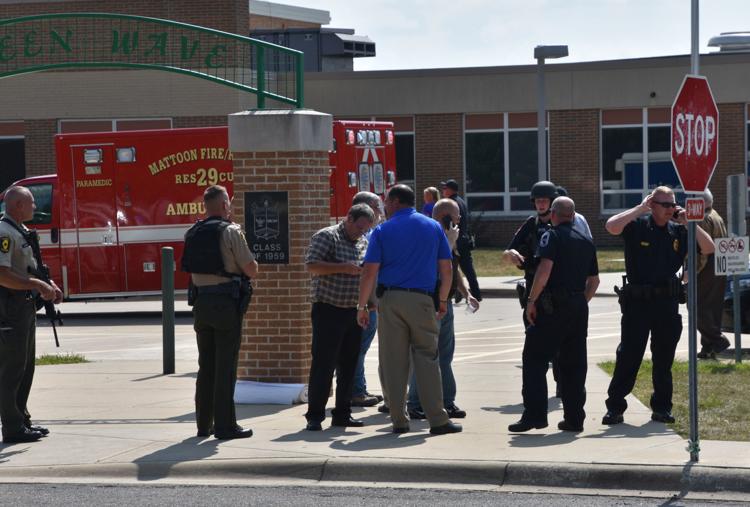 Mattoon High School shooting 5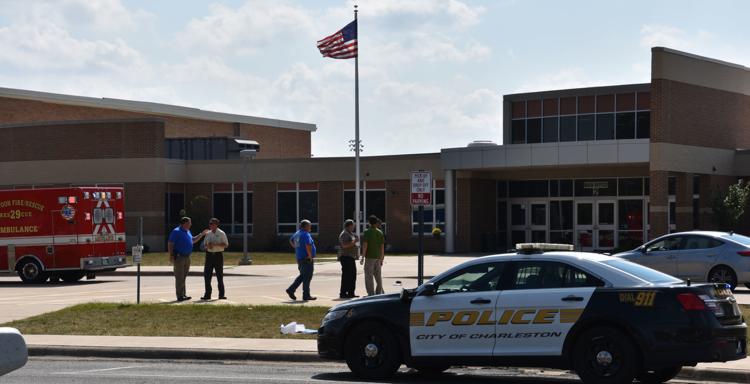 Mattoon High School shooting 6
Mattoon High School shooting 7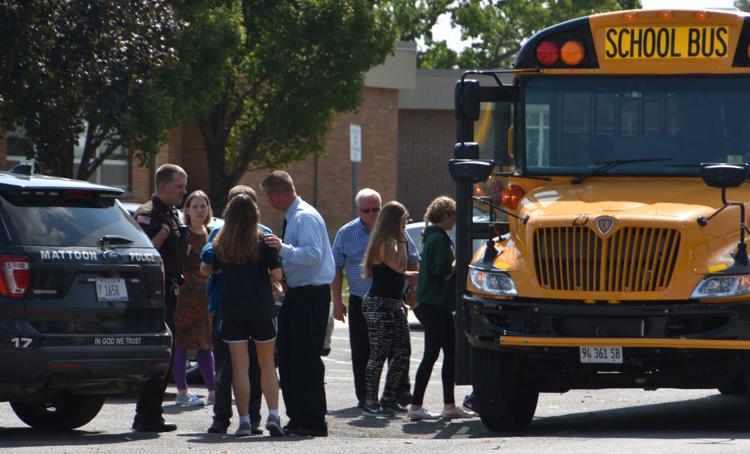 Mattoon High School shooting 8
MHS SHOOTING 5 (09/20/17)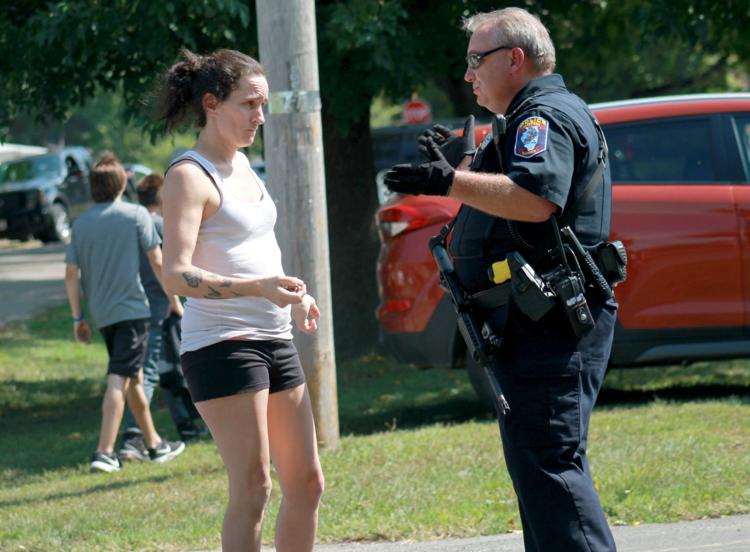 Mattoon High School shooting 9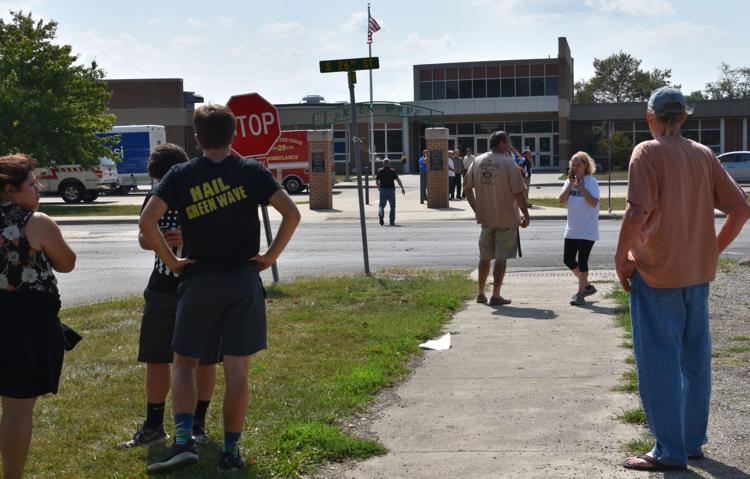 Mattoon High School shooting 10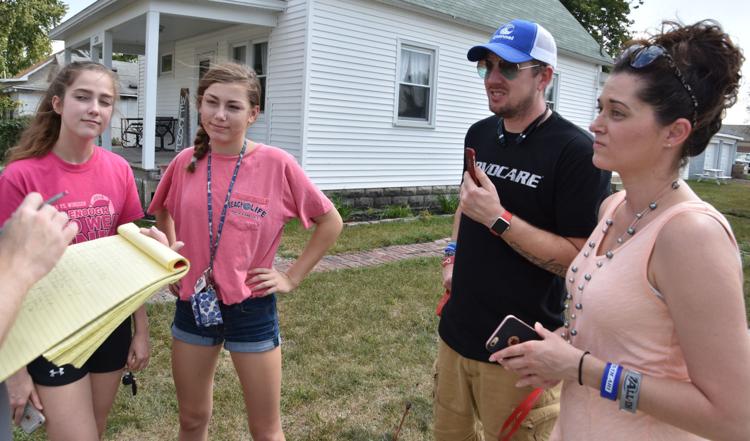 High school's neighborhood fills with police, parents after shooting
MATTOON -- Ericka Miller was in Mattoon High School's halls at about 11:30 a.m. Wednesday when she heard an intercom announcement that the school was on "lock down" and that the students needed to get out of the building.
"At first I thought it was just a drill, but then everyone started freaking out and everything was crazy. I did not know where to go. It was scary. Everyone just took off running everywhere," Ericka said. She and several of her classmates ended up running to a nearby cornfield. Their flight from the school occurred after one student reportedly shot and wounded another student in the cafeteria.
Ericka's mother, Heidi Miller, was working in Shelbyville at the time and was unaware of the incident until she received a text message from her daughter saying, "I'm OK." Miller said she quickly called to find out why her daughter was "OK" and then she "kind of flew home" from Shelbyville.
"As a parent. It's one of your worst nightmares. You hope it never actually happens," Miller said, adding that she was determined to see her daughter as soon as possible. "(As a parent) you really have to physically see them to put your mind at ease. You are a mess. You are sick to your stomach."
Miller and her daughter soon reunited at their home along Marion Avenue about a block from the school. There, they hung out with Ericka's fellow junior classmate, Kenadie Eaton, as they watched the dozens of police officers finishing up their work around the school after the shooter was apprehended and the victim was taken to the hospital. Kenadie said she was at home for lunch at the time of the shooting.
Freshman Dallas Cunningham said he was in the high school building when the shots were fired.
"It was pretty scary," Cunningham said. "I was in class and they had us all move out fast."
Senior Evan True said he was on a field trip to Lake Land College when his girlfriend called him just after 11:30 a.m.
"She was crying," True said. "She said there had been five shots fired in the cafeteria and they had all been told to go outside."
True said he believed the shooting suspect had been bullied in school.
"We can't tolerate bullying. Everybody has their differences, but we've all got to figure a way to get along," True said.
Marion Avenue resident Katherine Bennett said she was at home when she heard from her adult son, who was outside doing lawn work, that there had been a shooting at the nearby school.
"I have nieces and nephews at the school, and I just panicked," Bennett said. Looking outside, she saw police officers and parents "everywhere."
Bennett said she walked down the street to a possible impromptu gathering point for students and she spoke to a couple of them who had witnessed the shooting in the cafeteria. She later found out that her nieces and nephews, along with their classmates, were taken by school district buses to Riddle Elementary School for pickup by their families.
Shirley Davis, who lives at Marion and 26th Street, said her grown daughter heard that emergency responders were rushing to the shooting scene and called to warn her to "lock my doors and stay inside." Davis said she later looked outside and saw many parents trying to get to the scene. She said her heart went out to these parents.
"You are desperate to find out if you child is OK and you can't get to them to find out what is going on," Davis said. "They were parking anywhere they could park and running that direction."
Mattoon resident Shaynne Von Behren said he heard about the shooting via a 911 scanner posting online and headed to the neighborhood to see if his sister, who lives there, was all right. Von Behren said he ended up helping direct traffic as a stream of concerned parents, plus everyday through traffic, backed up at 26th and Marshall.
Von Behren said he fashioned a sign and held it to help tell parents that their students were being taken to Riddle Elementary School.
"People were worried and wanting to know where their kids were and wanted to know how they could get to them," Von Behren said.
Mattoon officials grateful for quick response to shooting
MATTOON -- A student opened fire in the Mattoon High School cafeteria and wounded a fellow student before being subdued by a teacher Wednesday.
School district Superintendent Larry Lilly and Mattoon police Chief Jeff Branson shared information about the incident at a press conference Wednesday evening at the district office, during which officials emphasized that they believe the shooter acted alone.
Lilly said a male student fired multiple shots in the high school cafeteria at approximately 11:30 a.m. and wounded a fellow student. He said a teacher was nearby when the shooting occurred and she subdued the shooter, who was then disarmed by the police department's on-site school resource officer.
The superintendent said he has visited with the wounded student at the local hospital and can say, with the permission of his father, that he is in stable condition and in good spirits. He added that the victim's father wants to pass along his prayers to the family of the shooter.
The superintendent said emergency responders were quick in taking the wounded student to the hospital, taking the suspect into custody, and securing the school. He said high school students were bused to Riddle Elementary School for pickup by their families, adding that the district accounted for all of the students soon after the shooting.
"We are saddened that this incident has happened and we will provide counseling to our students in need," Lilly said. He added that, "I would ask that you would keep everyone involved in this tragic situation in your thoughts and prayers."
Mattoon High School is scheduled to dismiss early at 12:09 p.m. Thursday. All of the district's other schools will maintain regular hours. Lilly said parents who wish to keep their students home Thursday will receive an excused absence for their children. He said counselors, clergy and police officers will be available to meet with students and staff. Police officers are scheduled to have a stepped-up presence at Mattoon schools.
Branson thanked the more than 100 officers from various local and state agencies that were dispatched to the school and helped secure the scene. He commended the high school's staff for evacuating students from the school and for barricading them in place as needed, and he commended the teacher for her lifesaving role in subduing the shooter.
"If the teacher had not responded as quickly as she had, I think the situation would have been a lot different," Branson said.
The police chief said the investigation is ongoing, but investigators are confident that only one suspect was involved in the shooting.
Coles County State's Attorney Brian Bower said during the press conference that charges against the suspect will be pursued in juvenile court. He declined to release the name of the suspect due to juvenile court and school district privacy requirements. Officials also have declined to release the name of the wounded student and the teacher who subdued the shooter.
An audience member at the press conference claimed during this event that the school district had been warned at 8:45 a.m. Wednesday about a threat being made at the high school. This man declined to give his name. Officials there did not comment due to the ongoing investigation.
The shooting sent many students streaming out of the high school on Wednesday and those students at the school with cellphones quickly called their parents. One of these parents was Skye Arthur, who said her 16-year-old son Braeton Davis had his knuckles busted open during this incident, but he is physically fine otherwise. She said her son believed he may have been grazed in the shooting.
According to authorities, Braeton is not the student who was shot.
"I think he is traumatized by everything that happened. (Braeton) saw him shooting the gun, but he said he doesn't know who he is," Arthur said. "Overall (Braeton) is OK; he's probably like everybody else at school, in shock and scared."
Braeton and some of his friends ran out of the cafeteria and out of the school into a neighbor's yard. Then, he called his mother to tell her what happened, Arthur said.
"He got trampled while running out of the school and lost his shoes," Arthur said.
Arthur said she noticed dozens of student walking in front of her house, which is near the high school, and she asked a teacher what they were doing. She said the teacher said all students were reporting to nearby Riddle Elementary School to be accounted for and picked up by their families.
So, Arthur called Braeton back and told him and his friends they needed to go to the elementary school so they could be counted and people would know they were safe. Arthur said she is still in shock: "I've been a mess all day."
"I never would have thought anything like this would have happened here," Arthur added. "I thought he would be safe at school; they have security doors and everything."
Arthur said Braeton is scared and upset. She said her son wanted to lay down and relax, and was not ready to talk about what happened yet.
"I can't imagine how he is doing, I can't imagine how any of those kids are doing right now and you see it on TV and don't think it is going to happen to your own kid," Arthur said. "(Braeton) walked to school and walked home and never thought any of this would happen."
Police officers were on scene at the high school throughout the afternoon as investigators pursued their work at this site. Earlier in the day during the response to the shooting, a Coles County Sheriff's Office vehicle was involved in an accident on Marshall Avenue north of the high school.
Crowd gathers to support community after MHS shooting
MATTOON -- As the sun set on a dark day for Mattoon High School on Wednesday, a crowd gathered to hear messages of faith and of how there's light in the bleakest times.
The prayer vigil took place in a field just west of MHS, where some police officers could still be seen around the front of the building, more than seven hours after a shooting incident in the school's cafeteria.
Among the speakers was pastor Brad Brown, who serves at the Mattoon Police Department chaplain. He thanked the MHS students who attended and told them, "You guys are not alone."
He wasn't alone in thanking God that the incident, during which an MHS student reportedly shot and wounded another student, "wasn't worse."
"He will calm our storm," Brown said. "We will move on and we will be stronger for it."
Cheryl Cox, whose son Andrew is an MHS junior, organized Wednesday's vigil because, she said, her "first instinct when something happens is to pray."
"They definitely need to be together," Cox said of the high school's students. "Everybody's got the same emotions."
She said her "heart stopped" when, at the time of the shooting, she received a text message from her son that said only "mom." He was in class at the time and soon sent word that he was OK.
The vigil's crowd reached at least 200 people, a mix of adults and teenagers and with some Mattoon city and school officials among them.
Cox's husband Dave Cox, a Mattoon city commissioner, also told the crowd that the shooting won't be a force of division.
"As strong a community as Mattoon is, we're going to come together," he said. "We're not going to let today define us."
Fellow commissioner Rick Hall, a former Mattoon school board member, was one of the speakers who thanked MHS teachers, including the one who reportedly subdued the shooter.
Hall praised the teachers and emergency responders "for doing a great job," which drew applause from the crowd.
Pastor Josh Butler had the MHS students at the vigil come to the front of the crowd and join hands as he spoke and prayed.
"There are a great many things that happened in our community today," he said.
Butler called for prayers for the shooting victim and the MHS teachers but also for the shooter as well.
"Please heal that heart," he said during his prayer.
Pastor Travis Spencer joined others in praising Wednesday's emergency response agencies as those who "ran in to help as our kids were running out to be safe."
During their comments, the speakers stood on what's known as the "traveling cross," which Mattoon residents Greg and Lisa Patterson built and attached to a cart to use mostly as a receptacle for charitable efforts.
Greg Patterson said they've made the cross available at other vigils and they brought it to Wednesday's to "hopefully spread God's word."
Thursday at MHS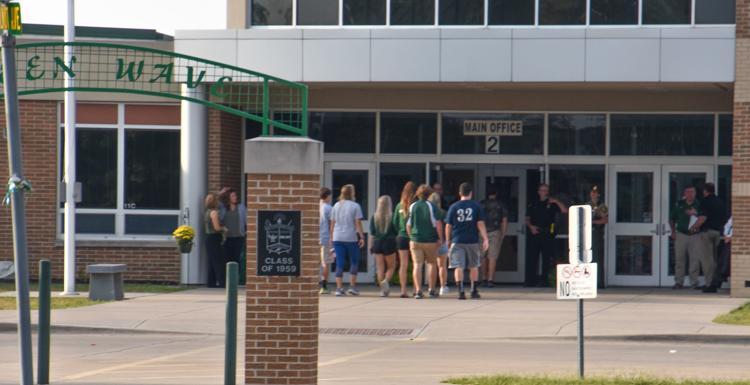 Students share thoughts in wake of Mattoon school shooting
MATTOON -- Haiden Wickline was in the Mattoon High School cafeteria at lunchtime Wednesday when he heard a gunshot and then saw teacher Angie McQueen grappling with a male student who was armed with a handgun.
Police and school district officials have credited the teacher with subduing the shooter, who had wounded a fellow student, until the shooter could be disarmed by the Mattoon Police Department's on-site school resource officer. During an assembly Thursday morning in the high school gym, Wickline said he and more than 250 of his classmates in attendance enthusiastically thanked McQueen for her lifesaving actions.
"Everyone stood up and we all clapped our hands and cheered for Mrs. McQueen," Wickline said.
A day after the shooting, Wickline was among those who shared their memories and thoughts about the incident with the newspaper.
Sophomore Bianca Beltran, 15, said she was in a nearby hallway when the shooting took place in the cafeteria. Beltran said she and two other students started running after hearing the gunshots. Beltran said she was worried for her safety and afraid for the safety of those in the cafeteria.
"If it wasn't them, it was going to be me," Beltran said of who she thought might be the shooter's next targets.
Beltran said she and other students ran from the school and hid behind nearby houses. She let others use her cellphone and then used it to call her mother, who was at Walmart at the time. Beltran said her mother picked her up and wanted to take her to Riddle Elementary School, which was the evacuation point for the high school students. However, Beltran said she "wasn't having it" and demanded to stay with her mother.
The sophomore was one of the students who didn't return to the high school on Thursday. Beltran said she and others wanted to be with family, but she also admitted that she "was tired from everything." Beltran said she has heard the stories about how McQueen subdued the shooter, and how it was apparently bullying of that student that likely led to the incident.  She also said there have been concerns about bullying at the school raised in the past.
"They need to do more than give out detention," Beltran said.
Those students who were having lunch in the cafeteria at the time of the shooting included Mattoon resident Lonnie Scott's child. Scott said McQueen deserves a lot of thanks for subduing the shooter.
"She took action in a moment when there was clear and present danger. She was selfless and she saved lives," Scott said. "Her actions resulted in zero fatalities."
Scott said if McQueen had not taken action, the community would likely be holding funerals this week for those who would have been killed in the shooting. He said McQueen's actions saves the lives of potential victims and and the life of the shooter. He said the community will now have an opportunity to ask the "hard questions" about what led to the shooting and how this incident could have been prevented.
"She gave us an opportunity to have the hard conversations," Scott said.
Sophomore Haiden Wickline said he was eating lunch in the cafeteria Wednesday when he heard a loud noise that felt like a balloon had been popped right next to his ear. Wickline said he stood up, looked around and saw the source of this noise -- a handgun that had been fired by a student 10-15 feet away.
Wickline said he saw McQueen grab at the shooter's hands from behind and push them up toward the cafeteria ceiling. He said bullets fired into the ceiling as a mass of students scrambled to get to safety. The sophomore said he saw his girlfriend, Krista Kingery, sheltering under a cafeteria table. Wickline said he grabbed her and shouted that they need to "Go!"
"I just knew that we had to get out," Wickline said.
As they ran down a nearby hallway, Wickline said they passed the school resource officer, who was running to the cafeteria. Wickline said they then ran out the front doors and down the road. The sophomore said he turned to look back toward the school and saw more than 150 students running behind them.
Wickline said he called his mom, Krissy Brunson, and she picked him and Kingery up at nearby Marshall Avenue, where a procession of students was preparing to walk toward Riddle Elementary School. Wickline praised the school's staff for helping tend to the frightened students, and the emergency responders who rushed to the scene.
The sophomore said his head ached from fear and tension by the time he got home Wednesday. Wickline said he found relief after writing a detailed account of his experience that day on his Facebook page.
"I wanted to express my feelings about it all," Wickline said. "I did feel better. It helped a lot."
Matthew Cox, a sophomore student, was on the other side of the cafeteria from where the incident took place, talking to friends about school, when he heard the first shot.
"Everyone that was outside of a two-table radius was thinking that is was a plastic bottle or plastic bag being popped," Cox said.
Seconds later another shot rang out, followed by screams, and he and everyone else in the cafeteria quickly got under the tables. A couple of more shots rang out. Cox said this was when he ran for the doors to leave the building.
"Don't think. Just do. Just get out of the building as fast as possible," Cox said as to what went through his mind as he fled the scene.
He ended up in the cornfields south of the school. Everyone was scattered in every direction outside the school, he noted.
Cox was safe outside of the building, however, he didn't feel it.
"I didn't feel necessarily safe until I got home that night," he said. "I'm still kind of second-guessing if I am safe.
"I just want to forget yesterday as a whole," he said Thursday.
Since the shooting, Cox said he and his friends have been together consoling each other over what has happened.
Cox attended school Thursday along with others, however, he said it was surreal.
"It was like a movie," he said.
The school felt empty, like he shouldn't be there. It just didn't feel right, Cox said.
At the beginning of the day, students were told to go to the gym for discussion about the events that unfolded. Cox noted that once McQueen, the MHS math teacher who stopped the shooter, came in, everyone immediately applauded.
"I would like to thank her for stopping the student from causing any more trouble," he said.
Central Illinois shows waves of support for MHS
MATTOON (JG-TC) -- Whether it was through a statement or fundraiser, many are sharing their support to those at Mattoon High School after the shooting Wednesday.
Here are examples of some of that support:
Sara Wilson of Mattoon started a GoFundMe page to raise money for increased security at the school. The fundraiser has garnered $200 as of press time Wednesday.
Gov. Bruce Rauner tweeted, "Diana and I are deeply saddened by the shooting that took place today at Mattoon High School, our prayers are with those that are affected."
Students and staffers from Taylorville High School dressed in green and performed the Mattoon school fight song in an online video.
A couple of GoFundMe fundraisers have been established to raise money to give to Angela McQueen, the MHS math teacher who stopped the shooter, in appreciation. In total, $60 has been raised thus far from the two.  
Team Massive, with Mattoon district school board approval, will be selling "#MattoonStrong" shirts with proceeds that exceed the cost going to the school.
Students at various area school districts wore green to school Thursday to show solidarity with MHS.
Social media post called insensitive, gets response from school officials
CHARLESTON -- Though it might have been part of a "friendly rivalry," a social media post was deemed insensitive and led to action by Charleston school officials.
That's how Charleston Superintendent Todd Vilardo described the reaction to the photograph that included a small image of a handgun and apparently referred to a Charleston-Mattoon competition.
The photograph also showed four students, apparently on a school bus, and was posted on social media a day after a student shooting incident at Mattoon High School.
It also included the words "Crush the wave," likely a reference to the Green Wave, the MHS sports teams' nickname.
Vilardo said the investigation showed that the post was related to the soccer game between Charleston High School and MHS on Thursday. It was said to be part of a "longtime friendly rivalry" between the two teams, he said.
Students told investigating officials that the image on the post was a squirt gun, a symbol used during the rivalry for "many, many years," Vilardo said. He said district officials are still investigating that claim.
The context aside, having the symbol in the post was inappropriate in light of the shooting the day before, he said.
"I think it was insensitive, especially under the circumstances of what happened at Mattoon High School," Vilardo said. "The situation is still raw."
He said the district took "immediate action" and is following discipline procedures but said requirements meant he couldn't disclose any details.
"The administration continues to investigate today," he said on Friday.
The shooting occurred just after 11:30 a.m. Wednesday in the MHS cafeteria and ended with one student injured and another arrested.
Vilardo said he learned of the social media post from a community member and he then "immediately" spoke with Charleston High School administrators.
He said they then went to Mattoon, where the soccer game was taking place, and spoke with several Mattoon school administrators about the situation.
"We told them we're continuing to investigate and my belief that the post was insensitive," Vilardo said.
The Charleston administrators said the post was "not what we would expect from our school community" and the Mattoon administrators were "very understanding," he added.
Charleston school administrators posted a statement about the matter on the district's Facebook page, and school board President Jason Coe also posted a statement from the board.
Coe said he spoke with each of the board's other six members and they all agreed to make the statement, which included the comment "when you hurt, so do we."
"We're more than just rivals," he said. "It could very well have been our school."
Vilardo wouldn't say if students involved in the social media post have been identified.
He also noted that several area schools on Thursday conducted activities to show support for MHS, Charleston schools included. In addition to some Charleston students and staff wearing the MHS school colors, the district is providing counselors, food and helping "any way we can," he said.
"The Mattoon community is hurting right now," Vilardo said. "I hope an ill-conceived post doesn't negate the good our school community and everyone else has done for the Mattoon school community."
Mattoon Superintendent Larry Lilly declined to comment on the matter when contacted Friday.
According to court proceedings and other accounts of the Wednesday incident at MHS, a female student saw the boy with the gun. Teacher Angie McQueen then approached and grabbed the boy's arm just as he pulled the gun and aimed it at the girl.
The gun fired and missed the girl but hit another male student in the chest, according to the accounts. At last report, the injured student was hospitalized but in stable condition.
The student suspect was subdued after firing the gun. He's been charged with aggravated battery of a firearm as a result and made his first court appearance on Thursday.
EIU board discusses Mattoon shooting, Douglas Hall name change proposal
CHARLESTON -- The events surrounding the shooting incident Wednesday at Mattoon High School were addressed at the top of the Eastern Illinois University Board of Trustees meeting Friday.
Joe Dively, the board chairman, spoke about Angela McQueen, the MHS math teacher and Eastern alum who authorities said stopped the shooter, at the meeting.
"What could have been a really tragic event was circumvented by a brave teacher there, Angela McQueen," he said.
According to Dively, McQueen has earned three degrees at Eastern. EIU President David Glassman commended her bravery during the ordeal.
"There is no question in my mind that she is a hero," he said. "I believe some type of recognition from EIU certainly is warranted."
Glassman noted he did not hear about her history with the university until Thursday and plans to potentially honor McQueen have not been discussed. However, "she is certainly deserving," Glassman said.
Glassman said he has already reached out to offer hopes and prayers to the high school leadership as well as anything the university can do to assist.
"It is a very very sad situation but I believe the school handled it really well," he said. "We certainly had a hero out there that really just did a marvelous job subduing the shooter."
In the wake of the shooting, nothing specific has been done at Eastern, in terms of training, for an active shooter situation outside of the normal annual preparation.
"Nothing happened from last week to this week relative to that on our campus, but that is just an ongoing process that we are always working on," Glassman said. "But, you know, even the best preparation doesn't prepare you fully for what could happen. Emotions come in and each case is unique."
University Police Department Police Chief Kent Martin said work on training the EIU community for active shooter scenarios has not changed. However, Martin said events like the one in Mattoon solidify the importance of this training.
Tuesday, the day before the shooting, Martin was speaking with Faculty Senate members on plans going forward to train faculty on the ALICE program, which is an active shooter training program.
Currently, dates and venues are in the works to have sessions for faculty and students to know what to do or think about in those scenarios.
"I am committed to making this available to the campus," Martin said.
Douglas Hall name change proposal comes up
Also at the meeting, Jemmie Robertson, Faculty Senate chairman, mentioned senate worries with past deliberations over the Douglas Hall name and the general opinion of those in Faculty Senate.
"During the 2010 campus deliberations, the president of the Black Student Union objected to the fact that the Student Senate, who voted to keep the name Douglas Hall, had not even solicited the opinion of the Black Student Union," Robertson noted.
The issue has been given new life again in the advisory group after a former faculty member brought up the issue again. Chris Hanlon, a former EIU professor now at Arizona State University, called for the name to be changed again at a recent Faculty Senate meeting. Hanlon led the charge in 2010 as well to get the named changed.
In Robertson's statement on the matter, he also called on campus leaders to open dialogue on diversity inclusion.
"If we are to recruit and retain talented students of diverse backgrounds, we must engage those who are currently here in a dialogue about things we can do to come closer to embodying the ideals to which we aspire," he said.
Robertson added that it might be a good idea to add debates to Lincoln and Douglas Hall to better explain the names of the residence halls, specifically, Douglas. It was named after Stephen Douglas, a former U.S. senator from the Democratic Party who famously debated Abraham Lincoln on issues like slavery in 1858.
A Faculty Senate resolution calling for a naming committee to form again will be up for a vote at their next meeting. Since a resolution has not hit his desk yet, Glassman said he has not really formed an opinion on how to proceed, however, he is concerned that the idea did not grow "organically" in the EIU community.
"If we were going to tackle this issue, I would have hoped that it was organic and generated from our institution… that students came forward and wanted to discuss this or even the faculty came forward and wanted to discuss this," Glassman said. "In this particular case at this particular time, it was a former employee who wrote a note saying 'well why don't you do this.'"
Glassman noted that the origin of the idea will not sway his opinion or cause him to shy away from the issue.
OUR VIEW: Community bands together
Wednesday morning, Mattoon High School turned into an area of chaos and concern. By the time the dust settled, a tragedy had taken place, but it ended with an injury and a number of people shaken but still alive. It could have been much worse.
We can thank some level-headed people in Mattoon for that outcome.
About 11:30 a.m. Wednesday, according to police and eyewitnesses, a student opened fire in the Mattoon High School cafeteria and wounded a fellow student before being subdued by teacher Angela McQueen, who served as the first of the day's many heroes. Police said the shooter was then disarmed by the police department's on-site school resource officer.
The terror didn't stop at the school's doors. As law enforcement authorities closed in on the area, they chased residents inside with admonishments to lock doors.
Mattoon School District Superintendent Larry Lilly said emergency responders were quick in taking the wounded student to the hospital, taking the suspect into custody and securing the school, and the district accounted for all of the students soon after the shooting.
The shooter, a juvenile, is in custody. The name of that student and the wounded student are being withheld.
Quick thinking inside the school and the efforts of first responders and law enforcement officials arriving on the scene kept a cap on what could have been a horrifying day. But it's what happened later in the day that speaks volumes.
You can tell a great deal about people by the way they respond in the wake of emergency and tragedy.
Unfortunately, we've seen too many Central Illinois residents forced to respond to too many emergencies and tragedies lately. But thankfully, almost to a person, our friends and neighbors have reacted positively and nobly and in a way we should all strive to imitate and recreate daily.
The latest example of responding kindly, carefully and empathetically comes from Mattoon. Within a few hours of the shooting, a crowd of about 200 gathered for a prayer vigil. The crowd, a mix of adults and teenagers and including some Mattoon city and school officials, were in a field just west of the high school, and could see police officers still in front of the building.
When things are at their worst is when we find the most strength from one another. The fellowship and understanding that comes from a shared experience, even a tragic one, can be uplifting when done in the right fashion. Fortunately, on Wednesday, Mattoon overflowed with courage, fellowship, helpfulness and thoughtfulness.
COLUMN: Promise you'll stay strong, Mattoon
I have no magical words to say; no clever phrases to string together; no step-ahead-of-the-rest wisdom.
As a journalist, as a citizen, as a resident of Mattoon, as a human being -- I want to say something that helps our community heal in the wake of the Sept. 20 shooting at Mattoon High School.
I reach down inside my mind, and all I find are inadequate words.
A male freshman student took a semiautomatic handgun to school that day, and a teacher interrupted and subdued him as he began to shoot in the MHS cafeteria. Students fled. A police officer based at the school disarmed him.
One male student was shot; he was in stable condition as per the latest official report. One other youth apparently had a wound on his knuckles received because of the incident. Young people and adults ended up outside in safe areas -- the corn field, the parking lot -- as law enforcement officers from practically every department in the area arrived to help.
Police aided those at the school and then cleared the building room by room.
The alleged shooter's motivation was somehow related to bullying. He is 14, and the first step in the court case against him is a round of mental evaluations.
You know more, do you? Well, you may think you do. And you may be right.
Journalists -- and real newspapers -- don't print hearsay. We don't typically reveal the names of juveniles. We're barred from doing so under certain circumstances.
The JG-TC hasn't revealed the names of the alleged shooter's parents or family, the victim or his family.
Plenty of things are going around on social media, but we report facts, from verified sources. That's our job.
We've reported the teacher's name, and yes -- she's a heroine. But I'm going to be so bold as to try to read her mind and surmise that she wouldn't want attention focused on her right now.
What we'll need to be focusing on is where we go from here.
Building that path to healing and a better future for our community began immediately after the shooting suspect was in custody. Students were bused, walked or otherwise transported to Riddle Elementary School. They, school staffers and parents comforted each other.
Mattoon residents consoled each other. Tears were shed by those who didn't even know someone at school that day. Support was everywhere.
Other schools in the area began to wear green. #Mattoonstrong and other mantras sprang up. Taylorville High School students and staff became practically famous for performing Mattoon's school song via video as a show of support. Charleston sent counselors and food to Mattoon schools, and some of the Trojans sports teams wore Mattoon colors after the incident.
Out of something bad have come many good things.
We're drawing on each other and our sense of community to be strong. We're supporting the most vulnerable among us -- students and staffers closest to the tragedy who are dealing directly with the aftershocks.
Comfort dogs were brought to the high school to ease students' anxiety. A movement to sell #Mattoonstrong T-shirts is underway, with proceeds going toward security at our schools.
I feel that we're strong.
But we have to stay strong, and stay unified.
In coming days, weeks and months, the questions will be raised more loudly. They will divide us.
Who bullied this young man accused in the shooting? What led him to the extreme of taking a gun to school? How did he get the gun? Do our schools need more security to prevent this kind of incident?
Make no mistake: Mattoon is one of the luckier schools among the devastating statistics regarding school shootings. No one was killed. The injured student apparently will be just fine physically.
But that doesn't necessarily mean that this pain will fade any faster.
Tough questions will have to be answered. Did the school system as a whole somehow fail the shooting suspect? Did bullying continue so long and so intensely that it drove him to extreme action? Is this who we have failed to weed out of our community -- some relentless bullies?
There is no doubt that there is only one person to blame for this incident, and that is the person who pulled out a gun in school and started to shoot.
But is painting with a wide brush of blame all we'll do in response? Will we vilify one person and then just go on?
If we do that, we're wrong.
If we have any hope to prevent any other school shooting in our community, we have to understand how this happened. That includes an honest effort not to damn this child -- and, at 14, he is a child -- but to try to understand.
Bullies may, as well, share blame. So may adults who could have done more to make sure this didn't happen.
But blame gets us nowhere. Blame is a waste.
Understanding is what we need. We need to know why bullies are the way they are. We need to know how we prevent young people -- and adults -- from bullying others. We need to teach young people what to do when they experience or witness bullying.
It will take all our strength to have the debates, and ask the tough questions, and be open to what may be incredibly tough answers.
But not now. Not in this moment.
We humans instinctively want to be quick to solve a problem -- debate, offer solutions, make the wound heal in the time we prefer.
We have to be #Mattoonstrong enough to know that comforting each other comes first, not bickering debates. We have to stay #Mattoonstrong enough to not hatefully spread blame in thick doses. We need to be #Mattoonstrong enough to be patient, ask fair questions, accept tough answers and take action for the good of all.
We adults have to set good examples for our children. We have to cooperate and look at all the angles and make hard decisions if necessary.
Right now, we have to stick together in comfort, but, in the future, we also have to stick together in constructively discussing the problems that led to this sad incident, and work hand-in-hand to come up with solutions to benefit all.
Hold on to #Mattoonstrong, folks. We may have many questions, but we also already have an answer: our strength together.
OUR VIEW: After shooting, questions must be asked
Despite the trauma of the shooting at Mattoon High School, we should be a grateful community.
We first are in debt to teacher Angela McQueen, who reportedly subdued the juvenile shooter in the MHS cafeteria on Sept. 20, and to police officer Kasey Alexander, who disarmed the 14-year-old.
We owe a heart-felt "thank you" to all the law enforcement, school district and other personnel who helped get the rest of the students in the school that day to safety and, as needed, treated for injuries.
We are grateful that there was no more than one shooting victim, who is reported to be steadily recovering.
Our gratitude extends to members of our own community, who have shown a unity that will help those closest to this incident heal, and to area schools and towns which have shown support. A prayer vigil, a fund-raising T-shirt effort and more have come in the wake of the shooting.
We have many answers as to what happened that day. We know a greater tragedy was averted thanks to McQueen and Alexander. We know students were whisked to safety quickly. We know grateful parents hugged and held their children like perhaps they never had in the wake of this incident.
We know that the Mattoon community is strong -- stronger than perhaps we, ourselves, even may have believed.
Now, we must watch and help each other as time goes on and the magnitude of this event truly sinks in. We must continue to care for each other. In particular, we must keep in mind that our young people will need extra support for a long time to come.
But, as with others across the country, this school shooting raises questions.
Bullying has been noted as possibly related to the young shooting suspect's motivation -- not by officials, but by those close to the alleged shooter.
The root cause of this incident must be determined.
Make no mistake, however: The juvenile who chose to take a gun to school and begin to shoot at students is responsible for this incident. That is where blame rests.
Yet, we still have questions that must be answered. Did bullying, in some way, contribute to this shooting? Do security measures at Mattoon schools need to be beefed up?
We hope school leaders won't be overly defensive if bullying and other policies are reviewed. Answering these questions will be designed not to assign blame but to prevent any possible future shooting at a Mattoon school.
We're heartened -- and not surprised -- by Friday's statement from school and law enforcement officials in which plans to review the district's emergency protocols in light of the shooting are noted. That can't hurt, although in this case it appears the school's emergency plans worked well.
Yet questions outside the scope of the school response are numerous.
How did the suspected shooter get the semiautomatic handgun he used? How do any of the children who instigate a shooting at school in the United States get the guns involved? We hope anti-gun advocates won't be overzealous, and pro-gun folks won't be unnecessarily defensive, in fairly exploring this question.
The primary question, it seems, is this: What will we learn from this? Will we, in fact, learn from it at all?
Bullying has been around as long as any of us can remember. But students decades ago didn't bring a gun to school and start shooting. Then again, in days gone by, bullying often could be escaped by simply going home from school. Now, social media gives abusers the chance to bully their victims 24/7.
There is only so much schools can do to solve these problems. The community must step up and be involved in the search for answers, too.
We'll never have all the answers to all these questions and others that will come out of this situation.
But we have to be brave enough to at least ask, and then act.
School resource officer reflects on shooting, community support
MATTOON — The Mattoon police officer who was at the scene of a high-school shooting last month said quick response by school employees kept the harm done to a minimum. 
Speaking publicly about the Sept. 20 shooting for the first time, Kasey Alexander said his responsibilities during his six years as the Mattoon Police Department's school resource officer have included training school employees how to respond to campus shootings. 
"It's part of the job. It's what we train for," the Mattoon native said. "Unfortunately, our hypothetical became a reality."
One student was shot and wounded when several rounds were fired at lunchtime in the school's cafeteria. The alleged shooter, Josiah Lyons, a freshman, was arrested. Lyons is a juvenile, but the Herald & Review has opted to use his name because his identity has been widely disseminated and already made public.
Police and school district officials have credited teacher Angela McQueen for subduing the alleged shooter, Alexander for disarming and arresting him, and school nurse Vicky Wright for getting the victim's bleeding under control. The school's employees implemented their active shooter training during this incident, and students were evacuated by bus to Riddle Elementary School for pickup by their families.
"I am just glad I was here and we were able to respond the way we did," Alexander said, adding that the quick response kept the harm done in this incident to a minimum. He is limited in what he can say about the shooting because of the ongoing juvenile court proceedings for Lyons.
Alexander said he had long trained to respond to a school shooting, but had always hoped that a situation like this would not happen. The officer said he was "kind of in disbelief at first" when a shooting occurred at Mattoon High School.
He said these unfortunate circumstances have brought community members together to work on the common goal of making sure local schools are safe. Alexander said he has been proud to see community members raise money for school safety, donate food for MHS students while the cafeteria was closed and share public messages of support, as well as other generous actions. 
"I was born and raised here. I knew we have this type of community, but to see it all come together, it was pretty impressive," said Alexander, who has children in Mattoon schools.
Before Sept. 20, Alexander said he spent much of his time dealing with students who were being disobedient at school or were truant and not wanting to go to school. He spends the bulk of his time at MHS, but also periodically pays visits to Mattoon Middle School and to Riddle and Williams elementary schools.
After Sept. 20, Alexander said he has been working with the district to help students get back to "as normal as possible." He said they are trying to make sure nothing like the shooting ever happens again.
"We are just trying to make sure our students are in a good place and they feel comfortable going back to school and they feel safe going back to school," Alexander said. "Our schools are safe."
Alexander said he enjoys his work, adding that he has always been interested in education. He originally studied to become a coach and a driver's education teacher before switching to law enforcement.
The school resource officer's responsibilities also include counseling and mentoring students, helping administrators conduct locker and vehicle searches, and providing security at games, dances and other extracurricular events. In addition to Alexander's work with the district, he also provides active shooter response training for St. Jon's Lutheran School and St. Mary's Catholic School.
Police Chief Jeff Branson said the police department created the school resource officer position in 1998 to help provide a safe environment for students and to build relationships with them. He said the district funds this post during the nine months of the school year and the department provides for the remaining three months, plus health insurance and retirement.
Branson said Alexander stays busy with his many responsibilities as the lone school resource officer, including filling in as needed as a crossing guard and overseeing the Teen Court diversion program for first-time juvenile offenders.
The police chief said the department has been talking for five-10 years about adding a second school resource officer. He said one officer could then focus on the high school and Riddle on the west side of town while the other focuses on the middle school and Williams on the east side.
Following the Sept. 20 shooting, Branson said the department is evaluating options anew for offering a second school resource officer. He said this addition would need to be done in partnership with the district.
"It would be beneficial to add another school resource officer. There is plenty of work," Branson said. "It's a lot for one guy."
MHS teacher Angela McQueen speaks about Sept. 20 shooting
Teacher who stopped shooter at MHS speaks about her experience
MATTOON -- Math teacher Angela McQueen said she was focused on saving students' lives when she helped subdue a student shooter inside the Mattoon High School cafeteria on Sept. 20.
The Illinois Education Association (IEA) teachers union released a video Thursday of an interview it recently conducted with McQueen, who is a math and physical education teacher. The video was released on the same day that McQueen was honored at the high school for her lifesaving actions on Sept. 20.
An IEA press release reported that because of McQueen's quick response to contain the shooter, only one student was injured. The injured student was initially hospitalized but has since been released and is now back at school.
"I sprang into action because I looked over and I saw a student pulling a gun out and he was aiming it at students to his right," McQueen said during the interview. "I thought, 'Oh crap, he is going to start shooting,' so I immediately lunged at the gun and got the gun up in the air as quickly as I could, as fast as I could because I didn't want him to hit the students."
McQueen said the shooter fired a couple of rounds before she was able to force him to point the gun up toward the ceiling of the cafeteria.
Officials with the Mattoon Police Department and the school district have said that Mattoon police school resource officer Kasey Alexander arrived in the cafeteria and took the shooter into custody shortly after McQueen's actions.
"In that moment, you don't really think. You just react. To me, it's almost like the mama bear instinct. I don't have kids of my own right now, but it's the instinct of, 'You're not going to do this to my kids,'" McQueen said. "These are still my kids, even though I don't know every single kid in there. You're not going to do this to my kids. You're not going to do this at my school."
McQueen said she always has taken the active shooter training at the high school seriously, but she had thought a school shooting would never happen in Mattoon because it is such a nice, quiet small town.
"You never think it is going to happen where you are at," McQueen said.
Still, McQueen said she always has been mindful of the message in one of her favorite Bible verses, John 15:13 -- "Greater love has no one than this: to lay down one's life for one's friends."
"It was always in the back of my mind, 'Would I do this for just anybody?'" McQueen said of risking her life to save strangers. She added later, "Everybody, I think, would like to think they would do that for just anybody, and now I know I would."
A portion of McQueen's interview was released on the IEA's Facebook page on Thursday. Extended footage from the video shows McQueen visiting with students in the school cafeteria and the gymnasium, and at work in her classroom.
McQueen said in the interview that "I really just want to have a positive impact on kids. I felt like that was what I was meant to do. I feel like that even more now."
"We are forever grateful to Angela for her courageous actions that saved the lives of our kids. She was a ray of light in our darkest hour," Mattoon district Superintendent Larry Lilly said in the press release.
McQueen was honored Thursday at the high school by the Illinois State Police, Illinois branch of the FBI, Society of Former Special Agents, City of Mattoon, Mattoon Police Department and the Mattoon school district.
The student, Josiah Lyons, who is alleged to have fired the shots on Sept. 20 has been charged with aggravated battery with a firearm. The suspect is a juvenile, but the JG-TC has opted at this time to use his name, as his identity has been widely disseminated and already made public.
Suspect admits to Mattoon High School shooting
CHARLESTON -- The suspect in last fall's Mattoon High School shooting, Josiah Lyons, admitted Thursday to a charge of aggravated battery with a firearm in connection with the Sept. 20 incident. 
Lyons, now 15, was charged in juvenile court in connection with the shooting in the MHS cafeteria that injured another student. During the last hearing, Lyons waived his right to a jury trial, and this time around pleaded guilty to the charge. 
Lyons could see both a juvenile and adult prison sentence in the case. The adult prison term only would be possible if Lyons violates the terms of his sentence to juvenile detention.
"My office can file a petition to revoke or a petition to impose the adult sentence," Coles County State's Attorney Brian Bower has said of an adult sentence. "(Lyons) has the control. If he can comport his behavior, he can be done with this."
In juvenile court, the maximum possible sentence for a conviction would be detention with the Illinois Department of Juvenile Justice until age 21.
For the adult equivalent of that offense, a prison sentence of six to 30 years is normally required with a conviction. In this case, a prison sentence of 30 to 60 years would be required because the shooting took place in a school.
During Thursday's hearing, Ed Piraino, the defense attorney in the case, again noted his frustrations about getting mental treatment for his client and getting a state agency like Illinois Department of Human Services involved in the case. Piraino has alleged the uncooperative nature of these agencies in helping him find an institution he felt suited Lyons.
This time, a representative from DHS was in the courtroom noting options for Lyons; but for Piriano, it was "a day late and a dollar short."
Bower said it came down to an issue of whether the treatment would take place before or after the sentencing. 
"I don't question that the young man would benefit from mental health treatment," Bower said, based on testimony and other evidence presented to him.
Psychiatrist Lawrence Jeckel, who examined Lyons, testified previously that Lyons suffers from a defiance disorder and other conditions for which he can't be treated at the Juvenile Justice Department.
However, Bower said he saw it as a more appropriate option to look at treatment after the finding of guilt.
Circuit Judge Matt Sullivan, who is overseeing the case, will be tasked with a sentencing that could include a recommendation of rehabilitation and mental health treatment. Ultimately, it will be up to the Illinois Juvenile Justice system on how to proceed, though, Bower said. 
"The court pretty much divests themselves of the authority to make that order," Bower said. 
A sentencing hearing was scheduled for Oct. 11, where witnesses can testify as to the impact of Lyons' actions. This could include Angela McQueen, a teacher who subdued Lyons, or the victim who was shot. This could also be the time people can testify to Lyons' character on his behalf.  
MATTOON -- The halls of Mattoon High School may follow the same paths, but for administrator…
Contact Jarad Jarmon at (217) 238-6839. Follow him on Twitter: @JJarmonReporter