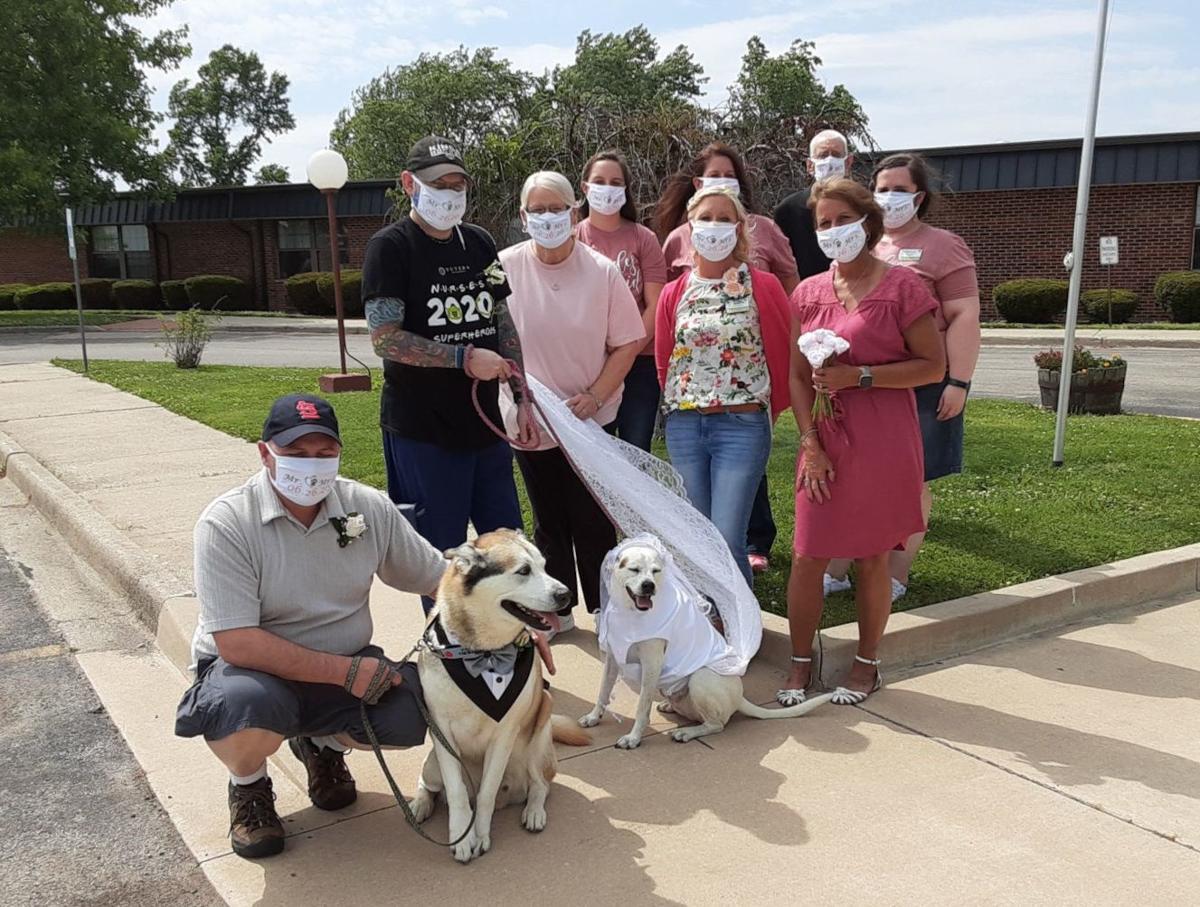 MATTOON — The quarantined residents of Mattoon Rehabilitation & Health Care Center were cordially invited to attend a special occasion Friday afternoon — a wedding ceremony for facility dogs Buddy and Raven.
The groom, a 7-year-old Siberian husky mix, and his bride, a 6-year-old mixed breed, walked the aisle in all three hallways of the facility while the residents watched from their doorways, each 6 feet apart to comply with social distancing during the COVID-19 pandemic.
Payroll staff member Valerie Miller said pandemic safety precautions at Mattoon Rehab, 2121 S. Ninth St., have meant limited access into this facility, so residents have been missing the musicians and other visitors who provide special activities for them. Miller said she, activity director Cheryl Owen and other staff were discussing possible activities when they thought of holding a just-for-fun wedding ceremony for the beloved facility dogs.
"It's something fun to do while they are going through this COVID-19 stuff, something to put a smile on their faces," Miller said of Mattoon Rehab's residents.
During the ceremony, Buddy sported a suit and bow tie. Raven wore a wedding dress handmade by staff member Hazel Hurt. She was walked down the aisles by resident Jack Franks, who helps feed and water the dogs.
Wedding party members Miller, Deven Stephens, Jennifer Cooke, Meredith Matson, Melody Gordon, Jeremy Reynolds, and Jill Jones stood up with the couple during the ceremony officiated by administrator Jade Belcher. Miller said the ceremony featured silly vows such as, "Will you always share spoonfuls of peanut butter together"
"Buddy even gave (Raven) a little kiss at the end of one of the ceremonies," Miller said.
Afterward, staff divvied up wedding cake and punch for Mattoon Rehab's residents. Miller said Buddy and Raven shared a homemade cake made of apple sauce, peanut butter and pumpkin.
Raven, a rescue dog from an abusive situation, has lived at Mattoon Rehab since 2014. She met Buddy when he joined this facility in 2018 after the closure of his previous home — Douglas Nursing & Rehabilitation Center in Mattoon. Miller said Buddy, a friendly dog who prefers the indoors, and Raven, a slightly shy canine who loves going outside, have got along great together despite their different personalities.
Miller said the presence of the two dogs at Mattoon Rehab has been especially important for residents while visitor restrictions have been in place since mid-March due to the pandemic.
"They are very special. The residents just love them. They will come into their rooms and greet them. It makes the facility feel home-like by having pets roaming around the building," Miller said. She added that after Mattoon Rehab reopens to visitors, residents' families will be invited there for a vow renewal for Buddy and Raven.
Resident Jack Franks said it was interesting getting to walk Raven down the aisles and see the ceremony on Friday. Franks said he has enjoyed helping take care of the dogs and get to know them. He said  Buddy is a bit lazy and Raven is a little skittish but they are both friendly.
"Raven comes down to my room every once in a while to get a dog treat and so does Buddy," Franks said with a smile.
---
Illinois moves to Phase 4: Here's what reopens Friday
Gov. J.B. Pritzker on Monday released guidelines about what businesses and industries reopen Friday as the state moves into Phase 4 of the Restore Illinois plan.
Contact Stroud at (217) 238-6861
Get local news delivered to your inbox!
Subscribe to our Daily Headlines newsletter.